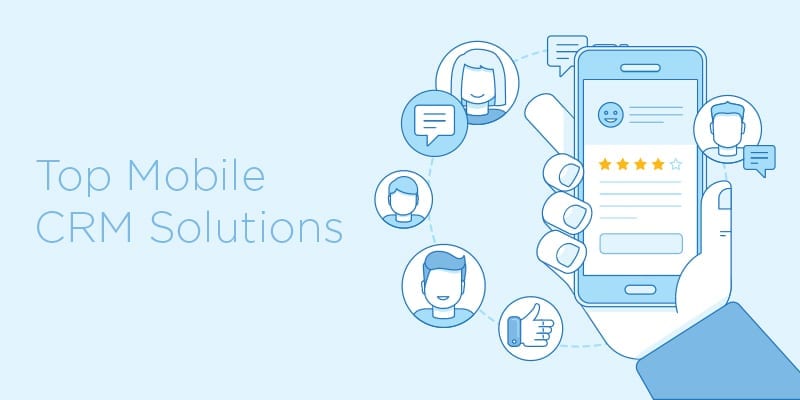 Mobile CRM software solutions are becoming more and more important. CRM offers your business a variety of functions, and picking the right solution for business can be a challenging decision. It's an integral business tool for any business regardless of size. But for some organizations, it's important to be able to access these features on the go. Whether you're a sales agent on the road, a remote worker, or simply want hands-on access to your work, mobile CRM software is a great tool to consider for your business.
Mobile access provides business professionals with constant access to customer interactions, contact history, recent transactions, and much more. When users can access real-time sales reports and track their sales pipeline while in the field, potential challenges can be easily addressed. Therefore, Solutions Review has compiled a list of the top 10 CRM software solutions with mobile access or companion applications.
Act!
Act! provides a variety of features with a focus on sales management and marketing automation. Although applicable to all business, those at the SMB level may find the most success with Act!, as it offers a companion app available on tablets and mobile devices. The mobile application gives users access to contact, group, and company details. You can update a customer's information and add prospects, get driving directions and locate Act! customers in the area, manage your calendar and activities. You can even close deals and monitor real-time metrics and analytics.
Copper
Copper, formerly known as ProsperWorks, is an invaluable tool for sales teams that use G-Suite. The UI is designed similarly to that of Google products, and the CRM can fully integrate with G-Suite tech. In addition to Google, Copper can integrate with Hubspot, MailChimp, Dropbox, and hundreds of other applications. Copper's mobile CRM helps you stay on top of new leads and current opportunities that need nurturing while you're on the road. Users can check the status of a deal, contact team members, and manage potential customers' information.
Freshsales
Freshsales offers a CRM product aimed at helping small and medium-sized organizations. This solution offers contact management, reporting and analytics, pipeline visualization, and a unique built-in phone and email system. Freshsales also includes AI-based lead scoring in order to separate promising prospects from less attractive opportunities. The mobile application allows users to manage almost every aspect of their work from their Android/iOS mobile device. Push notifications, calendars and maps, contact management, and more is available from the palm of your hand.
Insightly
Insightly is a CRM focused on helping businesses build stronger customer relationships and deliver projects in a timely manner, allowing users to manage contacts, sales, and projects in a single location. Insightly's features include lead routing, workflow automation, email management, custom dashboards and trackable metrics, as well as mobile access for both Android and iOS. The mobile app allows users to scan business cards and easily upload contact information, update task statuses, milestones, and deliverables, or create a completely new opportunity.
Maximizer
Maximizer offers a feature-rich suite of products, with capabilities including sales, marketing automation, contact management, cloud-based data storage, and mobile access. Users can access Maxmimizer from a mobile web browser, or they can use the companion application for a more optimized experience. Users have quick asses to key information, details, and notes related to contacts and ongoing deals. Easily track and manage your pipeline on the go, tap to dictate key information, and easily search for client contacts and accounts.
Nutshell
Nutshell offers a user-friendly experience for businesses and teams of all sizes. Complete with customizable sales processes and sales automation, Nutshell provides all the standard features of a CRM. The mobile Nutshell app is a great choice for small business sales teams, which provides users with everything they need to close a deal in a simple, affordable package. View and edit account information, scan business cards, log meetings and call notes, receive push notifications and alerts, and much more.
Pipedrive
Pipedrive offers a clean, visually intuitive CRM focused on improving sales processes. The product includes functionalities such as forecasting, pipeline management, email integration and reporting, as well as task automation. With the mobile app, users have access to tracked calls and caller ID, quick notes and meeting prep, online and offline access, and more. Keep track of everything on your schedule by viewing upcoming calls and meetings, as well as managing unread emails and overdue activities.
Prophet CRM
Avidian Technologies' Prophet CRM is a solution specifically designed to integrate with Microsoft Outlook. This solution is available at three different price points so organizations can pick the option that best suits their needs. Prophet's features include contact and opportunity management, sales automation and workflows, document generation, reporting and analytics, integration capability, and mobile access. The mobile app gives users access to manage and update essential contact and sales pipeline data. You can also respond to customer requests, send updates, track sales progress, and see customer information.
Salesbox
Salesbox is a cloud-based, predictive CRM designed for desktop and mobile access. It contains features such as pipeline visualization, smart guidance and forecasts, as well as integrations with Google, Microsoft, and other applications. The vendor advertises Salesbox as a "platform that mobile users love" and provides a variety of mobile tools, especially for iOS devices like iPhone, iPad, and iPad Pro. Get accurate sales forecasts with dynamic and multiple processes with focus on activities. The application also adapts to your behavior and performance to guide you to the sales target or remind you of certain actions.
Zoho
Zoho CRM offers a wide variety of capabilities to help organizations improve their selling capabilities. Core features include sales automation, marketing automation, pipeline management, multichannel management, artificial intelligence, and more. With the Zoho CRM mobile application, users can access important information, connect with clients, and make important decisions while on the move. You can manage your activities, check in at customer locations to record your visit, as well as access and manage important records.