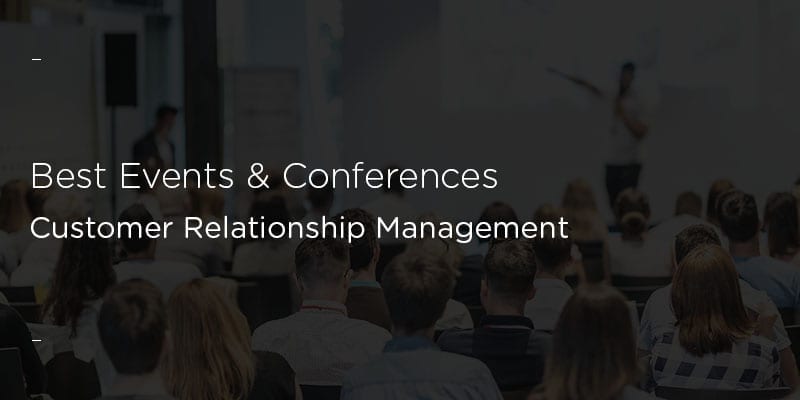 This is a directory of the best customer relationship management events and conferences. We do our best to provide readers with buyer and practitioner resources, including the Solutions Review Buyer's Guide. Sometimes though, you need extra exposure, the kind you can only get in person.
The editors at Solutions Review have created this list of the year's most anticipated customer relationship management events to attend. We've scoured the web, consulted with conference representatives, and identified where the industry's top brass will be spending their time. If you are looking for top-notch keynotes, interesting sessions, best practices demos, and legitimate networking opportunities, mark your calendar.
The customer relationship management events are listed in chronological order and may include additional dates. Clicking More Information directs you to the event home page.
REV2020
Date: March 9-11
Location: Due to the spread of COVID-19, this is now a virtual event.
Description: REV2020 begins with a day of interactive workshops, followed by an evening of community gathering and engagement. With over two thousand attendees, one hundred speakers, and forty track sessions, attendees are sure to enjoy three jam-packed days of learning, networking, and inspiration. Days two and three will include general sessions featuring keynote speakers and a variety of targeted panels and sessions organized into the following tracks: Revenue Methodology & Mastery, Revenue Leadership & Strategy, Operations & Systems, and SalesLoft on SalesLoft.
CRM Evolution
Date: Due to the spread of COVID-19, this event has been postponed
Location: Washington, DC
Description: Join 750+ attendees, 50+ speakers, and 30+ solutions for 3 days of practical advice, inspiring thought leadership, and in-depth training. See where the world of CRM is going, and join fellow professionals in learning, sharing, and celebrating the trends and technologies shaping the market. You'll hear innovative approaches and learn how leading organizations are deploying in CRM, sales, marketing, customer experience, customer service, and other technology. Whether you are an executive or manager interested in new business strategies and trends, you're sure to gain benefit from this conference.
OutBound 2020
Date: August 11-14
Location: Atlanta, GA
Description: OutBound is the only conference focused exclusively on sales prospecting, pipeline, and productivity. Attracting over 1,200 attendees from across the globe and growing each year, this conference offers an impressive lineup of some of the world's most respected sales speakers, including influential authors and thought leaders. The conference also features high-impact training tracks delivered by top speakers, authors, and experts.
INBOUND 2020
Date: August 18-21
Location: Boston, MA
Description: INBOUND is an annual experience uniting super curious, question-asking professionals with big-name and break-out industry thinkers, high-octane events, and boundless education sessions. 250+ speakers are reshaping the future and will help you pump change-fueled adrenaline into everything you touch. The comedy shows and happy hours whisk away the always-on, daily grind of regular work life. Interactive forums build community. These four August days are for you—the product manager, the creative marketer, the start-up founder. Those who want more than the cookie cutter learning and development noise and who yearn for an explosion of positive energy, sharing, and clear, empowered ways to move forward at work.
ICCRMST 2020
Date: October 8-9
Location: New York, NY
Description: The International Conference on Customer Relationship Management Systems and Technologies aims to bring together leading academic scientists, researchers, and research scholars to exchange and share their experiences and research results on all aspects of Customer Relationship Management Systems and Technologies. It also provides an interdisciplinary platform for researchers, practitioners, and educators to present and discuss the most recent innovations, trends, and concerns as well as practical challenges encountered and solutions adopted in their respective fields.
Sales 3.0 Conference
Date: October 13-14
Location: Las Vegas NV
Description: Sales 3.0 Conference is the leading conference for B2B sales and sales enablement leaders. Meet other professionals from companies like Adobe, Microsoft, T-Mobile, Marketo, Mastercard, Thomson Reuters, Samsung, and hundreds more. Over half of all attendees are high-level executives, allowing you to expand your community and create valuable networking opportunities. Hear from insightful speakers, and leave the conference with pages of notes, real-world strategy, best-practices, and actionable insights that you can fully utilize when you return to the office.
CRMC 2020
Date: October 28-30
Location: Chicago, IL
Description: CRMC 2020 brings retail marketers representing nearly 200 brands together in an intimate and collegial setting. Attendees will learn applicable, real-world solutions and strategies, and exchanges ideas to redesign their brands for the future. The conference will provide 18 focused and curated retail case studies; a diverse range of experts; meetups, discussions, workshops, topic tables, and networking opportunities with retail marketing executives. Workshop leaders include professionals from companies such as Ann Inc., CB2, e.l.f. Cosmetics, Lands' End, and more.
Digital Sales & Marketing World 2020
Date: November 30 – December 2
Location: Hartford, CT
Description: With the Digital Sales & Marketing World conference, get ready to get your sales, marketing, and leadership teams aligned, adopt a proven strategy to drive your digital success, and get on the path to becoming the leading voice in your industry. Marcus Sheridan will deliver an insightful opening workshop, and attendees will learn from top industry experts in daily keynotes on a variety of topics, from content marketing to video strategy and organization alignment. Other offerings include immersive role and industry-specific summits and rich networking opportunities.
---