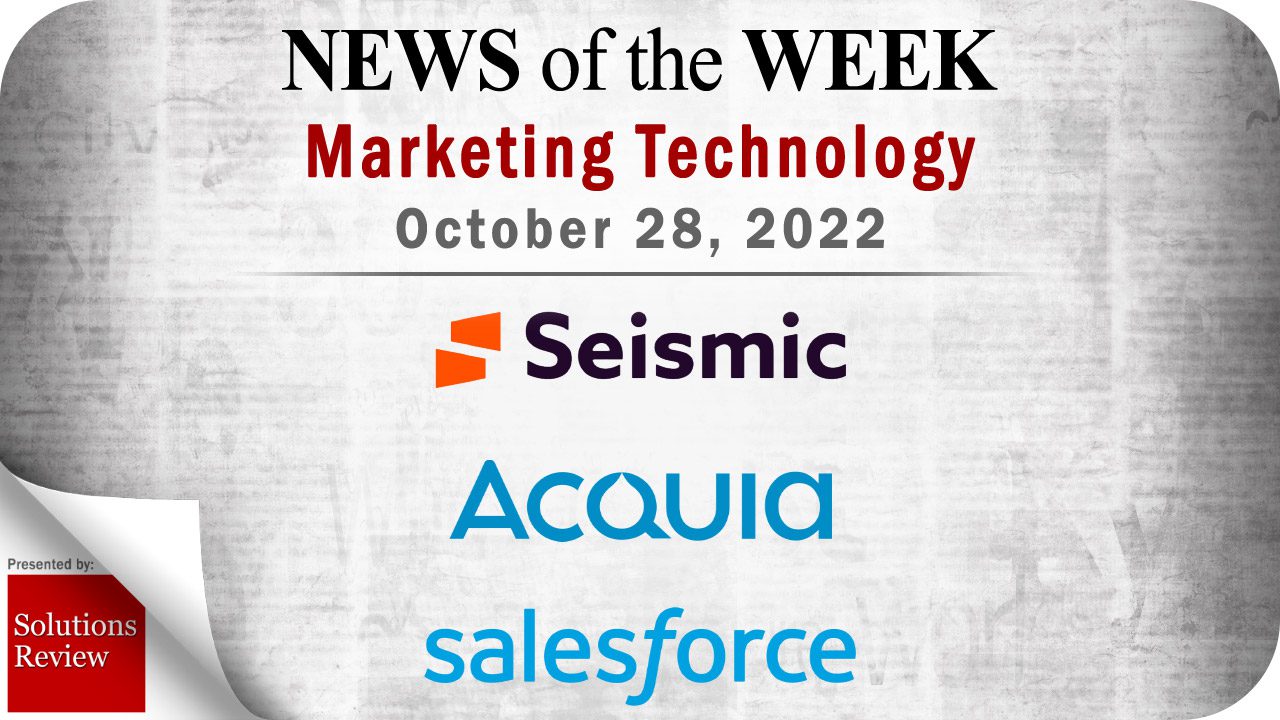 The editors at Solutions Review have compiled a list of the top MarTech News from the week of October 28th, 2022. This round-up features news and updates from leading CRM and marketing technology brands like Acquia, Salesforce, iCIMS, Seismic, and more.
Keeping tabs on the most relevant CRM and MarTech news can be time-consuming. As a result, our editorial team aims to summarize the week's top headlines in the marketing technology landscape. The Solutions Review editors will compile a weekly round-up of vendor product news, mergers and acquisitions, venture capital funding, talent acquisition, and other noteworthy MarTech news. With that in mind, here is some of the top MarTech news from October 28th.
Our
Free CRM Buyer's Guide
helps you evaluate the best solution for your use case and profiles leading providers in the marketplace.
Top MarTech News From the Week of October 28th
---
Acquia, a digital experience solution provider, has announced a new open-source, headless starter kit for Acquia CMS, the company's content management system. The headless starter kit will expand on Acquia CMS' existing offerings, accelerate the development of Drupal applications, and provide developers with the tools they need to reduce operational costs, accelerate time to market, and launch new digital initiatives. Specific features include an API dashboard, specialized roles for front-end developers, simplified data modeling, hybrid UI modes, and more. Acquia CMS' headless starter kit is available now to download for free.
---
Conversica, a conversation automation solution provider for enterprise revenue teams, has revealed new AI capabilities for its Conversational AI platform. These capabilities can help sales, marketing, and customer success departments engage leads, customers, and prospects in unscripted conversations with AI-generated SMS, email, and web chats. The new tools—Conversica Chat, Conversica Answers, and Conversica Premium Skills—can connect visitors with the right resources, autonomously answer open-ended questions, set up meetings, deliver personalized customer experiences, and more.
---
Grammarly has dropped additional features for its AI-powered communication platform to help individuals manage the tone and improve relationships. With these intelligent tone rewrite suggestions, users can maintain a positive, confident, or personable style with the click of a button. The new feature uses advanced machine learning technology to provide three specific types of suggestions, including positive reframings, confidence, and personality. The tone rewrite tools are now available for Grammarly Premium users and will roll out in Grammarly Business and Grammarly for Education later.
---
iCIMS, a talent cloud company, has announced iCIMS Advanced Analytics, a streamlined integration with iCIMS Marketing Automation, and iCIMS ATS, an applicant tracking system. The new and expanded analytics tool uses predictive technology to help teams analyze data, visualize application tracking system (ATS) data, improve talent intelligence, streamline collaboration, save time, and more. Meanwhile, the other innovations announced will support simplified workflow sourcing, provide employees space to explore career interests, and make it easier for talent teams to reengage past applicants.
---
MGID, a global advertising platform, has launched its Seller Defined Audiences (SDA) solution, which will help publishers develop high-quality, interest-based audience segments and improve their inventory monetization. Powered by MGID's Contextual Intelligence technology, the new SDA solution uses natural language processing (CLP) to categorize publishers' pages in the IAB Content Taxonomy, automate the content classification process, increase brand safety, and reduce unproductive manual labor. The privacy-compliant solution will be available to its premium publishers and can integrate with the existing platforms they already use.
---
Salesforce has announced the debut of Salesforce Contact Center, a new solution to help content centers leverage real-time data from automated bots, self-service hubs, and digital channels. These new capabilities will equip contact center agents with the tools they need to provide personalized service, improve customer satisfaction, reduce resolution times, develop unified views of each customer, route customers to the appropriate department, and more. The solution has digital engagement capabilities, self-service tools, feedback management features, shift scheduling, and connections with Salesforce Service Cloud Voice and Einstein Conversation Insights. Salesforce Contact Center is generally available now.
---
Seismic, a global enablement solution provider, has released four new solutions as part of its Fall 2022 Release. The new solutions include the Seismic Enablement Planner, which brings enablement planning, auditing, and reporting into a central hub; Seismic Knowledge, an AI-powered tool to help sellers answer customer support questions; Seismic for Microsoft PowerPoint, a PowerPoint plug-in enabling sellers to include content from multiples sources without leaving the PowerPoint window; and Guided Assembly, a tool to simplify the content personalization process, improve buyer engagement, and help sellers create client-ready pitches.
---
The WorkTech Insight Jam is a community web event that shares expert insights and proven best practices for evaluating, deploying, and using ERP, BPM, and CRM solutions. The Solutions Review editors are bringing the best and brightest minds in the WorkTech industry together for a one-day social media gathering. Participants will include industry analysts, experts, influencers, practitioners, and software solution providers under the hashtag #WorkTechInsightJam.
---
For consideration in future news round-ups, send your announcements to wjepma@solutionsreview.com.
---