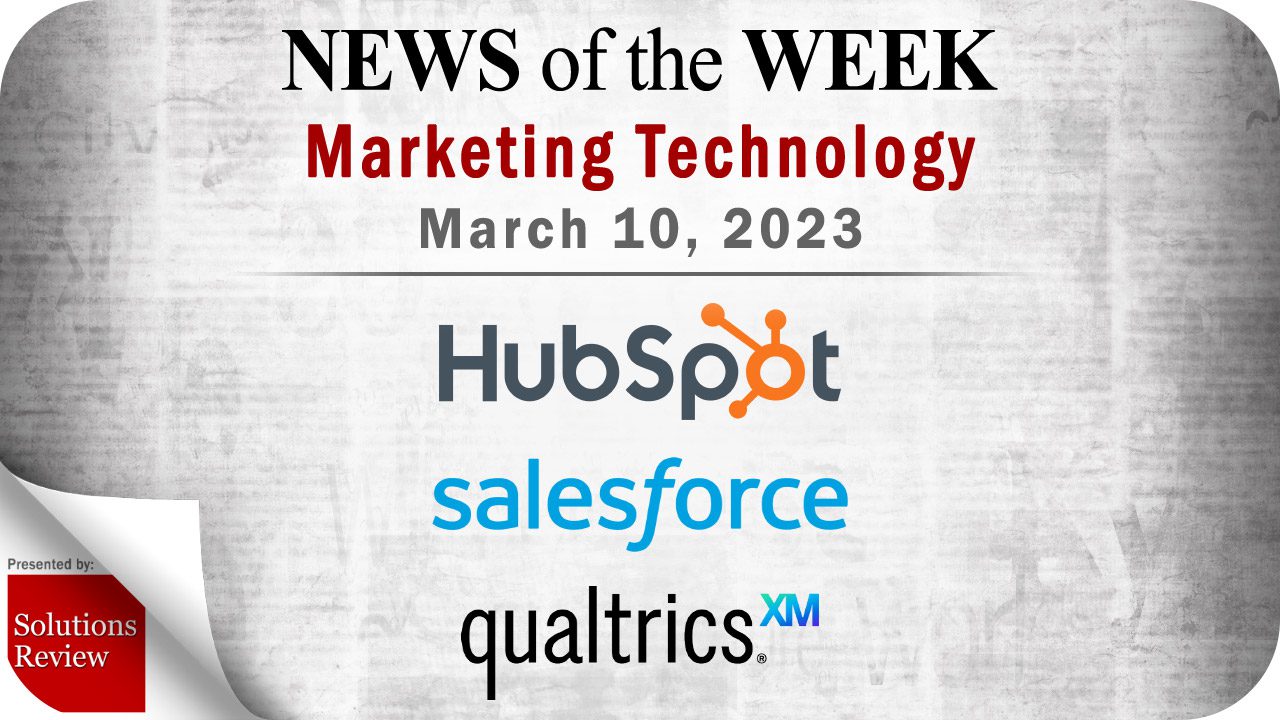 The editors at Solutions Review have curated this list of the most noteworthy MarTech news from the week of March 10th. This round-up covers announcements and updates from companies like HubSpot, Salesforce, Qualtrics, and more.
Keeping tabs on the most relevant CRM and MarTech news can be time-consuming. As a result, our editorial team aims to summarize the week's top headlines in the marketing technology landscape. The Solutions Review editors will compile a weekly round-up of vendor product news, mergers and acquisitions, venture capital funding, talent acquisition, and other noteworthy MarTech news. With that in mind, here is some of the top MarTech news from March 10th.
Our
Free CRM Buyer's Guide
 helps you evaluate the best solution for your use case and profiles leading providers in the marketplace.
Top MarTech News From the Week of March 10th, 2023
---
Acquia, a digital experience company, has announced several new integrations for Acquia DAM, its digital asset management platform. The new integrations will help customers gain more control over their brand consistency, expand the value of their content, create a better automated content supply chain, and help content creators across departments improve productivity. For example, Acquia DAM can now integrate with solutions like Asana, Google Sheets, HubSpot, Monday.com, Optimizely, Shopify, Slack, and more.
---
Databook has revealed details on its Strategic Relationship Management (SRM) platform, enabling sales teams and representations to improve how they create, manage, and maintain strategic relationships at scale. The SRM platform leverages advanced AI and natural language processing (NLP) technologies to analyze market data signals across markets, condense insights into concrete sales strategies, and connect selling solutions to the urgency buyers feel. Databook also announced Strategy Builder, a new app that helps sellers generate dynamic opportunity roadmaps.
---
Freshworks has announced the addition of three new senior vice presidents to its go-to-market leadership team. The new appointees include Shafiq Amarsi as the SVP of GTM Strategy and OperaFreshworkstions, Murali Krishnan as the SVP of Customer Experience, and Doug Farber as the SVP of Global Channels and Alliances. These industry experts will help Freshworks continue to capture demand for its multi-product SaaS solutions and achieve the company's vision of "building an enduring, profitable software company."
---
HubSpot has launched two new AI-powered tools to help its users improve their time management while still creating meaningful connections with their audiences. The new tools—Content Assistant and ChatSpot.ai—are powered by AI systems from OpenAI. For example, Content Assistant can suggest blog titles, generate outlines for a blog, write content for web pages, and streamline content marketing workflows. Meanwhile, ChatSpot.ai can automatically add content and companies to the HubSpot CRM, create custom reports, and draft professional, personalized sales emails. Content Assistant is available in private beta, while ChatSpot.ai is in public alpha.
---
Microsoft has shared details of Microsoft Dynamics 365 Copilot, a new AI-powered toolset coming to its portfolio of business applications. With Dynamics 365 Copilot, companies can equip their teams with AI tools tailored to the needs of sales, marketing, service, operations, and supply chain roles. These tools utilize generative AI to automate tasks across departments. It can write emails for sales, create product listings in commerce shops, draft contextual answers to customer service queries, and streamline marketing tasks like audience segmentation, content creation, and data exploration.
---
Qualtrics has revealed two new Frontline Digital solutions to help companies capture data points based on customer behavior across touchpoints, including customer service calls, social media engagements, website visits, and more. The new solutions—Customer Journey Optimizer and Digital Experience Analytics—use AI to analyze data and identify sources of frustration and satisfaction to help teams prioritize responses and improve customer experiences. Customer Journey Optimizer and Digital Experience Analytics are available in private beta today.
---
Qualtrics also announced details on Real-time Brand Intelligence and Research Hub, two new purpose-built solutions that use real-time analytics and predictive insights to help companies understand brand performances, make more intelligent decisions responding to customer needs, and grow market share. These tools can also provide teams with the capabilities needed to maximize the ROI of past research, unlock faster insights from data sets, and combine quantitative and qualitative feedback into one platform.
---
Salesforce and OpenAI have announced details on a ChatGPT app for Slack. The new app is built by OpenAI on the Slack platform. It integrates ChatGPT's AI technology to provide instant conversation summaries, writing assistance, and research tools, all available directly in Slack. It uses a conversational interface powered by OpenAI's large language models to equip users with the resources to learn about topics, draft messages, and more. ChatGPT's app for Slack is currently in beta.
---
Salesforce also launched Einstein GPT, a generative AI CRM technology designed to deliver AI-created content across sales, marketing, service, commerce, and IT interactions, all at hyper-scale. Einstein GPT infuses Salesforce's proprietary AI models with generative AI tech from an ecosystem of partners and data from the Salesforce Data Cloud solution suite. As a result, customers can connect those data sets to OpenAI's AI models or choose an external model, to generate content that adapts in real-time to changing customer information and needs.
---
SOCi, a marketing platform for multi-location brands, has raised $120 million, which it will invest in a line of AI marketing products. The funding round is led by JMI Equity, with participation from Vertical Venture Partners (VVP), Blossom Street Ventures, and strategic investor Renew Group Private Limited. Its advanced AI and machine learning models. Alongside its investment in new AI solutions, SOCi will use the funding to expand into new markets, including consumer products and manufactured goods categories.
---
Tidio, a technology platform for SMBs, has revealed Tidio AI, a collection of tools and features designed to help companies automate their customer service, boost conversion rates, and improve efficiency with the help of artificial intelligence technologies. These tools include new chatbots that use natural language processing to understand customer intent, answer questions, respond to customer service inquiries, optimize user responses, and provide reps with a cohesive view of their customer communications.
---
Validity—a data quality and email deliverability solution provider—has announced a new Customer Community and reimagined Help Center to help improve the customer experience, empower customers to achieve desired business outcomes, and more. The Customer Community solution will act as a centralized hub for Validity customers, promote peer engagement, and connect users so they can learn from each other's ideas, successes, and best practices. Additionally, the updated Help Center will provide those users with deeper knowledge and training resources.
---
Expert Insights Section
---
Watch this space each week as the Solutions Review editors will use it to share new articles from the Expert Insights Series, Contributed Shorts videos, Expert Roundtable videos, event replays, and other curated content to help you gain a forward-thinking analysis and remain on-trend with changing industry expectations. All to meet the demand for what its editors do best: bring industry experts together to publish the web's leading insights for enterprise technology practitioners.
---
As part of Solutions Review's Expert Insights Series, Pascal Yammine, the CEO of Zilliant, outlines how companies can ensure they're getting the total value out of their sales technology investments. The article details the value of infusing a CRM with revenue-driving actions, how to focus on the right functions, and why businesses should double down on personalization.
---
For consideration in future news round-ups, send your announcements to wjepma@solutionsreview.com.
---