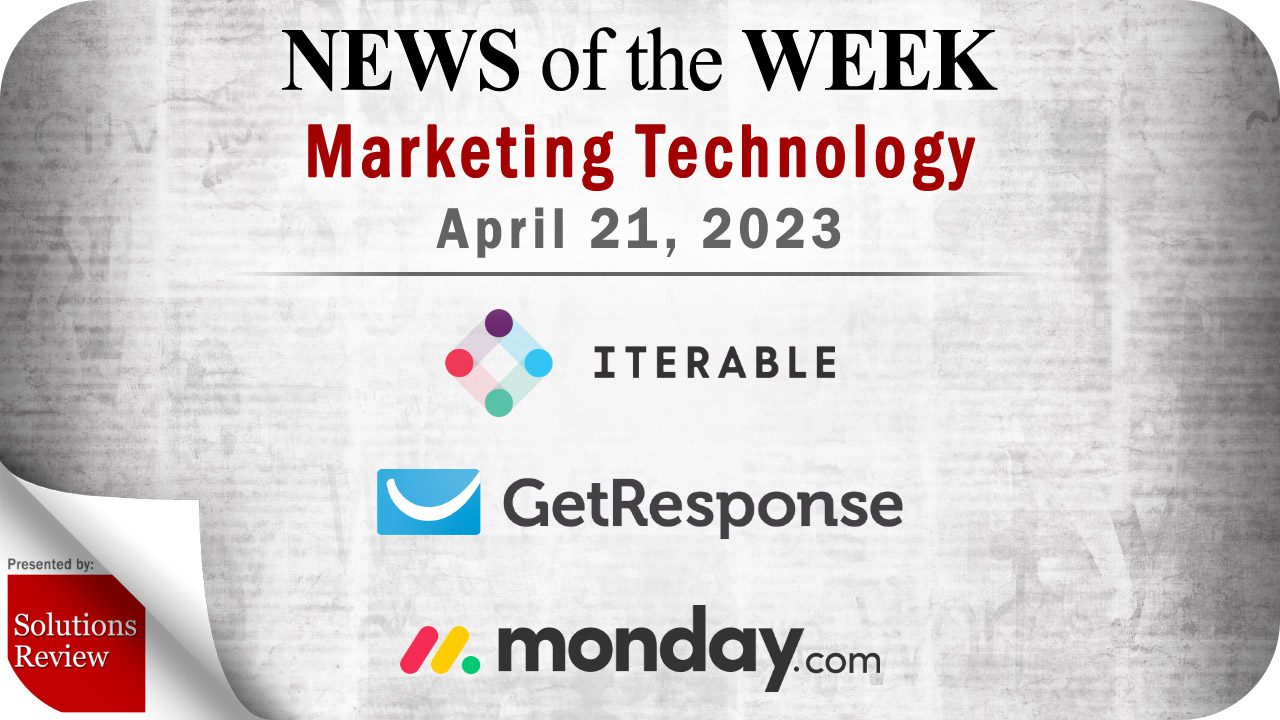 The editors at Solutions Review have curated this list of the most noteworthy MarTech news from the week of April 21st. This round-up covers announcements and updates from companies like Iterable, GetResponse, monday.com, and more.
Keeping tabs on the most relevant CRM and MarTech news can be time-consuming. As a result, our editorial team aims to summarize the week's top headlines in the marketing technology landscape. The Solutions Review editors will compile a weekly round-up of vendor product news, mergers and acquisitions, venture capital funding, talent acquisition, and other noteworthy MarTech news. With that in mind, here is some of the top MarTech news from April 21st.
Our
Free CRM Buyer's Guide
 helps you evaluate the best solution for your use case and profiles leading providers in the marketplace.
Top MarTech News From the Week of April 21st, 2023
---
Affinity Solutions, a consumer purchase insights company, has announced the launch of Comet, a new intelligence platform that uses consumer purchase signals as a source of truth for marketing outcomes. The Comet platform uses commerce-focused metrics and solutions that provide a complete view of consumer spending to help users make informed investment decisions that drive revenue growth and market setting. With Comet, brands, agencies, ad tech platforms, and consultancies can increase ROAS, validate the revenue impact generated by media campaigns, and more.
---
CleverTap, a retention cloud platform, has announced an integration between its platform and OpenAI. The integration coincides with CleverTap's launch of an AI-generated content creator tool called Scribe, which can help businesses generate creative campaign material, analyze emotions, and rewrite content with a specific emotion in mind to better resonate with audiences. Scrive is currently available to CleverTap Enterprise Customers on an invite basis.
---
Constant Contact, a small-business-centric digital marketing and CRM platform, has revealed a multi-channel AI content generator tool built specifically for small businesses and non-profits. The Constant Contact AI Content Generator was developed with the company's proprietary data and AI algorithms and leverages the ChatGPT technology from OpenAI to help customers automate the copy drafting process for their email, text, and social media campaigns. The feature is available to all new Constant Contact customers for free for a limited time.
---
Dialpad, an AI-powered customer intelligence platform, recently announced that it surpassed $200 million in annual recurring revenue (ARR) and detailed its plans to release a series of generative artificial intelligence advancements to help companies transform how they communicate, collaborate, and sell. The improvements, which will be released over the next year, are built by industry experts from Google and Microsoft. They will harness Dialpad's AI models and proprietary datasets and combine them with emerging large language model (LLM) capabilities.
---
Forsta—a global provider and market research, employee experience (EX), and customer experience (CX) technology—had announced Forsta Discussions, a new integrated, qualitative research tool for planning, conducting, and monitoring video focus groups in the Forsta Human Experience (HX) Platform. The Forsta Discussions tool can integrate into the Forsta HX platform, provide users with research tools for management participation, and schedule, conduct, and observe sessions with an online project management dashboard and video meeting interface.
---
GetResponse, an email marketing solution provider, has announced new enhancements to its AI and machine learning (ML) capabilities with the launch of AI Email Generator. With the AI Email Generator, marketers and business owners can reduce the time it takes to create emails and provide subscribers with relevant, engaging content. It is also designed to improve personalization and performance tracking in email communications. This enables marketers to create custom contact segments and sequences, analyze their performance, and optimize communications accordingly.
---
Highspot, a sales enablement platform, has launched Highspot University, a centralized learning space that allows customers to learn at their own pace through courses, certifications, and workshops. Highspot University is powered by Highspot's natively-built training and coaching capabilities to help customer improve their platform expertise, maximize platform adoption, and maximize return on investments. The new offering is available now to all customers and is accessible via the Highspot Marketplace or the Highspot Spark Community.
---
Hootsuite, a global social media management solutions provider, has launched OwlyWriter AI, an AI-powered content generator tool. With OwlyWriter AI, social media marketers can automate content creation asks, simplify the writing process, spark innovation, save time, and boost workflow efficiency. For example, the tool can repurpose top-performing posts, write new captions for social channels, generate content creation prompts, create topical social posts, and help marketers capitalize on holidays with custom social media posts.
---
Iterable, a customer activation platform, has expanded its AI Suite with new capabilities to help marketers deliver individualized, harmonized, and dynamic communications. The new tools include the AI-powered Next Best Action feature, an AI-Powered Frequency Optimization tool, and Copy Assist, a generative AI tool. With these features, marketers can generate copy ideas, edit messaging, create pre-populated copy for campaigns, design personalized messages, and optimize the number of messages sent to individual users, eliminating the risk of message fatigue and reducing unsubscribe rates.
---
Kore.ai, an enterprise conversational AI platform provider, has announced an integration between its conversational AgentAssist tool with intelligent virtual assistant (IVA) automation for Zendesk Support. The AI virtual assistant for contact center agents will expand on Zendesk Support's capabilities across digital channels and help users manage lead generation and sales processes with a conversational user experience. The integration will also help Zendesk Support users decrease average handling time and boost contact center productivity with real-time customer information, agent automation assistance tools, next-best-action suggestions, and automated case summaries.
---
monday.com, a work operating system (WorkOS), has unveiled its plans to incorporate new AI technology into its platform. The company will open its platform to third-party developers, allowing them to build AI apps on its WorkOS. As an initial offering, monday.com plans to release a collection of apps for automating task generation, summarizing topics, composing and rephrasing emails, and more. A beta version of monday AI Assistant is planned for launch in May 2023.
---
Nextiva, a conversation platform provider, has acquired Simplify360, an AI-powered customer experience platform based in India. Simplify360 uses AI and automation technology to help global businesses deliver customer support across channels like email, social media, live chat, online reviews, and e-commerce. The acquisition will also help Nextiva expand its presence in the Asia-Pacific market. Nextiva customers will have immediate access to Simplify360's offerings, and full integration with Nextiva's platform is expected later.
---
Pegasystems, a low-code platform provider, has announced a new partnership with Tealium, a customer data platform. The partnership will enable connectivity between the Pega Customer Decision Hub and Tealium's Customer Data Platform, allowing brands to leverage first-party behavioral data and AI-powered decisioning tools to maximize relevance and empathy during customer interactions. Tealium joins a growing list of CDPs that integrate with Pega Customer Decision Hub, which will further empower clients with the resources they need to activate customer insights in real-time across channels.
---
Salesforce has announced several new Einstein GPT and Data Cloud capabilities for Flow, Salesforce's portfolio of automation tools. By powering Flow with Salesforce Data Cloud, customers can automate complex workflows and trigger actions based on real-time changes in customer behavior. Meanwhile, Einstein GPT will help Flow users create and modify automation with a conversational interface, simplifying the flow creation process and lowering the barrier of entry for non-technical users.
---
SAS, a global analytics provider, has announced that the SAS Customer Intelligence 360 platform is now available in the AWS Marketplace. Mike Blanchard, Vice President of SAS Customer Intelligence, made the following statement to accompany the news: "SAS Customer Intelligence 360 has been built with and deployed on AWS since its inception in 2014. This relationship has been crucial to our ability to deliver an agile, market-leading SaaS platform. This listing in AWS Marketplace now offers a streamlined approach to buying SAS Customer Intelligence 360, furthering SAS' ability to grow and penetrate the market."
---
Expert Insights Section
---
Watch this space each week as the Solutions Review editors will use it to share new articles from the Expert Insights Series, Contributed Shorts videos, Expert Roundtable videos, event replays, and other curated content to help you gain a forward-thinking analysis and remain on-trend with changing industry expectations. All to meet the demand for what its editors do best: bring industry experts together to publish the web's leading insights for enterprise technology practitioners.
---
Marketing and customer relationship management are some of the most critical factors in an enterprise's success, which means organizations must consistently educate their employees on the newest marketing trends and CRM tools. With this in mind, the editors at Solutions Review have compiled this list of marketing courses on Udacity to consider taking.
---
As part of Solutions Review's Expert Insights Series, Mario Matulich, the President of Customer Management Practice, explores the concept of customer service organizations potentially leading the way toward a 4-day work week. In his article, Matulich examines why flexibility is the future of customer service work and what that might mean for the broader adoption of four-day workweeks.
---
As part of Solutions Review's Premium Content Series, Abhinay Bhasin, the Head of Product Marketing & Strategic Account Relationships at ProfitWheel, explains why the end of third-party cookies can unlock a whole new world of opportunity for businesses.
---
For consideration in future news round-ups, send your announcements to wjepma@solutionsreview.com.
---