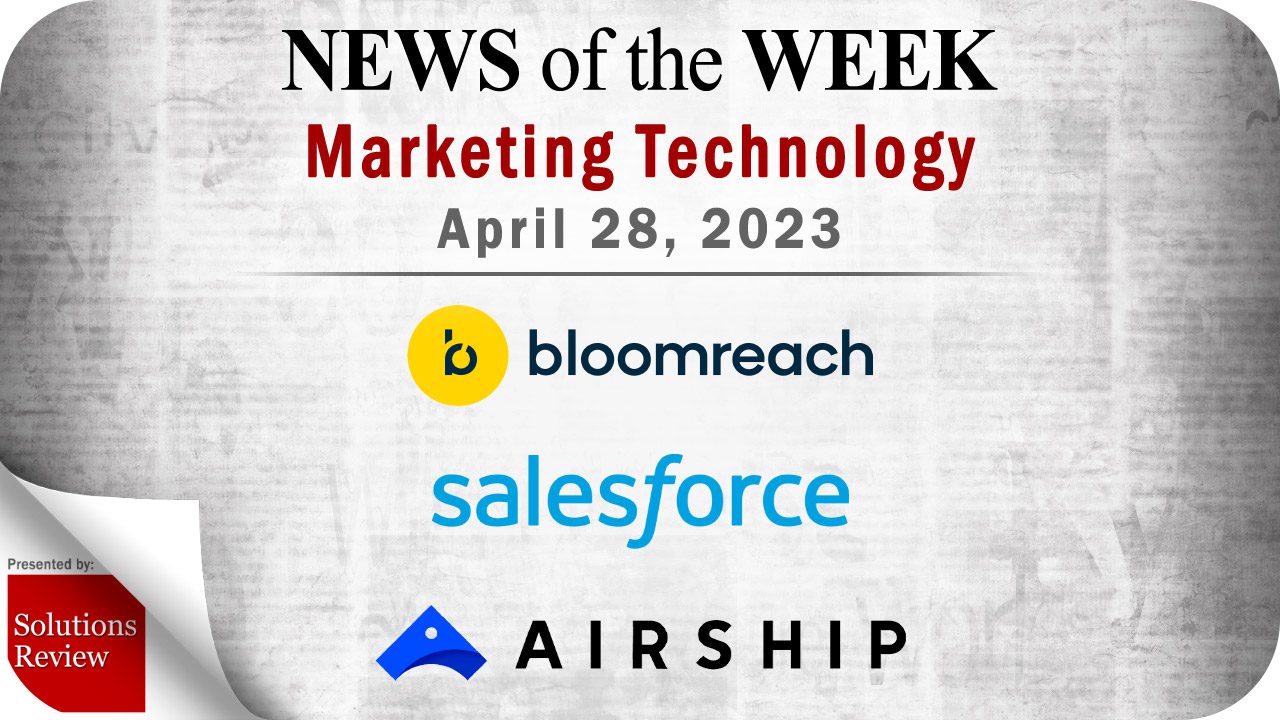 The editors at Solutions Review have curated this list of the most noteworthy MarTech news from the week of April 28th. This round-up covers announcements and updates from companies like Sitecore, Bloomreach, Salesforce, Airship, and more.
Keeping tabs on the most relevant CRM and MarTech news can be time-consuming. As a result, our editorial team aims to summarize the week's top headlines in the marketing technology landscape. The Solutions Review editors will compile a weekly round-up of vendor product news, mergers and acquisitions, venture capital funding, talent acquisition, and other noteworthy MarTech news. With that in mind, here is some of the top MarTech news from April 28th.
Our
Free CRM Buyer's Guide
 helps you evaluate the best solution for your use case and profiles leading providers in the marketplace.
Top MarTech News From the Week of April 28th, 2023
---
Airship, a mobile app experience (MAX) management solution, has announced a new no-code App Experience Editor to help users accelerate value creation by enabling anyone on their team to design, deploy, and iterate on multi-screen app experiences that have native performance, accessibility, and measurements functionalities. With this no-code app editing engine, businesses can streamline how they create experiences and campaigns without relying on ongoing developer support or application updates.
Bloomreach, a global commerce experience cloud platform provider, has announced new tools to help users gather and analyze data in the Bloomreach platform. With the new Analytics and Reporting Template Library, users can streamline the process of creating reports and analyses with a collection of pre-defined templates based on widespread use cases. This enables marketers of all skill levels with Bloomreach's platform to access the data they need and use it to create custom templates based on specific goals and needs.
---
Image Relay, a company that delivers a "single source of truth" for digital assets and product information, has launched Marketing Delivery. This new cloud-based solution combines and expands its digital asset management (DAM) and product information management (PIM) capabilities to help clients improve how they organize, connect, manage, and distribute digital assets and information quickly and accurately. The new platform eliminates manual formatting efforts and spreadsheets, allowing teams to rapidly set up product channels and export templates.
---
Mindtickle, a global provider of revenue enablement technology, has released new capabilities to help organizations align their revenue teams around essential productivity drivers. These capabilities include faster launching of enablement programs, custom content sharing and tracking, centralized access to all revenue productivity solutions, smart content attribution, post-call reports powered by generative AI, revenue impact data analysis, and more. The release will debut as part of Mindtickle's digital event, "Time for a Revenue Productivity Rally: Mindtickle's Spring 2023 Announcement."
---
NTT DATA—a global digital business and IT services provider—has unveiled Launch by NTT DATA, a new solution to help organizations develop digital experiences that generate customer engagement and growth. The new solution's service areas include product design, continuous delivery, innovation, go-to-market strategy acceleration, artificial intelligence (AI) implementations, futureproofing, machine learning (ML), and more. Launch by NTT DATA was revealed at the company's Nexus 2023 client event in Napa Valley on April 26-27, 2023.
---
Optimove, a customer-led marketing platform, has launched a Solutions Partner Program. The new program is designed to develop and support a network of certified, services-based partners that work with Optimove to source, sell, and deliver integrated data-driven marketing solutions for clients. Solution Partners will have dedicated access to the Optimove Partner Portal, where they can access training, enablement, certification, deal attribution, lead attribution, and dedicated sales support for their team members.
---
Salesforce recently announced several innovations for the Salesforce Field Service suite. Powered by Data Cloud and Einstein GPT, these innovations will help the public sector, healthcare, and manufacturing organizations lower service costs, generate insights, streamline operations, and improve customer experiences. The innovations include Field Service Mobile powered by Einstein GPT, Asset Service Management powered by Data Cloud, and Contractor Management with Flex Worker Management.
---
Sitecore, a global end-to-end digital experience software provider, has announced a complete Open AI ChatGPT integration for all its fully composable software solutions. With this upcoming release, powered by Microsoft Azure OpenAI Service, marketers can integrate Generative AI functionalities into their Sitecore-powered marketing technology stack and improve their efficiency, personalization, and content production efforts at scale across Sitecore's collection of composable solutions.
---
Salesforce also announced Slack Canvas, a new and permanent place in Slack that allows teams to collaborate, create, organize, and share essential business resources in real-time. These canvases can contain any type of content, including text, apps, files, rich media, unfurl links, and preview systems of record. Slack Canvas will help teams capture data, curate knowledge sets, streamline team processes, leverage the knowledge of their colleagues, and more. Slack Canvas is rolling out today and will be available to all Slack users in the coming months.
---
Windstream Enterprise—an IT-managed network and communications provider—has added a Contact Center as a Service (CCaaS) solution to its Contact Center Solution (CCS) portfolio. The new CCaaS solution is powered by Talkdesk, a global cloud contact center provider for customer-obsessed companies. It will provide enterprises with AI-powered contact center capabilities capable of delivering scalable, secure, multichannel customer experiences that improve agent productivity.
---
Expert Insights Section
---
Watch this space each week as the Solutions Review editors will use it to share new articles from the Expert Insights Series, Contributed Shorts videos, Expert Roundtable videos, event replays, and other curated content to help you gain a forward-thinking analysis and remain on-trend with changing industry expectations. All to meet the demand for what its editors do best: bring industry experts together to publish the web's leading insights for enterprise technology practitioners.
---
Social media marketing is in a nearly constant state of evolution, so professional and entry-level social media marketers must equip themselves with skills and insights that allow them to create and manage successful, agile campaigns with social media marketing courses. With that in mind, our editors have compiled a list of the best social media marketing courses available on Coursera's online learning platform.
---
As part of Solutions Review's Premium Content Series, Dan LeBlanc, the CEO and co-founder of Daasity, explores the idea that an unprofitable tech company might be hiding in your consumer brand. In the article, LeBlanc delves into how technology strategies can affect profitability, what consumer brands must do to pivot to changing trends, and more.
---
As part of Solutions Review's Expert Insights Series, Miika Makitalo, the CEO of HappyOrNot, delves into how data analytics can be the key to sustaining your brand in the future of the customer experience. The article covers why brand sustainability is valuable in today's economy, why the future of customer experiences will be driven by analytics, why customer expectations are changing, and more.
---
For consideration in future news round-ups, send your announcements to wjepma@solutionsreview.com.
---