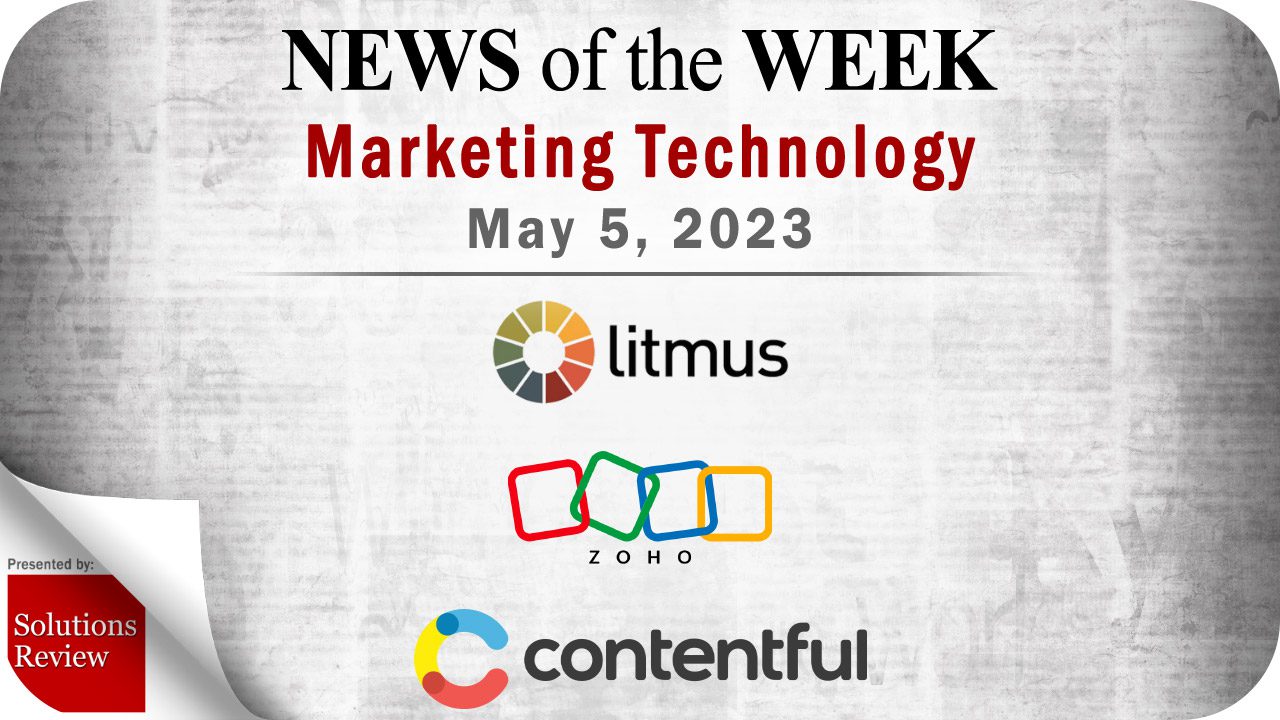 The editors at Solutions Review have curated this list of the most noteworthy MarTech news from the week of May 5th. This round-up covers announcements and updates from companies like Litmus, Zoho, Contentful, and more.
Keeping tabs on the most relevant CRM and MarTech news can be time-consuming. As a result, our editorial team aims to summarize the week's top headlines in the marketing technology landscape. The Solutions Review editors will compile a weekly round-up of vendor product news, mergers and acquisitions, venture capital funding, talent acquisition, and other noteworthy MarTech news. With that in mind, here is some of the top MarTech news from May 5th.
Our
Free CRM Buyer's Guide
 helps you evaluate the best solution for your use case and profiles leading providers in the marketplace.
Top MarTech News From the Week of May 5th, 2023
---
Accenture, a global professional services company, has announced a new collaboration with Salesforce to accelerate the deployment of generative AI capabilities for CRM solutions. Together, the companies will develop a hub for generative AI that provides organizations across industries with the technology they need to scale Einstein GPT, Salesforce's generative AI, to increase employee productivity and optimize customer experiences. The new hub will connect with Accenture's Generative AI and Large Language Model (LLM) Center of Excellence and facilitate custom AI strategies, innovative use cases for sales and service teams, industry-specific AI models, and more.
---
Aisera, a generative AI solution provider, has partnered with Microsoft to deliver an AI copilot for enterprise service experiences. This is an extension of Aisera's collaboration with Microsoft, as it previously integrated the ChatGPT and generative AI capabilities from Microsoft Azure OpenAI Service into Aisera's AI Service Experience Platform (AISX). With this partnership, enterprises can benefit from Aisera's domain-specific large language models (LLMs), unsupervised AI, generative AI, AI workflows, and an orchestration bot engine that saves costs, improves user productivity, and maximizes revenue.
---
Avionos, a global digital partner to Fortune 500 companies, has acquired Integrous Marketing, a digital marketing agency providing clients with demand generation and analytics solutions. The acquisition will help Avionos' offerings and digital marketing, content, and experience services. Together, the companies will scale their client capabilities to solve needs in the market and drive new opportunities for shared clientele, employees, and partners.
---
CallMiner, a provider of conversation intelligence solutions that drive business performance improvement, has announced that it will expand its use of Microsoft Azure artificial intelligence (AI) and machine learning as a Microsoft partner. With this collaboration, CallMiner can augment its AI capabilities with Azure Cognitive Services. This will help the company quickly scale, meet customers' demands, and help joint clientele drive system change by surfacing customer intelligence and supporting data-driven business decisions.
---
Contentful, a composable content platform for digital-first businesses, has launched new product features, capabilities, and integrations to help teams improve how they connect, collaborate, and build digital experiences at scale. The new capabilities include enhanced content visualization features, an AI Content Generator, website starter templates, and pre-built integrations like Shopify Connector, Google Analytics 4, and the Contentful SAP Commerce Cloud Connector.
---
Litmus, an email marketing solution provider, has announced the beta launch of Litmus Assistant, a new AI-powered tool designed to help marketers create compelling email campaigns faster. Litmus Assistant harnesses AI technology to optimize email content, ensure inclusivity, and give email marketers more time to develop and test email campaign strategies that maximize email-driven revenue. Features include subject line generation, language translation, and a tool for rewriting email copy in different tones of voice.
---
Mindtickle, a global provider of sales enablement and revenue productivity solutions, has acquired Enable Us, a Digital Sales Room and buyer enablement provider. The acquisition will help Mindtickle empower sales reps with tools for collaborating digitally with buyers, using personalized content experiences, accelerating sales cycles, and growing revenue predictably. Mindtickle customers as Asset Hub can immediately add Enable Us' digital sales rooms to their Mindtickle instance, while Enable Us customers can start leveraging Mindtickle's suite of revenue productivity solutions.
---
Mixpanel, an event analytics solution, is expanding its target audience beyond product teams to bring its event-based analytics capabilities to marketers. With Mixpanel's new Marketing Analytics offering, marketers can use multi-touch attribution to identify which channels are driving new users, understand the paths a new user takes, monitor channel performance to increase Return on Advertising Spend (ROAS), track a brand's most valuable customer segments to optimize campaign targeting, measure how various groups interact with content, and more.
---
Nextiva, a conversation platform provider, has launched NexConnect, a marketing enablement platform built specifically for the Nextiva partner community. With NexConnect, partners can customize an extensive collection of content and collateral and use it to run various campaigns and marketing activities in a few clicks. Capabilities include contact list management, no-code landing pages, field marketing support, organic social media content, co-brandable collateral library, marketing automation, real-time analytics, and campaigns for email, blogs, social posts, and more.
---
Optimizely, a digital experience platform (DXP) provider, has named Rupali Jain as Chief Product Officer. Jain has over twenty years of experience and has previously held product leadership roles at multiple SaaS software companies, including Power BI at Microsoft and Qualtrics. In her new role, Jain will use her technical expertise to empower faster, confident marketing innovation and help Optimizely advance its AI and machine learning applications to help users manage their workflows, experiment at scale, and deliver digital experiences that exceed customer expectations.
---
Salesforce, a global CRM provider, has announced Slack GPT, a new conversational AI Experience natively integrated into Slack. The new tool enables users to use generative AI app integrations and different language models. It gives them the ability to tap into secure customer data insights from the Salesforce Customer 360 and Data Cloud solution suites. Slack GPT will also work alongside Einstein GPT to "unlock" the power of CRM and conversational data to help organizations improve productivity. The announcement was made at World Tour NYC.
---
Sendinblue, an all-in-one digital marketing platform for small to medium-sized businesses, has rebranded as Brevo. The rebrand reinforces the company's mission to provide companies of all sizes with a customer relationship management (CRM) suite that powers long-term, sustainable growth. Armand Thiberge, Founder and CEO of Brevo, says, "The transformation into Brevo is an important milestone at the decade mark for our company…We believe in empowering businesses of every size to keep the global economy strong. This is why the name Brevo was chosen because it conveys positivity and encouragement."
---
Veeva, a global provider of cloud software for the life sciences industry, has unveiled Vault CRM, a "next generation" CRM tailored to life sciences businesses. Vault CRM is built on the Veeva Vault Platform and has all the functionalities of Veeva CRM alongside new innovations, including CRM Bot and Service Center. CRM Bot is an intelligent assistant to help sales and medical teams increase productivity, while Service Center is an integrated call center application for inside sales and hybrid representatives. Service Center is available in Vault CRM at no additional charge, and CRM Bot is available separately and can be integrated with the CRM.
---
Zoho Corporation, a global technology company, has announced thirteen new generative AI application extensions and integrations for the Zoho solution suite, including Zoho CRM, Analytics, Desk, Writer, Mail, Cliq, Social, and other applications. The new tools are powered by ChatGPT and will help Zoho blend third-party intelligence with Zia, its AI engine that runs on the company's secure cloud. Additionally, the integration model leverages Zoho's decade-long investment in AI to help companies improve customer experiences, maximize customer value, and protect user privacy.
---
Expert Insights Section
---
Watch this space each week as the Solutions Review editors will use it to share new articles from the Expert Insights Series, Contributed Shorts videos, Expert Roundtable videos, event replays, and other curated content to help you gain a forward-thinking analysis and remain on-trend with changing industry expectations. All to meet the demand for what its editors do best: bring industry experts together to publish the web's leading insights for enterprise technology practitioners.
---
Solutions Review is proud to reach a milestone of 50 vendors featured as participants in its growing selection of virtual event programs. With tech conferences forever changed, Solutions Review has expanded its multimedia capabilities in response to the overwhelming demand for these kinds of events. Since its first virtual event in June 2020, Solutions Review has hosted over 35 exclusive webinars featuring 50 unique vendors with 65 individual segments.
---
For consideration in future news round-ups, send your announcements to wjepma@solutionsreview.com.
---