Top MarTech News From the Week of June 23rd: Updates from Freshworks, Iterable, Zendesk, and More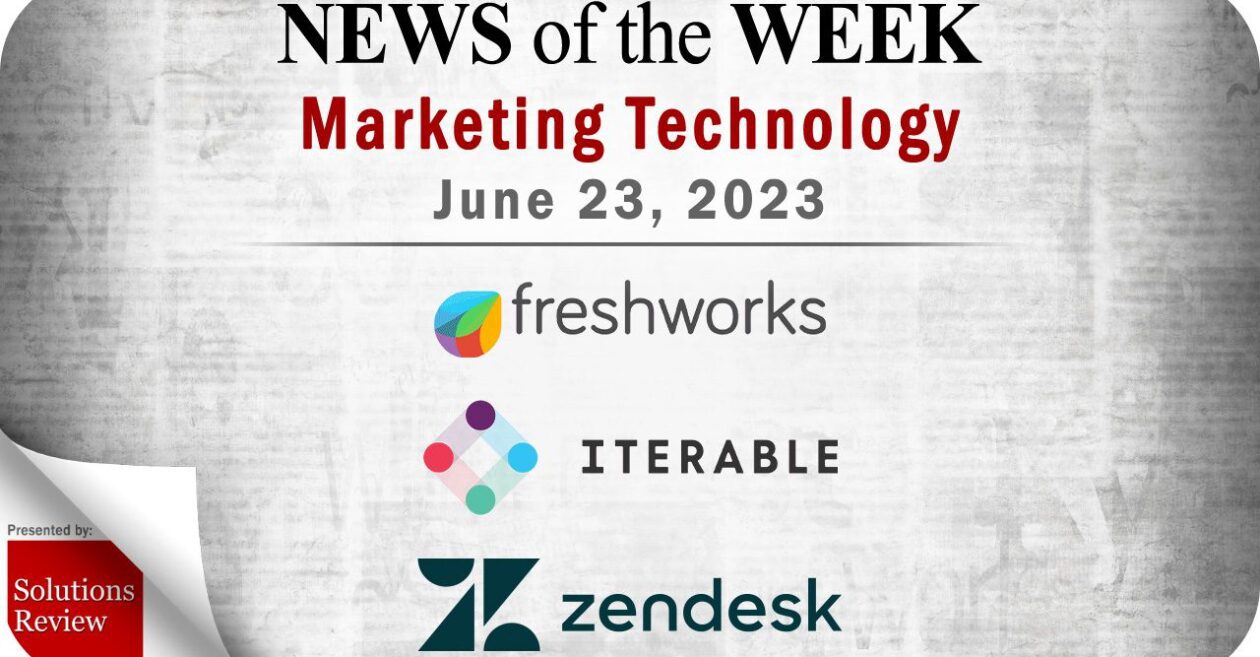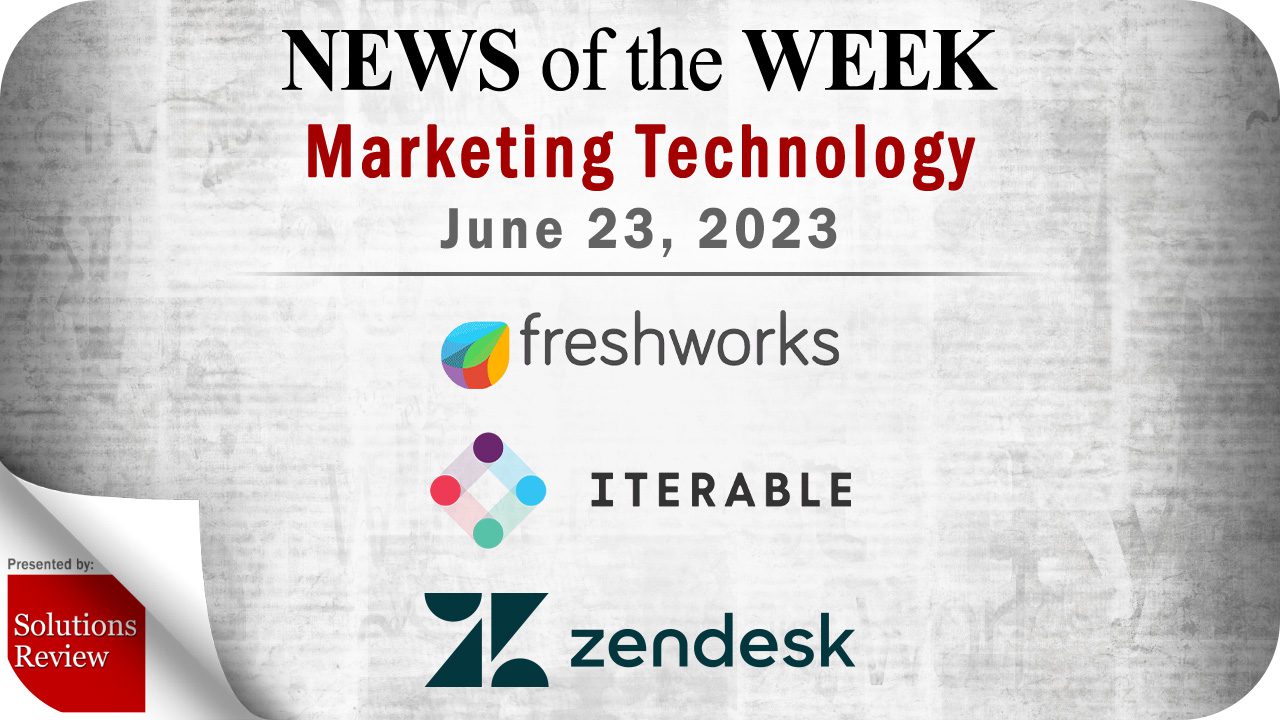 The editors at Solutions Review have curated this list of the most noteworthy MarTech news from the week of June 23rd. This round-up covers announcements and updates from companies like Freshworks, Iterable, Zendesk, and more.
Keeping tabs on the most relevant CRM and MarTech news can be time-consuming. As a result, our editorial team aims to summarize the week's top headlines in the marketing technology landscape. The Solutions Review editors will compile a weekly round-up of vendor product news, mergers and acquisitions, venture capital funding, talent acquisition, and other noteworthy MarTech news. With that in mind, here is some of the top MarTech news from June 23rd.
Our
Free CRM Buyer's Guide
 helps you evaluate the best solution for your use case and profiles leading providers in the marketplace.
Top MarTech News From the Week of June 23rd, 2023
---
Alorica, a global provider of customer experience (CX) solutions, has announced Alorica IQ, a new digital foundry that integrates technology into all its customer interactions and services. Alorica IQ unifies Alorica's digital solutions, analytics, and consulting services into a new end-to-end offering. It's designed to help companies transform their brand experience by diving deeper into data around customer preferences, call drivers, and friction points across channels and processes.
---
CallMiner, a conversation intelligence solution provider, has announced RealTime, a new real-time agent guidance product. The new feature combines real-time and post-interaction analytics capabilities to provide organizations with AI-powered tools to improve customer experiences, support agent onboarding, reinforce behaviors with personalized alerts, resolve issues faster, and more. Some of the features and enhancements available with RealTime include Live Insights, Live Listen, and Agent Call for Help, which can empower agents with "next-best-action" guidance, call flow, script adherence support, and up-sell/cross-sell opportunity identification.
---
Freshworks has launched several new generative AI enhancements for its product lines to help service, marketing, sales, and IT teams become more efficient with the emerging technology. The new features—Freddy Self-Service, Freddy Copilot, and Freddy Insights—can eliminate busy work by offloading it to bots, offer contextual assistance to users, automate the analysis of daily productivity, generate recommendations that drive business impact, and extract actionable insights from employee work. These three predictive and assistive generative AI capabilities are now available for beta testing.
---
Genesys, a global cloud provider of AI-powered experience orchestration solutions, has announced a new task management solution to help companies automate workflows between contact center employees and other departments. With the new Work Automation and Task Routing tools—available now for the Genesys Cloud CX platform—businesses can create seamless end-to-end customer experiences, bridge the gap between the front and back office, solve customer-related tasks in less time, help employees stay more connected, and streamline post-interaction follow-ups.
---
Iterable, an AI-powered customer communication platform, has unveiled details on its 2023 Summer Product Release. The new release, announced at the company Activate Tour event in London, introduces several new features, including AI-Powered Frequency Management, Global SMS, Flexible Default Locales, and the launch of a new EU Data Center to help EU-based and multi-national brands improve customer trust. These new functionalities will empower users to expand their global reach with SMS marketing, optimize customer engagement, improve the ROI of every message sent, ensure consistent delivery of localized content, and maximize their global return on investment (ROI).
---
Salesloft, an AI-powered revenue workflow platform provider, has announced the launch of Rhythm, a new solution powered by Conductor AI, a proprietary, patent-pending AI engine. Rhythm is designed to translate buyer behavior into immediate, impactful seller actions in a prioritized workflow customized to each unique seller. The new tool can seamlessly integrate with other CRMs, sales, and marketing technologies so sellers can save time by staying in one place instead of swiveling from app to app.
---
Speedeon Data—a direct marketing and consumer intelligence solution provider—has added its in-depth life event data to the AudienceMaker platform. By combining the capabilities of a first-party CRM with Speedeon's third-party consumer marketing data, AudienceMaker can help advertisers maximize the effectiveness of their customer retention and prospect acquisition strategies in a few simple clicks. Lindsey Kaiser, the Chief Product Officer at Speedeon, says, "By putting our life event data into AudienceMaker and keeping it updated around the clock, we're essentially giving marketers instant access to a pipeline of valuable prospects and current customers who may need their product or service more than ever."
---
Sprinklr, a customer experience management platform for modern enterprises, has launched its spring platform release, which expands its solution suite with over one-hundred new capabilities. The latest release, announced during Customer Contact Week (CCW) in Las Vegas, includes new AI and generative AI-powered capabilities to streamline the process of building, training, implementing, recalibrating, and updating conversational bots with AI models. Other new features can help companies build their Knowledge Base quickly, automatically generate chat responses in multiple languages, and additional CCaaS features to maximize agent productivity.
---
Totango, a composable customer success platform, has announced Totango In-App, a new in-product experience builder. The new solution—advanced by Totango's acquisition and integration of Lou—will help businesses scale their self-serve user onboarding services, drive product adoptions with in-app announcements, use surveys to capture customer feedback, and more without writing a single line of code. General availability for the new toolset is expected to launch in Fall 2023, but customers can join the closed beta waitlist today.
---
Typeface, a generative AI platform for enterprise content creation, has announced that it has partnered with Salesforce to integrate its brand-personalize generative AI functionalities with Salesforce Marketing GPT. Through the two companies' partnership, Salesforce and Typeface customers can deliver custom, contextual content across customer journeys, achieve scalable content personalization, boost customer engagement, and increase conversion rates, all powered by generative AI.
---
Zendesk has acquired Tymeshift, an AI-powered modern workforce management (WFM) solution designed to help customers streamline complex customer experience (CX) workload management. Zendesk will combine Tymeshift's predictive capabilities with its pre-existing AI capabilities to power the "next generation" of AI-assisted CX agent productivity. This will help organizations improve efficiency by automatically managing agent scheduling and making it easier to react to spikes in customer inquiries.
---
Expert Insights Section
---
Watch this space each week as the Solutions Review editors will use it to share new articles from the Expert Insights Series, Contributed Shorts videos, Expert Roundtable videos, event replays, and other curated content to help you gain a forward-thinking analysis and remain on-trend with changing industry expectations. All to meet the demand for what its editors do best: bring industry experts together to publish the web's leading insights for enterprise technology practitioners.
---
As part of Solutions Review's Premium Content Series, David Greenberg, the CMO at Conversica, outlines how outdated chatbots can do more harm than good for your business. In the article, Greenberg spotlights how old-school chatbots are often powered by out-of-date technology, the limits that impose around scalability, and why that can negatively affect revenue.
---
As part of Solutions Review's Premium Content Series, Rodney Hart, the VP of Events at RainFocus, compiled some insights in Q&A form to help marketers see events as a way to change how they approach and manage the customer journey. The discussion touches on subjects like in-person events, how events have changed post-COVID, how event marketers can personalize their events, and what event models work best to develop a strategic marketing strategy.
---
For consideration in future news round-ups, send your announcements to wjepma@solutionsreview.com.
---