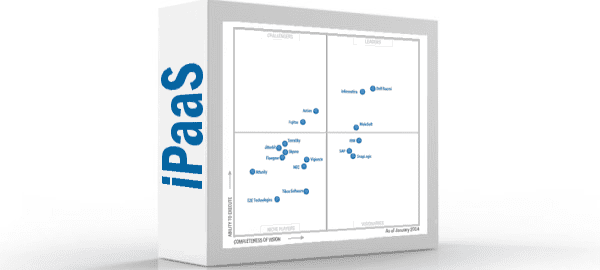 Last Week, Gartner released the 2015 Magic Quadrant for Enterprise Integration Platform as a Service (iPaaS). This is the seconds Gartner iPaaS Magic Quadrant since they began covering that market in 2014. Gartner's report does not include consumer-facing iPaaS vendors.
The iPaaS field has been, until recently, a relatively insignificant (in terms of revenue) player in the as-a-service marketplace,  but it's poised for explosive growth as price and technical barriers to entry drop.
We read through the 15 page report, which we obtained through a press release from Informatica and pulled some key takeaways on the state of the iPaaS marketplace.
What is iPaaS?
According to Gartner's report, an integration platform as a service (iPaaS), is a form of platform as a service (PaaS), that enables users to "implement integration projects involving any combination of cloud-resident and on-premise endpoints." That means that an iPaas is able to develop, deploy, execute, manage and monitor integration flows, linking multiple endpoints, such as applications, data sources, APIs, and processes.
Specific iPaaS functionalities listed in Gartner's report include: support for a variety of connectivity protocols, data/message mapping and transformation, routing and orchestration, adapters for cloud-based and on-premises applications, adapter developer toolkits, API management, integration flow development and management tools, cloudstreams, and more.
Who needs it?
The most frequent use for iPaaS is what Gartner refers to as "cloud services integration" (CSI), which is the integration of a combination of on-premises apps and data, SaaS apps, and cloud services.
However, Gartner also notes that iPaaS offerings are being used for other problems more and more. API publishing, B2B integration, and mobile app integration (MAI) are a few of the other uses listed.
A growing market
In 2014, subscription revenue for the enterprise iPaaS market grew more than 60 percent in 2014.
"During the past 12 months, the net number of players in the market has grown considerably," the report says. Gartner currently has more than 30 iPaaS providers on the market.
But revenue isn't the thing driving the market. Most vendors included in the report generated less than $10 million, and only one generated more than $50 million in revenue.
What these vendors are interested in, according to Gartner, is an ability to "establish control in user organizations' crucially strategic next-generation integration infrastructure."
Market volatility
 iPaaS market growth is going to attract investment from startups, established on-premise middleware players, providers of other forms of PaaS, and SaaS providers, but the influx of players create "crowded and confused" marketplace, the report says.
Gartner predicts "rapid appearance and disappearance of new providers," and says "mergers and acquisitions will be the norm over the next three to five years."
Consolidation and integration 
Despite the volatility of the iPaaS marketplace, Gartner predicts that the number of players in the iPaaS market will grow considerably, but that growth won't last forever.
Market consolidation is inevitable, says Gartner, and the entry of larger as-a-service players and legacy DI vendors implies that iPaaS could become an integrated function of broader PaaS and SaaS suites moving forward.
Despite this trend, stand-alone options will remain in the market, due to "users' requirements for neutral integration platforms bridging megavendors' ecosystems," says the report.
Leaders in the field
Gartner listed three vendors: Dell Boomi, Informatica, and MuleSoft, as "Leaders" in the iPaaS marketplace. Gartner qualifies market leaders as vendors who have several hundred or thousands of enterprise users for their iPaaS solution. Leaders ranked high on both "completeness of vision," and "ability to execute."
However, Gartner is careful to point out in their report that leaders may not necessarily be the best choice for an enterprise. Other providers, Gartner says, "may prove more suitable to a given user organization's needs for a variety of reasons, including geographic coverage, technical compatibility," and more.
Other vendors listed in the report are Attunity, E2E Technologies, Tibco Software, NEC, Flowgear, Jitterbit, Skyvva, TerraSky, Vigience, Fujitsu, Actian, SAP, IBM, and SnapLogic.
For a high-altitude overview of Cloud Platform providers, check out our 2015 Cloud Platform Solutions Buyer's Guide.
Latest posts by Jeff Edwards
(see all)