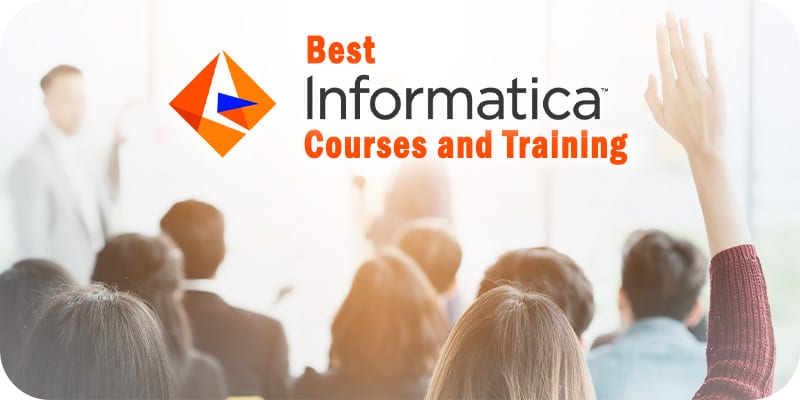 The editors at Solutions Review have compiled this list of the best Informatica training, online courses and classes to consider.
Informatica is one of the most widely used data integration platforms in the world. It combines advanced hybrid integration capabilities and centralized governance with self-service business access for a variety of analytic functions. Informatica PowerCenter is a metadata-driven integration tool that accelerates projects in order to deliver data to the business more quickly than manual hand-coding. It also allows developers and analysts to collaborate, prototype, analyze, and deploy projects. Informatica is used by more than 7,000 organizations and features strong interoperability between its growing list of data products.
With this in mind, we've compiled this list of the best Informatica online training and certifications to consider if you're looking to grow your data warehouse and integration skills for work or career advancement. This is not an exhaustive list, but one that features the best Informatica online training from trusted online platforms. We made sure to mention and link to related courses on each platform that may be worth exploring as well.
The Best Informatica Online Training
OUR TAKE: This six-week Edureka Informatica training provides hands-on training to install the product on Windows using Oracle as a database, as well as creating the services and connecting clients to a server.
Platform: Edureka
Description: Edureka's Informatica Training will help you master data integration concepts such as ETL and data mining using Informatica PowerCenter. It will also make you proficient in advanced transformations, Informatica Architecture, data migration, performance tuning, installation and configuration of Informatica PowerCenter. Throughout the Informatica training course, you will be working on real-life industry-based use cases.
GO TO TRAINING
OUR TAKE: Informatica Exams deliver a consistent measurement and validation of the skills needed to ensure a successful implementation and maximum return on your Informatica technology investment.
Platform: Informatica
Description: Informatica Certifications focus on not only your Informatica skills and capabilities but also on your performance and the outcomes of your Informatica product implementations. They have been developed by recognized subject matter experts to measure competencies in tasks by role and to provide clear expectations of requirements and key factors for success.
GO TO TRAINING
OUR TAKE: Intellipaat's Informatica course features 42 hours of instructor-led training, 42 hours of self-paced video, 60 hours of project work and exercises, and can be completed via a flexible schedule.
Platform: Intellipaat
Description: Intellipaat Informatica training is an industry-designed course for mastering the Informatica tool for ETL. You will learn how to configure, install and administer the PowerCenter. As part of the training, you will also do testing and monitoring of data processing using automated, scalable and auditable approach. You will get trained in Workflow Informatica, data warehousing, Repository Management and other processes.
More "Top-Rated" Intellipaat paths: Informatica Big Data Edition Training, Informatica MDM Training
GO TO TRAINING
OUR TAKE: With more than 5,000 ratings, this is one of the web's most popular Informatica training modules. The course touts 73 sections with 288 lectures, as well as 35 hours of on-demand video and 17 downloadable resources.
Platform: Udemy
Description: The course covers all topics starting from data warehouse concepts, roles and responsibilities of an ETL developer, installation and configuration of Informatica Power Center 10x/9.X, in detailed explanation of transformations with practical examples, performance tuning tips for each transformation (clearly shown and explained), usually asked interview questions, quizzes for each section and assignments for your hands on and in-depth explanation of the Repository Service, Integration Service and other basic administration activities.
More "Top-Rated" Udemy paths: LEARNING PATH: Complete Roadway to Informatica Powercenter 9, Informatica Cloud – Data Integration
GO TO TRAINING
Solutions Review participates in affiliate programs. We may make a small commission from products purchased through this resource.

Latest posts by Timothy King
(see all)