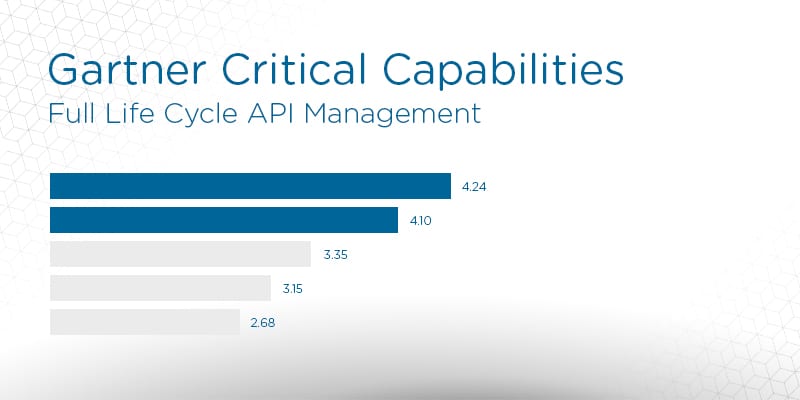 Analyst house Gartner, Inc. recently released its 2018 Critical Capabilities for Full Life Cycle API Management, a companion resource to the popular Magic Quadrant report. Used in conjunction with the Magic Quadrant, Critical Capabilities is an additional resource which can assist buyers of data and analytics solutions in finding the products that fit best in their organizations.
Gartner defines Critical capabilities as "attributes that differentiate products/services in a class in terms of their quality and performance." Gartner rates each vendor's product or service on a five-point (five points being best) scale in terms of how well it delivers each capability. Critical Capabilities reports include comparison graphs for each use case, along with in-depth descriptions of each solution based on the various points of comparison.
The study highlights 22 vendors Gartner considers most significant in this software sector and evaluates them against 13 critical capabilities and five use cases prevalent in the space, including:
Mobile
Integration (internal APIs/cloud/SaaS)
Data as a service
B2B
Open banking
The editors at Solutions Review have read the report, available here, and pulled out the key takeaways.
Finding a solution provider is harder than ever
Gartner notes that selecting an API management vendor has grown more complex over time due to a growing number of capabilities offered by the major players. The capabilities include in-tool features for a wide variety of use cases but also services and support offered by the vendor that help users with specific strategies. Like with most other enterprise technology purchasing decisions. the best bet is to always select the tool that best fits your environment and use cases.
Most organizations need advanced API access control
When Gartner polled organizations in its customer survey and asked them which critical capabilities and key features they use most or had used in the past, 64 percent said advanced API access control. The researcher views this as a "fundamental capability" that involves the use of standards to control who can access APIs, through both authentication and authorization. Access control is vital in many verticals due to the sensitive nature of some data volumes and the growing concern over government regulation and compliance.
Read Gartner's Critical Capabilities to see how all the top providers scored.