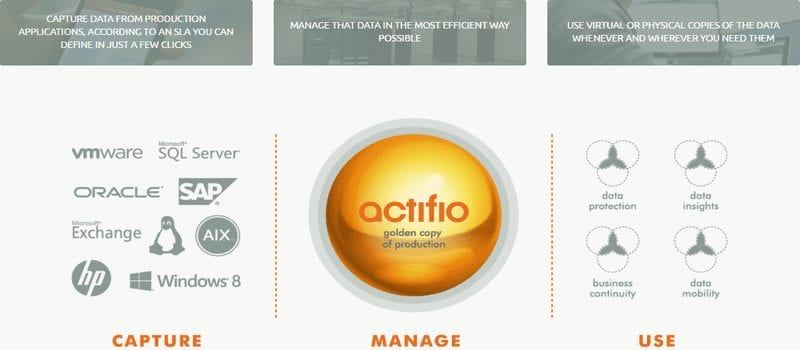 Boston, MA-based Actifio recently announced the availability of a new bundled offering available through a webstore developed by Avnet, Inc. Avnet will support Actifio by taking their software solutions to market, with the new webstore allowing Actifio partners and customers to purchase an integrated copy data virtualization solution including a pre-qualified IBM server pre=loaded with Actifio Sky, VMware vSphere, and storage platforms to support Actifio Sky, the provider's cloud-based copy data virtualization platform. The new offering will make it easier for Actifio partners, MSPs, and cstomers to deploy Actifio's technology.
Actifio Sky brings the power of the company's copy data virtualization to enterprise business users, providing them with the tools they need to build high-quality applications faster to improve business resiliency and availability, and adopt hybrid cloud infrastructure faster. As a result, Actifio users are able to deploy the solution anywhere, whether on-premise in legacy data center environments, or inside IBM Softlayer, OpenStack private clouds, or in public clouds.
Actifio's Founder and CEO Ash Ashutosh comments on the announcement, adding: "Users asked us to further simplify their deployment and decrease their time-to-value by delivering a fully integrated converged solution. It's what they've come to expect from converged and hyper-converged systems, making it easier for users to consume a critical IT function and make their journey to the hybrid cloud simpler. In collaboration with Avnet, we are delivering to that request."
Avnet customers are now able to purchase IBM M-Series servers that are pre-qualified and configured with hardware specifications to support the requirements of the Actifio Sky Virtual Appliance.
Read the official press release.

Latest posts by Timothy King
(see all)