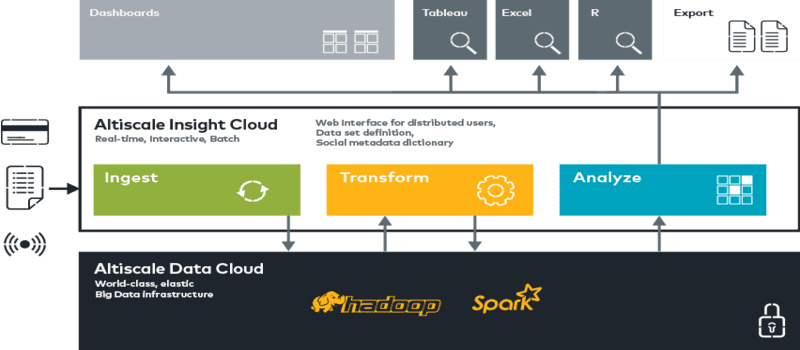 Big Data as Service provider Altiscale made a major announcement this morning with their release of Insight Cloud, a self-service analytics tool for Big Data. Altiscale Insight Cloud bridges the gap between the business user and their data, providing a rapidly queried Data Lake that enables business users to get the answers they seek, while using Business Intelligence tools they are familiar with.
Insight Cloud powers SQL queries, dynamic visualizations, real-time dashboards, and other reporting and analytics capabilities. Insight Cloud is aimed at replacing more complex and expensive alternatives that require heavy IT involvement, allowing users to harness Big Data more broadly and quickly throughout an organization, improving the speed and size of business impact.
Altiscale Insight Cloud simplifies the connection between the end-user and Big Data, as well as bypasses the need for expensive, proprietary solutions. Insight Cloud achieves its speed through a converged architecture, eliminating the need for separate relation data stores for aggregated data. This helps to reduce the cost and management burden on the organization while allowing easier scalability from tens of terabytes to petabytes. This converged architecture also minimizes data movement and replication across environments.
Raymie Stata, CEO and Founder at Altiscale concludes: "Our enterprise customers first wanted to have a powerful, affordable solution to solve their Big Data challenge, which we provided with the Altiscale Data Cloud. Today we are introducing the Altiscale Insight Cloud, which solves the challenge of bringing Big Data to a broader range of users, so that enterprises can quickly develop new offerings, better target customers, and respond to shifting market or operational conditions. It's a faster and easier way to get from Big Data infrastructure to insights that drive real business value."
Click here to read Altiscale's official press release.

Latest posts by Timothy King
(see all)