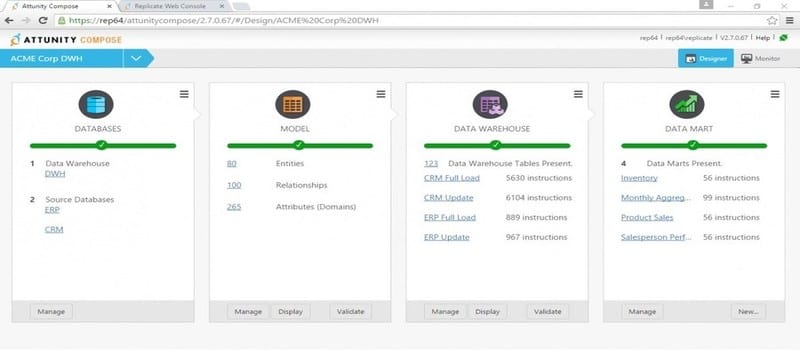 Attunity has announced the release of Attunity Compose 3.0, the latest major version of the vendor's agile data warehouse automation solution. Version 3.0 offers enhancements for enterprise use cases including 10 times faster extract, transform, load (ETL) processing speeds, as well as advanced DevOps capabilities that streamline the data warehouse design, development and deployment processes.
Attunity Compose 3.0 automates the design, implementation and updates of data warehouses and data marts while minimizing the manual design processes of data modeling, ETL generation and workflows, allowing organizations to speed up analytics projects, optimize development and ETL, and reduce risk.
Compose 3.0 includes the following feature enhancements:
ETL performance: Significant optimizations leverage the power of the underlying data warehouse platform to provide faster processing
Advanced Version Control: Integration with enterprise source control systems enables developers to easily roll back to earlier versions of the project while minimizing disruption
Improved collaboration: Enables multi-user development projects by supporting concurrent development of models, mappings, and data marts
Attunity's Chief Marketing Officer Itamar Ankorion speaks to the new release: "Enterprises today need a faster way to enable analytics, and deliver more value with quicker iterations and less resources. Compose 3.0 provides an innovative data warehouse automation solution to accommodate these needs with enhanced enterprise-class capabilities. As we see customers scale their deployments in scope and volume, we enhanced Attunity Compose to enable higher ETL performance and larger implementations."
The announcement was made at TDWI Conference in Las Vegas, Nevada, and Attunity is showcasing the new offering at the event.