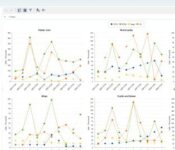 In its quest to provide customers with innovative business analytics platforms, open source business intelligence enterprise Pentaho corporation is focusing on making information more consumable for end-users.  In October, Pentaho announced that it has identified four priorities for big data analytics innovation for 2014.  The findings, which are based on end-user research from Enterprise Management Associates (EMA) and 9sight Consulting, appear in a report titled: "Big Data: Operationalizing the Buzz."
The findings show that those who are actively involved with big data projects are now concerned about solving complex data management and analysis challenges.  "Organizations have multiple data platforms and more sophisticated users.  As they begin to mash-up information in these new multi-structured data platforms, ecosystems management, data access and integration and data analytics become much more important," says EMA big data analyst John Myers.
Four priorities for Big Data innovation in 2014
1.  Data blending for hybrid data architectures: by utilizing Pentaho 5.0 companies can blend big data at the source.
2.  Real-time analytics on Hadoop: Pentaho Storm allows developers to process big data in real-time using their existing visual extract, transform, load (ETL) transformations.
3.  Predictive analytics: by using Hadoop enterprises can synthesize more accurate predictions with leveraging big data for fraud detection and other predictive applications.
4.  Free Form Search: User-friendly search technologies can help companies seeking new discoveries from big data sources.
Top three big data business drivers
According to the EMA and 9sight Big Data report, big data implementations in productions increased from 27 percent in 2012 to 34.3 percent for this year.  The report also states that 68 percent of companies are operating two or more big data implementations for their big data initiatives.  Additionally, the top three big data business drivers include: speeding time for operational or analytical workloads; increasing competitive advantage with flexibility of data used in business solutions; and business requirements for higher levels of advanced analytics.
Richard Daley, Pentaho's Chief Strategy Officer offered an explanation for the increased big data production.  He says: "these customers turn to Pentaho because we provide a proven data integration and analytics layer that can work with all these technologies as data flows through the hybrid environment."
Click here to read more from Pentaho abou that what is coming for Big Data and Data Integration in 2014.