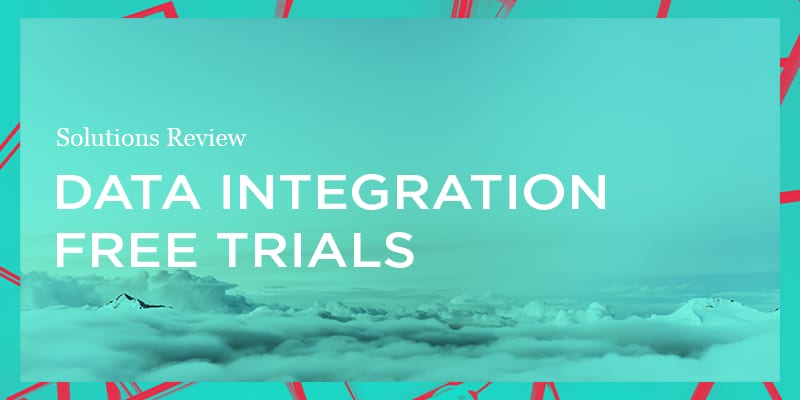 Data integration has been quickly moving to the cloud, with organizations increasingly needing to connect disparate data sources and applications. There are a wide variety of options out there for organizations small and large, many offering advanced capabilities. However, identifying the data integration software that's best for your organization can be a painstaking process, often involving lots of research and long hours speaking to vendor representatives. To make the vendor selection process an easier one, Solutions Review has compiled this list of data integration free trials to explore during the vendor selection process.
Though testing out different solutions could add more time to the process of seeking out and selecting the software that's right for you, we believe it to be worthwhile. It will also provide you more exposure to the tools available in the space, and perhaps even make you aware of features you weren't before. Without further ado, these are the top providers in the data management market offering data integration free trials and a brief synopsis of each. Clicking on the

buttons will send you directly to each company's free trial details where you can learn more or sign up and get started.
Adeptia
Adeptia Connect is an enterprise-class solution that enables users to develop integrations and scale processes and applications quickly. The product allows organizations connect with multiple partners and offers pre-built templates for publishing connections and exchanging partner data. It also provides application connectors for cloud and on-prem applications.

Attunity
Attunity Replicate enables users to replicate, synchronize, distribute, consolidate and ingest data across all major databases, data warehouses and Hadoop, both on-prem and in the cloud. The product features an intuitive GUI that eliminates the need for manual coding. Replicate automatically generates target schemas based on source metadata as well.

Celigo
Celigo offers a cloud integration platform called Integrator.io. The solution enables organizations to connect applications, synchronize data, and automate processes. Celigo features an integration wizard that includes an API assistant, visual field mapping interface, and drop-down menus. The tool also offers pre-configured integration templates available on the tool's marketplace.

Note: Celigo Integrator.io is not a trial, but a freely downloadable integration flow (limit 1 Free Edition per company).
Cloud Elements
Cloud Elements offers an API integration product that features pre-built connectors called Elements. Elements enable connections into specific cloud applications or cloud service endpoints and provide normalized authentication, discovery APIs, search, event-driven workflows, and unified error handling. The free trial lasts 30 days and provides full access to the platform.

Dell Boomi
Dell Boomi AtomSphere supports integration between cloud platforms, software as a Service applications, and on-prem systems. AtomSphere uses a visual interface to configure application integrations. The solution's runtime tool, Boomi Atom, allows integrations to be deployed wherever they are needed. The AtomSphere platform is available in several editions, based on use case and functionality.

Denodo
The Denodo Platform offers data virtualization for joining multistructured data sources from database management systems, documents, and a wide variety of other big data, cloud, and enterprise sources. Connectivity support includes relational databases, legacy data, flat files, CML, packed applications, and emerging data types including Hadoop. Denodo also offers self-service data preparation capabilities.

HVR Software
HVR is real-time data replication and integration solution that can support a wide variety of use cases, including cloud, data lake, database and file replication, and database migration. HVR facilitates real-time data movement so that the business user has continuous ability to analyze changes in data generated by transactional systems, machines, sensors, mobile devices, and more. HVR's trial offer includes exposure to the vendor's change data capture functionality. 

Informatica
Informatica's data integration portfolio includes both on-prem and cloud deployments. Informatica combines advanced hybrid integration capabilities and centralized governance with self-service business access for various analytic functions. The free trial features 30-day access to Informatica Intelligent Cloud Services, and provides cloud-based tools for data mapping and real-time integration.

Infoworks
Infoworks offers an automated data operations and orchestration platform called DataFoundry. The product provides a no-code environment for configuring the ingestion of data (batch, streaming, change data capture) from a variety of data sources. Infoworks uses native connectors when possible to provide ingestion feasible and ingest source data while automatically preserving data precision. It automatically crawls data sources and relational databases, learns the metadata and infers data relationships for ingested data from external data sources.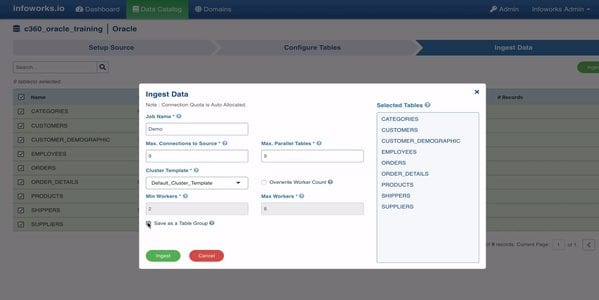 Jitterbit
Jitterbit Harmony allows organizations to design, deploy, and manage the entire integration lifecycle. The platform features a graphical interface for guided drag-and-drop configuration, integration via pre-built templates, and the ability to infuse applications with artificial intelligence. Users can run the tool in cloud, hybrid, or on-prem environments, and feed consolidated data to real-time analytics.

MuleSoft
MuleSoft's Anypoint product features far-reaching API management capabilities that span creation, publishing, integration, and cloud messaging. Anypoint's portfolio of connections is crowd-sourced, and integrations with the solution can be made both on-prem and in the cloud. Key features include a collection of Anypoint Connectors, the Mule Runtime engine, and a dedicated Runtime Manager.

SnapLogic
SnapLogic's Enterprise Integration Cloud provides integration across applications, databases, data warehouses, big data streams, and IoT deployments. It allows both IT and business users to create data pipelines that can be deployed on-prem or in the cloud. The trial allows for connecting applications and data sources and integrating them via pre-built connectors. SnapLogic also offers a free trial of its data engineering platform for data science.

Striim
Striim integrates data from a wide variety of sources, including transaction/change data, events, log files, application and IoT sensor, and real-time correlation across multiple streams. The platform features pre-built data pipelines, out-of-the-box wizards for configuration and coding, and a drag-and-drop dashboard builder. The trial version is intented for evaluation and development purposes only.

Talend
Talend offers an expansive portfolio of data integration software. Its flagship Open Studio product is available via a free open source license, with its cloud-based offering available in three distinct editions. The company's directory of free software trials is as impressive as its integration suite, with options for Big Data Integration, Data Preparation, and other open source projects.

Tamr
Tamr offers a machine learning-based data integration product called Unify. The solution allows organizations to connect to any tabular data and publish it anywhere. Users can map schemas with machine learning suggestions and normalize data formats using Spark and SQL. Tamr's Master Records feature provides a complete view of all entities via simple yes and no questions as well.


Latest posts by Timothy King
(see all)