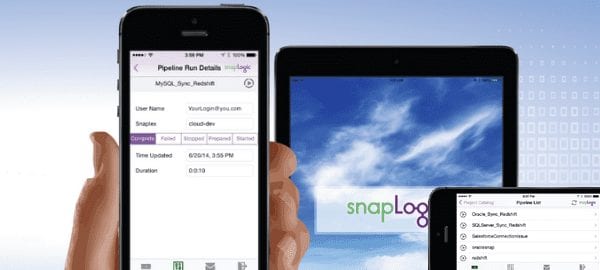 A growing trend in the lives of today's IT professionals is working remotely or telecommuting. We are seeing more IT professionals working from home, working abroad, or just traveling for work. This sometimes can help with the balance in one's life, make commutes more bearable, or more convenient by having IT support closer to a data center that's located across the country. For whatever reason, we must understand that just like data, people are moving away from the traditional corporate cubicle.
+ Check out this Free 2014 Data Integration Tools and Software Buyers Guide
Speaking of the movement of data, Snaplogic, a company that specializes in cloud integration, SaaS integration, and Elastic iPaaS has recognized this and has recently created a mobile app that allows the IT professional to perform data integrations in the cloud from a mobile device.
In a recent press release, SnapLogic announced their latest development to their SnapLogic Elastic Integration Platform. This new development is in the form of an iOS mobile app and is now available on the App Store. This app allows IT professionals to monitor and manage their data integration workflows anywhere from an iPhone or iPad. Below are some key points from the press release:
"With the SnapLogic mobile app, you can:
Kick off any pipeline you have access to
Modify pipeline parameters if needed
Monitor the status of your pipelines
Email error reports to SnapLogic Support"
SnapLogic created this app after they recognized the need for a mobile solution to make their core integration platform more convenient and easy to use.
The founder and CEO of SnapLogic, Gaurav Dhillon states,
"Modern IT organizations demand modern integration technologies, and SnapLogic is laser-focused on supplying the fastest and most flexible integration platform as a service in the market. By bringing mobility to our Elastic Integration Platform, we are enabling our customers to monitor and manage their mission critical application and data integration how and where it is most effective."
SnapLogic is answering to the call of IT professionals who are moving around for various reasons. In addition, more data is being moved as more organizations are capitalizing on Big Data. You can't really go wrong by making data integration more mobile.
Click here to read the entire press release entitled, "Cloud Integration Goes Mobile" to learn more about this mobile app.