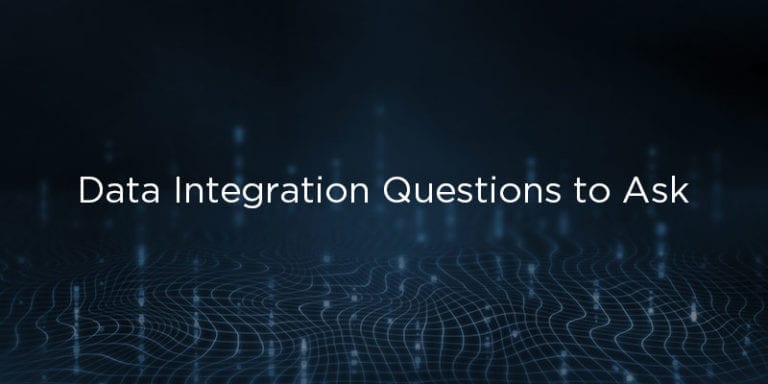 Data integration questions to ask solution providers is an annual sneak peak at the top-of-mind concepts to consider during product evaluation. For five key data integration questions to ask yourself, consult our Buyer's Guide for Data Integration Tools.
Cue the process of seeking out, evaluating, purchasing, and deploying a data integration solution. Each features a particular set of capabilities, strengths, and drawbacks. Choosing the right vendor and solution is a complicated process—one that requires in-depth research and often comes down to more than just the solution and its technical capabilities.
To help you evaluate prospective data integration tools, these are five data integration questions to ask solution providers during product evaluation. If you find these questions helpful, check out our Buyer's Guide which features five more questions to ask yourself, a comprehensive overview of the market, and full, one-page profiles of the top-28 offerings, as well as our 'Bottom Line' analysis.
1. Is your product compatible with my existing technology stack/infrastructure?
Data Integration is central to the modern analytic process of any digital business. Organizations seek flexible products in order to fit into their existing technology architecture. Synergy between integration software and the applications, business process, data sources, and end-users is qualifying question number-one.
2. Can you provide customer recommendations?
You'll want to ask prospective vendors to provide references that can show how their software helped other customers achieve value. In-vertical references are best, so we recommend seeking first-hand accounts from similar size organizations that do business in related industries and analyze similar data sources. It's not about securing the best overall tool; it's about selecting the best solution for your specific set of circumstances.
3. Is there a support package included? What does it include?
The rise in self-service has been a difference maker for many organizations. However, this requires solution providers to offer support services to keep non-technical users on their feet. You'll want to find out what types of services are offered with the purchase of a license. Popular support add-ons range from deployment assistance and dedicated customer service representatives to user training, certification, and even community forums.
4. Do you integrate with big data sources?
Data source support will increasingly drive buying decisions in the enterprise. While some very large, enterprise organizations may not need as much in terms of big data connectivity, forward-thinking organizations should familiarize themselves with each prospective vendor's listing of supported data sources and connectors. Does the tool accept 3rd party APIs that may matter to you? How often are new connectors added? It's vital to ensure that a vendor match up with all the sources you use now, and will in the future.
5. What is your main area of focus (flagship software)?
Not all solution providers are created equal. Oftentimes, vendors will key in on a niche in the market. By focusing on a specific part of the space, such as data virtualization, for example, vendors can become experts at developing a narrower piece of software that although vocational, really works for its users. As a result, the company increases efficiency and overall quality and decreases the time it takes to deploy the solution organizationally.

Latest posts by Timothy King
(see all)