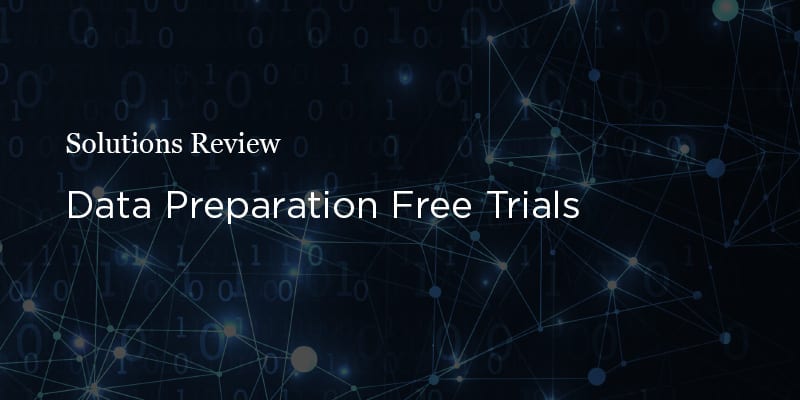 This listing of data preparation free trials will help you narrow your search for the tools that are best for your organization.
Data integration has been quickly moving to the cloud, with organizations increasingly needing to connect disparate data sources and applications. There are a wide variety of options out there for organizations small and large, many offering advanced capabilities. However, identifying the data integration software that's best for your organization can be a painstaking process, often involving lots of research and long hours speaking to vendor representatives. To make the vendor selection process an easier one, Solutions Review has compiled this list of 14 data integration free trials to explore during the vendor selection process.
Though testing out different solutions could add more time to the process of seeking out and selecting the software that's right for you, we believe it to be worthwhile. It will also provide you more exposure to the tools available in the space, and perhaps even make you aware of features you weren't before. Without further ado, these are the top providers in the data management market offering data integration free trials and a brief synopsis of each. Clicking on the 
 buttons will send you directly to each company's free trial details where you can learn more or sign up and get started.
Altair (formerly Datawatch)
Altair Monarch is a desktop-based self-service data preparation tool that can connect to multiple data sources including unstructured, cloud-based and big data. Connecting to data, cleansing and manipulation tasks require no coding. The tool features more than 80 pre-built data preparation functions, and models built within the product can be exported into common BI or other analytics platforms. Altair Knowledge Hub is browser-based that provides visual-based data preparation and machine learning to suggest data enrichment and transformation during the data preparation process.
Alteryx
Alteryx Designer is a part of the company's flagship analytics and data science platform. The tool features an intuitive user interface that enables users to connect and cleanse data from data warehouses, cloud applications, spreadsheets, and other sources. Users can leverage data quality, integration and transformation features as well. Alteryx Designer also includes data blending for spatial data files so they can be joined with third-party data such as demographics.
Datameer
Datameer offers a data analytics lifecycle and engineering platform that covers ingestion, data preparation, exploration and consumption. The product features more than 70 source connectors to ingest structured, semi-structured and unstructured data. Users can directly upload data or use unique data links to pull data on demand. Datameer's intuitive and interactive spreadsheet-style interface lets you transform, blend and enrich complex data toward the creation of data pipelines.
Infogix
Infogix offers a suite of integrated data governance capabilities that include business glossaries, data cataloging, data lineage, and metadata management. The tool also provides customizable dashboards and zero-code workflows that adapt as each organizational data capability matures. Organizations use Infogix for data governance and for risk, compliance and data value management. The product is also flexible and easy to use, and supports smaller data analysis jobs as well.
Note: Infogix Data360 Analyze is not a trial, but a full-featured version with no expiration date (and unlimited access). It includes the same prepackaged sets of popular statistical and extensible capabilities as the premium version, and access to the support community.
Paxata
Paxata Self-Service Data Preparation is an application within its Adaptive Information Platform. The product features flexible deployment and self-service operation. The app is built on a visual user interface that has familiar spreadsheet metaphors so users don't have to learn an entirely new tool. The app also boasts Assisted Intelligence that provides algorithmic assistance to infer the meaning of data, and machine learning captures steps for future data work.
Note: The Paxata Cloud free trial is only available in North America.
Trifacta
Trifacta offers a suite of what its dubbed 'data wrangling' tools in three different iterations: Trifacta Wrangler, Wrangler Edge, and Wrangler Enterprise. Trifacta allows users to do data prep without having to manually write code or use mapping-based systems. The Predictive Transformation function enables the exploration of data content so users can define a recipe for how the data should be transformed. Data Wrangler also includes data discovery, structuring, cleaning, enriching, and validation capabilities.
Talend
Talend Data Preparation utilizes machine learning algorithms for standardization, cleansing, pattern recognition and reconciliation. The product also provides automated recommendations to guide users through the data preparation process. Talend provides governance via role-based access, masking rules, and workflow-based data curation. Users can share preparations and datasets or embed data preparations into bulk, batch, and live data integration as well.

Latest posts by Timothy King
(see all)