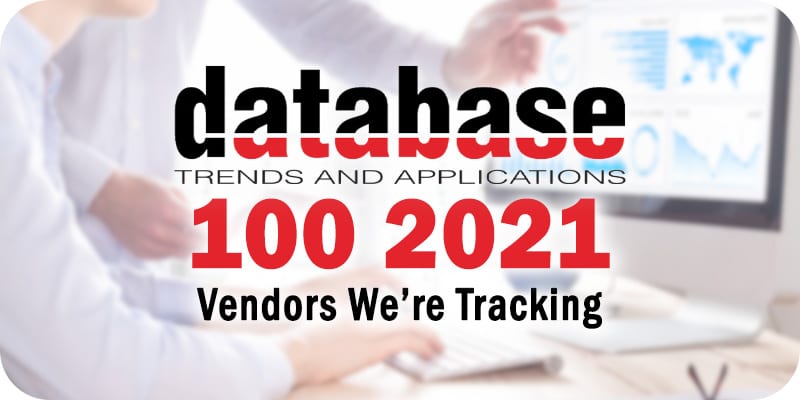 Our coverage of the DBTA 100 2021 features 20 data integration vendors our editors are tracking. For a larger list, see our Data Integration Solutions Directory.
Database Trends and Applications recently released its DBTA 100 2021, an annual listing of data, information management, big data, and data science companies that are preparing for the future. The list spans the spectrum of both "well-established and cutting edge" solution providers offering data platforms, tools and technologies to organizations around the globe. Some of the vendor entries are published alongside View From the Top articles which are penned by executives from the companies themselves.
The editors at Solutions Review have reviewed the DBTA 100 2021 with a fine-tooth comb to identify the data integration vendors that matter most. Look at it as a sneak peak into which solution providers we track against in our daily coverage of the marketplace. You'll even find some of these company names below in our freshly pressed Buyer's Guide for Data Integration Tools.
Alluxio
Alluxio enables data orchestration for compute in any cloud. The product unified data silos on-prem across any cloud to provide data locality, accessibility, and elasticity. Alluxio is scalable to over a billion files in a single cluster, and its distributed architecture is built on three core components including Alluxio Master (manages file and object metadata), Alluxio Worker (manages node local space), and Alluxio Client (AI/ML application interface). The product also includes support for hyperscale workloads, flexible APIs, security and monitoring and management.
CData Software
CData Software offers data integration solutions for real-time access to online or on-prem applications, databases, and Web APIs. The vendor specializes in providing access to data through established data standards and application platforms such as ODBC, JDBC, ADO.NET, SSIS, BizTalk, and Microsoft Excel. CData Software products are broken down into six categories: driver technologies, enterprise connectors, data visualization, ETL and ELT solutions, OEM and custom drivers, and cloud and API connectivity.
Datameer
Datameer offers a suite of data integration solutions designed to provide user access to data. Its flagship product is Datameer Spotlight, which is a semantic layer for searching, accessing and exploring data in the cloud, on-prem, in data warehouses, data lakes, or even applications. The product touts more than 200 data sources as well. Datameer also offers wizard-driven ETL capabilities through its Spectrum product line, and on-prem Hadoop data preparation via Datameer X.
Denodo
The Denodo Platform offers data virtualization for joining multistructured data sources from database management systems, documents, and a wide variety of other big data, cloud, and enterprise sources. Connectivity support includes relational databases, legacy data, flat files, CML, packed applications, and emerging data types including Hadoop. Denodo is the only data virtualization solution to be provisioned as a virtual image on Amazon AWS Marketplace.
HVR
HVR is a high-volume real-time data replication solution that solves a variety of data integration use cases, including cloud, data lake, database and file replication, and database migration. The product allows organizations to move data bi-directionally between on-prem solutions and the cloud. Real-time data movement enables the ability to continuously analyze changes in data generated by transactional systems, machines, sensors, mobile devices, and more.
IBM
IBM offers several distinct data integration tools in both on-prem and cloud deployments, and for virtually every enterprise use case. Its on-prem data integration suite features tools for traditional (replication and batch processing) and modern integration synchronization and data virtualization) requirements. IBM also offers a variety of prebuilt functions and connectors. The mega-vendor's cloud integration product is widely considered one of the best in the marketplace, and additional functionality is coming in the months ahead.
Informatica
Informatica's data integration tools portfolio includes both on-prem and cloud deployments for a number of enterprise use cases. The vendor combines advanced hybrid integration and governance functionality with self-service business access for various analytic functions. Augmented integration is possible via Informatica's CLAIRE Engine, a metadata-driven AI engine that applies machine learning. Informatica touts strong interoperability between its growing list of data management software products.
Matillion
Matillion offers data integration software for cloud data warehouses, and was designed for Amazon Redshift, Snowflake, and Google BigQuery. The product works by allowing users to consolidate large data sets and quickly perform data transformations. It features expert technical support as well, all by Matillion solution architects and comes free of charge. Full support is offered throughout the customer lifecycle, including trial and complex use case development. Matillion includes more than 70 pre-built connectors.
Microsoft
Microsoft offers its data integration functionality on-prem and in the cloud (via Integration Platform as a Service). The company's traditional integration tool, SQL Server Integration Services (SSIS), is included inside the SQL Server DBMS platform. Microsoft also touts two cloud SaaS products: Azure Logic Apps and Microsoft Flow. Flow is ad hoc integrator-centric and included in the overarching Azure Logic Apps solution.
Oracle
Oracle offers a full spectrum of data integration tools for traditional use cases as well as modern ones, in both on-prem and cloud deployments. The company's product portfolio features technologies and services that allow organizations to full lifecycle data movement and enrichment. Oracle data integration provides pervasive and continuous access to data across heterogeneous systems via bulk data movement, transformation, bidirectional replication, metadata management, data services, and data quality for customer and product domains.
Precisely
Precisely offers its data integration capabilities via two product families, Precisely Connect and Precisely Ironstream. The company's flagship application and data integration tools are the Precisely Connect product family. Syncsort allows users to hasten database queries and applications by putting relational databases to best use. The Intelligent Execution feature dynamically selects the most efficient algorithms based on the data structures and system attributes it encounters at run-time.
Qlik
Qlik offers a range of integration capabilities that span four product lines. The flagship product is Qlik Replicate, a tool that replicates, synchronizes, distributes, consolidates, and ingests data across major databases, data warehouses, and Hadoop. The portfolio is buoyed by Qlik Compose for data lake and data warehouse automation and Qlik Catalog for enterprise self-service cataloging. Qlik also offers Integration Platform as a Service functionality through its Blendr.io product, which touts API connectivity, no-code integration and application automation.
SAP
SAP provides on-prem and cloud integration functionality through two main channels. Traditional capabilities are offered through SAP Data Services, a data management platform that provides capabilities for data integration, quality, and cleansing. Integration Platform as a Service features are available through the SAP Cloud Platform. SAP's Cloud Platform integrates processes and data between cloud apps, 3rd party applications, and on-prem solutions.
SAS
SAS is the largest independent vendor in the data integration tools market. The provider offers its core capabilities via SAS Data Management, where data integration and quality tools are interwoven. It includes flexible query language support, metadata integration, push-down database processing, and various optimization and performance capabilities. The company's data virtualization tool, Federation Server, enables advanced data masking and encryption that allows users to determine who's authorized to view data.
SnapLogic
SnapLogic's Intelligent Integration Platform integrates across applications, databases, data warehouses, big data streams, and IoT deployments. It allows both IT and business users to create data pipelines that can be deployed on-prem or in the cloud. It features an HTML5 visual designer and a proprietary AI algorithm called Iris that learns common integration patterns and drives self-service by recommending flows. Complete support for complex transformations, conditional operations, triggers, parameterization, aggregation, and reuse maximizes the tool's flexibility.
StreamSets
StreamSets offers a DataOps platform that features smart data pipelines with built-in data drift detection and handling, as well as a hybrid architecture. The product also includes automation and collaboration capabilities across the design-deploy-operate lifecycle. StreamSets monitors data in-flight to detect changes and predicts downstream issues to ensure continuous delivery without errors or data loss. The tool's live data map, data performance SLAs and data protection functionality are major value-adds.
Talend
Talend offers an expansive portfolio of data integration and data management tools. The company's flagship tool, Open Studio for Data Integration, is available via a free open-source license. Talend Integration Cloud is offered in three separate editions (SaaS, hybrid, elastic), and provides broad connectivity, built-in data quality, and native code generation to support big data technologies. Big data components and connectors include Hadoop, NoSQL, MapReduce, Spark, machine leaning and IoT.
Tamr
Tamr offers a machine learning-based data integration product called Unify. The solution allows organizations to connect to any tabular data and publish it anywhere. Users can map schemas with machine learning suggestions and normalize data formats using Spark and SQL. Tamr's Master Records feature provides a complete view of all entities via simple yes and no questions as well.
TIBCO Software
TIBCO's flagship Integration Platform as a Service product, TIBCO Cloud Integration, requires no code. It also allows users to create, model, and deploy APIs in a completely guided process. TIBCO acquired Scribe Software in June 2018 and has rolled its capabilities into TIBCO Cloud Integration as a complimentary package. TIBCO offers a fully integrated data platform that can handle a variety of data integration use cases. The company's acquisition of Cisco's data virtualization technologies rounds out its product portfolio even further.
Trifacta
Trifacta offers a suite of what its dubbed 'data wrangling' tools in three different iterations: Trifacta Starter, Professional, and WEnterprise. Trifacta allows users to do data prep without having to manually write code or use mapping-based systems. The Predictive Transformation function enables the exploration of data content so users can define a recipe for how the data should be transformed. Data Wrangler also includes data discovery, structuring, cleaning, enriching, and validation capabilities.