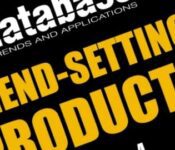 On December 3, Database Trends and Applications (DBTA) magazine announced its inaugural list of trend-setting products in data management and analysis for 2014.  The list, selected by the DBTA editorial staff, recognizes the products that are expected to be setting the standard for a "data revolution."  The list is highlighted in the special December print edition of DBTA magazine.
In creating the list of 2014 data trend-setters, DBTA seeks to give enterprises quality information about an ever-changing niche industry.  "We created the 'DBTA Trendsetting Products in Data for 2014' list to do the heavy lifting for businesses; to point out products to them that are really transforming enterprise information management," said Thomas Hogan, Group Publisher of DBTA.
The DBTA Trend-setting list includes well-established platforms, products and services as well as fresh breakthrough technologies.
One company that appears on the list is Attunity – a leading provider of information availability software solutions.  DBTA named Attunity Replicate a trend-setter for 2014.  Attunity Replicate is a highly efficient data replication and loading software that allows enterprises to ensure the availability of Big Data in order to meet business intelligence needs. "Attunity Replicate meets these important trendsetting criteria and is very deserving of this recognition," adds Hogan.
"We work hard to ensure that Attunity Replicate's performance meets and exceeds our customer's expectations for fast and easy-to-use data replication and loading on premises and in the cloud," says Lawrence Schwartz, VP of Marketing at Attunity.
For a closer look at DBTA's list of Trend-Setting Products in Data for 2014 click here:
https://www.dbta.com/Articles/Editorial/News-Flashes/Trend-Setting-Products-in-Data-for-2014-93459.aspx