Denodo Platform 8.0 Touts Multi-Cloud Integration and Automated Data Management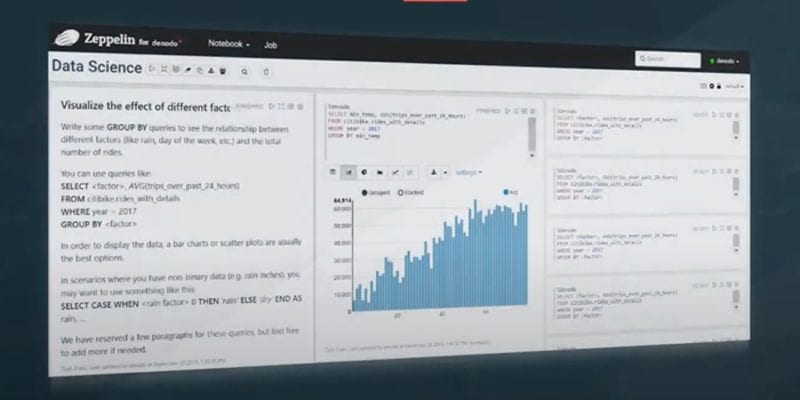 Denodo has announced the release of Denodo Platform 8.0, the latest version of its flagship data virtualization platform. The platform update is highlighted by accelerated hybrid and multi-cloud integration, automated data management, and smart query acceleration. Denodo Platform 8.0 also touts augmentation capabilities via AI and machine learning that provide augmentation and intelligent recommendations. These additions mean Denodo can now support new data science use cases.
Denodo is a major player in the data virtualization tools marketplace. Founded in 1999 and based in Palo Alto, Denodo offers high-performance data integration and abstraction across a range of big data, enterprise, cloud, unstructured and real-time data services. Denodo also provides access to unified business data for business intelligence, data analytics, and single-view applications. The Denodo Platform is the only data virtualization solution to be provisioned as a virtual image on Amazon AWS Marketplace.
Key capabilities in Denodo Platform 8.0 are headlined by hybrid and multi-cloud integration. There's also a machine learning-based data catalog that lets data scientists discover and prepare data for building complex models. It touts an integrated Apache Zeppelin Notebook. The release includes new support for executing GraphQL on top of logical data models as well. The new web-based UI features Single Sign-On and a unified view of all design and runtime tools.
In a statement to Solutions Review, Denodo's Senior Vice President and Chief Evangelist Paul Moxon told us: "With the majority of our customers using us in enterprise-wide deployments,  Denodo's user community has expanded to include data scientists, operations /BI analysts. Denodo  Platform 8.0 was specifically designed to meet the needs of this audience and includes features such as data science notebook, GraphQL, PaaS based automated infrastructure management, machine learning capability, and an intuitive web-based UI. The latest version of Denodo Platform is a key component in helping our community architect a true enterprise–grade logical data fabric."
Watch Denodo Platform 8.0 Key Functionalities to learn more.