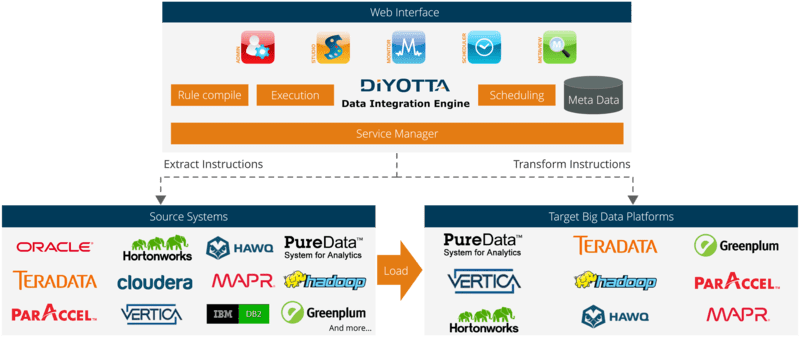 Diyotta recently announced the release of a new, modern Integration Platform as a Service tool that leverages their architecture for Data Integration. The solution brings cloud integration to a variety of data platforms including Hadoop and Spark. Diyotta iPaaS is an enterprise-class tool, offering a friendly approach to Big Data Analytics in the cloud with a lightweight client, providing organizations the flexibility and lower entry costs they require.
Diyotta allows data analysts to move and transform data with ease, whether that data exists on-premise, in the cloud or within an on-premise to cloud architecture integration across modern or legacy data platforms. The new iPaaS offering provides a fast track to design and develop data flows instantly for companies seeking to modernize their data ecosystem with more modern approaches like Hadoop and Spark. iPaaS allows organizations to take their integration process a step further and manage the data landscape across the enterprise without having to install any vendor, third party or server software.
The newest version of Diyotta iPaaS also includes the following enhancements:
Integrated web client through interactive GUI
Built-in wizards for data movement, transformations, cleansing and provisioning
Automatically managed agents for Data Integration
Multi-user collaboration functionality
Data Lineage views with Impact Analysis
Complete orchestration capabilities via Diyotta's enterprise schedular
Diyotta's CEO Sanjay Vyas adds: "Diyotta was founded to help manage the new world of Data Integration, where we take the processing to where the data lives, move required datasets point-to-point, business logic supersedes technology, and everything we do is reusable. Now with our Modern Data Integration Platform as a Service implementation, organizations have maximum flexibility with minimum footprint in where data resides and processing occurs and can achieve even faster time to value for their big data investments. With businesses crossing global boundaries and analytics moving to the cloud, companies can accelerate their time to market with Diyotta's iPaaS enterprise-ready solution that is unified and has lightest footprint in the industry for Data Integration."
Diyotta's Modern iPaaS is now available via a subscription model, with a free basic edition.
Click here to read the press release in full.

Latest posts by Timothy King
(see all)