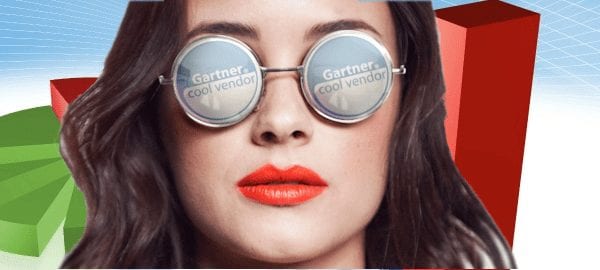 Gartner's newest Data Integration report highlights five new and emerging vendors in the space that offer innovative alternatives to enterprises looking to rethink their data infrastructure. Gartner's Cool Vendors in Data Integration and Data Quality 2016 report also provides some advice for data and analytics leaders on how to meet the growing demand for integration and assessment of internal and external Big Data sources with structured data within databases and data warehouses.
The enterprise technology research giant recommends that stakeholders "Consider data federation and [data] virtualization capabilities as useful components of an overall data integration technology portfolio, and seek ways in which they can complement or extend existing data integration architectures." In addition, Gartner also sees a growing trend among the buyers of Data Integration tools in combining them with Data Quality offerings. This grouping of technologies enables organizations to create a coherent solution set that can act as a synergistic foundation to their data infrastructure. Now on to the vendors:
Alation's enterprise collaborative data platform empowers employees inside of data-driven enterprises to find, understand, and use the right data for better, faster business decisions. Alation combines the power of machine learning with human insight to automatically capture information about what the data describes, where the data comes from, who's using it and how it's used. Alation is based in sunny Redwood City and funded by Andreessen Horowitz, Bloomberg Beta, Costanoa Venture Capital, Data Collective, and General Catalyst Partners. Customers include eBay, MarketShare, Square, and some of the world's largest finance and retail firms. Why cool?
Capsenta increases the value of companies' data by enriching it to become a knowledge graph (semantics). Semantics improve search, analysis, and interpretation. Capsenta's patented technology is the only complete turnkey solution to making existing SQL, and SQL data warehouse infrastructure, upward compatible with semantics. The approach assures scalability and robustness. Traditional applications seamlessly coexist with semantically enriched applications. By enriching data with semantics, Capsenta is able to accelerate the provisioning process from months to days. Capsenta's technology starts with standards compliance and is able to integrate the result with any existing database infrastructure. Why cool?
Cirro, the industry's first provider of enterprise data fabric technology, delivers on the promises of Big Data, Data Lakes, and the Internet of Things. The Cirro Unified Data Network (UDN) unifies the data ecosystem by providing access, intelligent integration, and management of all enterprise data regardless of type, engine or location. This makes contextual real-time analytics attainable across disparate data sources leveraging existing tools, infrastructure and skills. Cirro empowers enterprises to optimize current infrastructure investments while taking advantage of new technology requirements and trends. Why cool?
Qubole simplifies the provisioning, management and scaling of big data analytics workloads leveraging data stored on Amazon Web Services, Google Compute, or Microsoft Azure infrastructure. With Qubole connected to your choice of cloud provider, once IT sets policies, any number of data analysts can be set free to collaboratively "click to query" with the power of Hive, Spark, Presto and many others in a growing list of data processing engines. Our platform, Qubole Data Service (QDS), delivers these best-in-class Apache tools integrated into an enterprise-feature rich platform optimized to run in the cloud at petabyte+ scale. Why cool?
Verato was founded with the goal of rightly identifying individuals regardless of whether their names, addresses or other personal information was incorrect or out-of-date. Using our unique and secure SaaS-based platform, our products clean, update, and link customer, patient or employee records within and across systems. Powered by CARBON, which accesses over one billion commercially available identity records, this is being done with greater accuracy than ever before. We deliver sub-second performance and can securely handle hundreds of millions of transactions to support the largest organizations, both public and private. Why cool?

Latest posts by Timothy King
(see all)