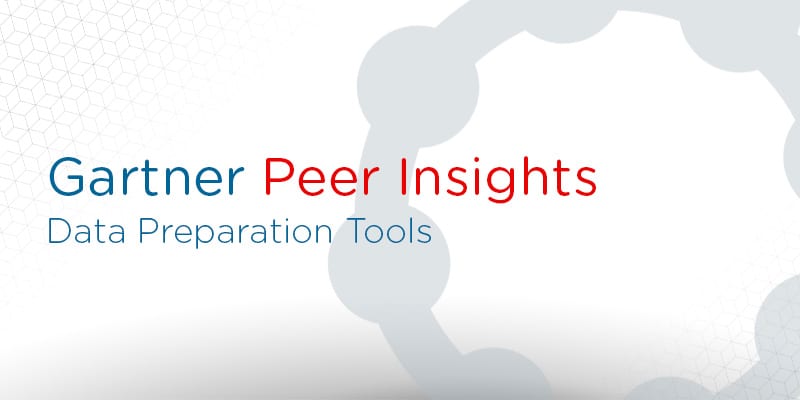 Analyst house Gartner, Inc. recently announced the winners of its new 2019 Peer Insights Voice of the Customer: Data Preparation Tools. The report marks the latest addition to the researcher's expansive list of buyer-centric resources, which already includes its popular Magic Quadrant and Critical Capabilities. Gartner Peer Insights provides first-hand reviews of software and services contributed by enterprise users. The new report is an extension of Gartner's Customer Choice Awards released last year.
Peer Insights Voice of the Customer does not include an expansive vendor listing or proprietary graphic to help organizations select the best tools. Rather, it provides reviews that go through a strict validation process to ensure they are authentic. Gartner Peer Insights are meant to be a complement to its expert-led research reports. At Solutions Review, we read the report, available here, and pulled out the key takeaways.
Microsoft and Alteryx are the two most popular data preparation tools vendors in the space
Microsoft and Alteryx find themselves positioned with Tableau Software in the Customers' Choice Zone. Both providers garnered more than 100 overall reviews, with Microsoft securing a whopping 140. Microsoft earned an overall rating of 4.4 stars while Alteryx and its 115 user reviews scored a 4.5 out of 5. 88 percent of Microsoft users and 94 percent of Alteryx users are likely to recommend their respective products with other organizations. Alteryx also earned the second-highest score for overall product capabilities, trailing only Tableau.
Trifacta and Paxata earned the top overall scores
Trifacta's overall rating of 4.7 stars makes it the best general choice of any provider listed. While its 37 total reviews place it as only the fourth-most popular option, users consider Trifacta as having the top service and support options of any data preparation provider in the market. Paxata's 4.6 stars make it the de facto runner-up in terms of user reviews, and its score for service and support trailed only Trifacta's. Paxata did not record a single rating below 4 stars either.
Gartner recommends using customer reviews to supplement vendor evaluation
Where Gartner's Magic Quadrants are aimed at helping organizations identify vendors to keep tabs on in the overall marketplace, peer reviews are driven only by customer feedback based on specific experiences relative to unique technology environments. That's where the disconnect can sometimes come from when comparing analyst resources to individual reviews. In this way it is best to utilize all the tools at your disposal when assessing data integration software.

Latest posts by Timothy King
(see all)