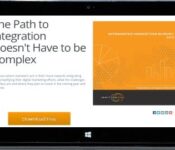 In 2014 there will be an increase in digital marketing campaigns, according to an IgnitionOne report.  Recently, global cloud-based digital marketing technology enterprise IgnitionOne announced its "2013 Integrated Marketing Survey" results.  The survey acts as a progress report regarding the integration of digital marketing.  One of the goals of the survey is to better understand where marketers are in their shift towards integrating their digital marketing efforts.  56 percent of those surveyed were from North America, South and Latin America (23 percent), and Europe (12 percent).
One of the most insightful pieces of information that the report highlights is the momentum that digital marketing is predicted to gain in 2014.  96 percent of respondents planned on increasing their digital marketing budget allocation over the next year.  36 percent anticipate their company will increase investment in mobile search over the next year.  In order to better determine digital marketing successes, IgnitionOne recommends that marketers should adopt a cross-channel attribution model.  This is important for enterprises since 24 percent say they do not have an attribution strategy in place, nor do they measure how one online media influences another.
The survey also investigates challenges that are holding marketing organizations back. "Moving away from complexity and towards simplicity is something that all marketers strive for, but aren't all actually doing.  This report further highlights the need for marketers to break down the silos within their organization and the challenges that they face in centralizing and integrating their digital efforts," says Will Margiloff, IgnitionOne CEO.
Survey indicates top challenges facing digital marketers
Nearly all survey respondents indicated that over the past two years their organizations' marketing departments have been working closer with IT to achieve marketing goals.  The leading challenges for the marketing departments are:
* Data is not centralized.
* Marketing is either too costly or overly time-consuming.
* Teams are not capable of producing an effective integrated digital marketing strategy.
* The technology is too complicated.
 To read more about the IgnitionOne report, click here:
https://www.ignitionone.com/en/press/ignitionone-releases-progress-report-integration-digital-marketing/