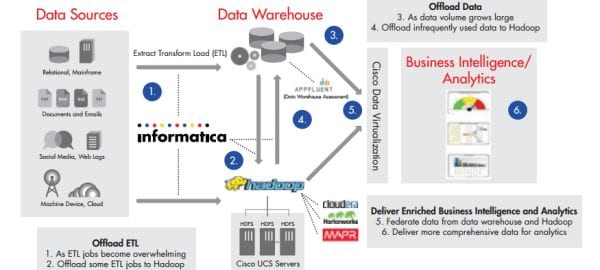 Informatica and Cisco announced a joint Data Warehouse Optimization Solution at Strata + Hadoop World "Make Data Work" conference on February 18 in San Jose California. Informatica, the world's number one independent provider of data integration software, and Cisco, one of the biggest proponents of the Internet of Things globally, have joined forces to create a solution for organizations looking to modernize how they manage data, while creating new business awareness.
According to Informatica: "Combining flagship Informatica and Cisco technologies with Hadoop, the new Data Warehouse Optimization solution enables customers to integrate and analyze more data and types of data, more effectively and economically, with lower risk." They also add: "The solution provides a single platform for offloading processing and storage for data warehouses to Hadoop."
With the position that mobile devices and sensors are playing in the growing evolution of digital business, organizations will have the ability to create a notable competitive edge for themselves by using this technology. The desire for data is escalating, which means there is a need for optimizing the warehouses in which data is stored.
Informatica goes on to cite an Appfluent Technology finding: "surveys by Appfluent Technology, Inc., a provider of Big Data management software to transform the economics of Big Data and Hadoop, show that as much as 50 percent of a traditional data warehouse's processing capacity is spent on data integration tasks, and that up to 70 percent of data in a typical warehouse environment is infrequently used, thus exerting a further drag on warehouse resources."
Organizations are on the lookout for solutions to speed up the deployment of contemporary data management ecosystems. However, they do not want to scale back productivity or ease of maintenance.
The solution works with whichever Hadoop distribution the user chooses, including Cloudera, Hortonworks and MapR. It also provides a comprehensive software, networking and computing framework, which can be used for extrapolating a variety of big data. Specifically, the infrastructure package incorporates three tools:
Informatica Big Data Edition: This runs data integration and clarification indigenously on Hadoop for performance and scalability. Further, this tool allows for the archival of older and unused data, while keeping all else readily accessible to the user.
Cisco Data Virtualization Platform: Allows for the joining of like data for sensible warehousing.
Cisco Unified Computing System: Provides a high-performance hardware platform that has been optimized for use with Hadoop and groups together networking, storage, computing and management capabilities.
The solution is now available from Informatica and Cisco.
To read the full press release, click here.

Latest posts by Timothy King
(see all)