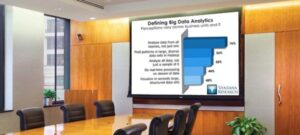 Informatica is widely known for their data integration software, but at the Informatica World 2014 conference, they unveiled a new Intelligent Data Platform. The Intelligent Data Platform provides a framework for Informatica's offerings which coincides with their last three years of work to expand beyond data integration and broaden their software portfolio. This approach can provide benefits for corporations that make data management an integral function of their business strategy decision-making process.
In a recent Smart Data Collective article, Mark Smith, CEO & Chief Research Officer at Ventana Research, states that "A large part of the value it provides lies in what its products can do to help organizations strengthen their enterprise architectures for managing applications and data. We see Informatica's sweet spot in facilitating efficient use of data for business and IT purposes; we call this information optimization."
+ Check out this Free 2014 Data Integration Tools and Software Buyers Guide
The Informatica Intelligent Data Platform can be broken down into three layers:
1) Informatica Vibe virtualizes information management technology to work on any platform regardless if it's on the cloud or on-premise.
2) Informatica PowerCenter is the core of this layer and provides data integration capabilities to the processing of data into information for business intelligence purposes.
3) The third layer is data intelligence. Here, Informatica has added capabilities to organize, infer, and recommend action from data and to map data to business needs.
In addition to the Intellligent Data Platform, Informatica has created a couple of new innovative tools:
Project Springbok, which is not on the market yet, is a tool that prepares data for analytics and operational needs. Mark Smith comments on the benefits of Springbok, " IT professionals gain visibility into what business units are doing to show how they can help in provisioning data."
Secure@Source is a new data security product that is is designed to protect data where it is stored and processed. Mark Smith proposes, "The question is whether Informatica can convince current customers to examine it or will have to approach information security professionals who are not users of Informatica." What do you think? Please comment.
Click here to read the full article from Smart Data Collective and for more information on the Informatica product releases.