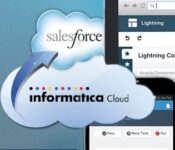 There's no question why Informatica is a leader in vision and execution on the Gartner Magic Quadrant for Data Integration. On the same day that Salesforce announces Salesforce1 Lightning and Salesforce1 Mobile App, Informatica unveils their new cloud integration solutions for accelerating back-office integration for both of Salesforce's new products, according to an Informatica press release from November 13, 2014.
Informatica Cloud enables companies to operate their enterprises from their phones with remarkable agility and certainty. In addition, the new solutions will quickly help companies unearth data from old legacy systems because business users and Salesforce administrators can easily integrate external data into their Salesforce clouds.
+ Check out this Free 2014 Data Integration Tools and Software Buyers Guide
Informatica will discuss these solutions during the Salesforce World Tour event, Nov. 19, at the Jacob K. Javits Convention Center in New York City. Informatica Cloud is a Gold sponsor of the event.
Ronen Schwartz, vice president and general manager, Informatica Cloud, said "Informatica Cloud is continuing our leadership in the cloud integration market for the Salesforce ecosystem with our new solutions, unveiled today, which accelerate back office integration for every Salesforce customer. With the Informatica Cloud OData provider support for Salesforce1 Lightning Connect, we provide the most comprehensive portfolio of Salesforce cloud integration and data management services, including bulk and real-time application integration, data integration, test data management, data quality and master data management."
Scott Holden, vice president, platform, Salesforce, said, "Salesforce1 Lightning Connect is a new breed of real-time integration that turns any external data source into a first-class citizen on the Salesforce1 Platform. Along with partners like Informatica, we are making integration point-and-click simple for our customers."
Click here to access the entire Informatica press release" Informatica Unveils New Solutions for Accelerating Back-Office Integration with Salesforce1 Lightning Connect and Salesforce1 Mobile App."