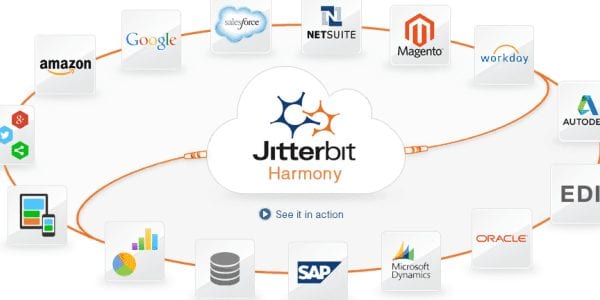 Jitterbit, a leading integration solutions provider and one of our top-24 DI vendors today announced the release of its upgraded Harmony Spring '15 cloud integration platform. Their new offering delivers market-leading speed, scale, and reliability that today's data-driven enterprises need. This latest platform upgrade implements a new "Sonic Architecture" to deliver dramatic gains in performance and increased reliability while enabling the non-technical user to design and manage all areas of integration.
Jitterbit Harmony '15 empowers digital businesses to compete in the API economy by delivering the performance, scale, and reliability to handle real-time and events-based integration. With faster integration, organizations have the ability to link hundreds of disparate sources across the business to vastly speed up the integration process.
From Jitterbit's presser: "Harmony Spring '15 powers Salesforce Lightning Connect to enable real-time connectivity between the Salesforce1 platform and external sources including ERP systems like SAP and any type of database, including Oracle. Using Jitterbit Harmony, Salesforce external sources can be viewed in real-time without moving or persisting data, providing point-in-time snapshots of up-to-the-second information."
Jitterbit Harmony is the only cloud DI solution built on a single platform to give non-developers the power to deploy and manage many application integrations without having to write any code or purchase additional solutions.
The new offering enables business users to manage the entire lifecycle of their integration on a single platform. The environment provides the greatest ease of use and the fastest "go live" time, while yielding the lowest total cost of ownership (TCO) of any integration solution on the market.
Harmony Spring '15 adds powerful features to Jitterbit's cloud integration platform, including:
Reliable Messaging to ensure that your data reaches its destination even if your systems experience downtime or other issues
Salesforce Lightning Connect to enable real-time connectivity between the Salesforce1 platform and any external source
New SAP Destinations support to enable real-time process integration from SAP
New Microsoft CRM Connector with support for MSCRM 2015
Enhanced Netsuite Connector with broader search and performance improvements
New LDAP support to connect, search and modify Internet directories
Current Jitterbit customers will benefit from the new release, and Jitterbit will support a seamless upgrade to their new solution. For more information, click here.