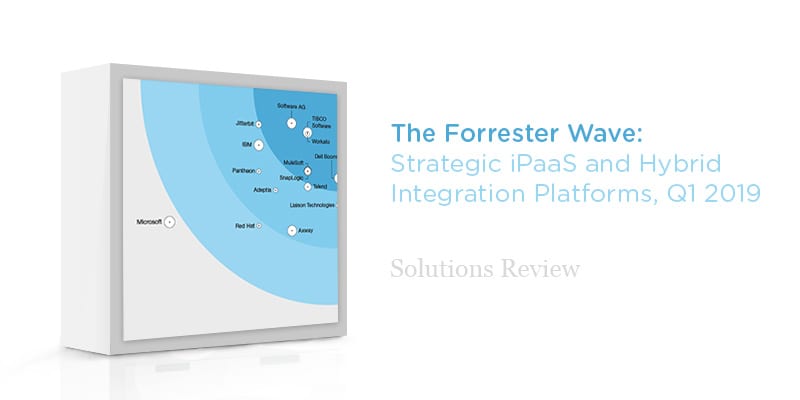 Technology advisory firm Forrester Research has released its latest Forrester Wave for Strategic iPaaS And Hybrid Integration Platforms, Q1 2019. The market for these tools is growing at a rapid rate due to new pricing models and cloud solutions that avoid license and hardware investments. iPaaS solutions can also be deployed faster than legacy EAI and SOA middleware, and this is helping to support the pace of development cycles, governance, and digital transformation. Large enterprises are also beginning to take note, and are increasingly adopting these tools to assist their users in bypassing central IT.
In their 25-criteria evaluation of strategic iPaaS and hybrid integration platforms, Forrester researchers Henry Peyret, Gene Leganza and Elizabeth Hoberman identified the 15 providers whom they consider most significant in the category: Adeptia, Axway, Dell Boomi, IBM, Jitterbit, Liaison Technologies, Microsoft, MuleSoft, Pantheon, Red Hat, SnapLogic, Software AG, Talend, TIBCO Software, and Workato – then researched, analyzed, and scored them.
The Wave report details their findings and examines how each vendor meets (or falls short of) Forrester's evaluation criteria and where vendors stand in relation to each other.
In order to help data and analytics leaders select the right tools, The Forrester Wave report outlines the current state of the market and separates the top providers into leaders, strong performers and contenders. At Solutions Review, we've read the report, available here, and pulled a few of  the most important takeaways.
iPaaS and hybrid integration are technology "cornerstones" of digital transformation
Forrester argues that the speed of data integration is an absolute in today's fast-paced environment, and organizations are requiring fluid data at a much more pronounced pace than in the past. Development times cannot evolve in the ways that the enterprise needs them to, which makes automation a clear-cut requirement as well. Interfaces, data volumes, and event-based integration as opposed to batches, is becoming the market norm. The analyst also cites global services decision-makers who say that IT process are "by far the leading focus" of digital transformation.
TIBCO Software and Workato are the top dogs
TIBCO's integration solution can be deployed on-prem, in the cloud, or via a hybrid model. The company's embedded integration with Salesforce, IoT integration, and the capacity to run on AWS Lambda are what make it unique. TIBCO reference customers speak to its ease of deployment, use, and adoption, and the only thing the software lacks is integrated analytics.
Workato supports a wide variety of integration personas by providing connectors, recipes, and out-of-the-box mappings. The solution also offers guidance through machine learning-driven suggestions and API development. Workato is both simple and powerful, and supports an array of integration use cases, something that is becoming increasingly prominent and important in the marketplace.
SnapLogic and Dell Boomi are vendors to watch in iPaaS and hybrid integration
SnapLogic and Dell Boomi are two cloud integration veterans, and we expect to see them continue to challenge the likes of TIBCO Software and Workato in the months ahead. SnapLogic offers data and application integration software, and is an excellent choice for big data use cases through its cloud cost optimization. SnapLogic runs on AWS, and its November 2018 release featured B2B integration and API management capabilities.
Not only is Dell Boomi one of the founders of this software space, but the company is continually innovating its product capabilities with new data, app, and B2B integration features. Boomi also offers MDM, API management, and a proprietary workflow engine. The solution's adaptive UI enables users of any ilk to run integrations as if they were power users.

Latest posts by Timothy King
(see all)