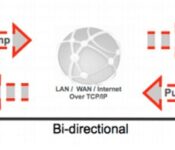 REDWOOD SHORES, CA, Nov 18, 2014 – Oracle has announced an updated version of GoldenGate 12c, which enables customers to implement real-time data integration and transactional data replication between on-premise and cloud environments and across heterogeneous database replication. This recent release offers expanded support for big data solutions, improved data manageability, and support for hybrid cloud environments, achieving faster time to value and quicker return from their data.
"In our focus as a leader in the data integration market, it is crucial that we maintain and optimize our support for both Oracle and non-Oracle systems," said Jeff Pollock, vice president of product management at Oracle, commenting on GoldenGate's expanded support for heterogeneous sources.  "Inherent in the concept of integration is that we can effectively cover both like and unlike platforms, and that we offer our customers the ability to effectively capture and move their data regardless of which systems, platforms, and vendors their data originates from.  Our commitment to a broad support for sources has been, and will continue to be, of great importance to our overall investment strategy with Oracle GoldenGate."
New features included in this release are:
Migration utility for Oracle Streams: A new migration utility, Streams2OGG helps Oracle Streams customers move to Oracle GoldenGate and leverage its latest features, such as integrated capture and delivery processes and advanced conflict management.
Support for IBM Informix: Oracle GoldenGate 12c now supports real-time data capture and delivery for the latest Informix database versions on all major platforms. Support has also been extended to Oracle GoldenGate Veridata so IBM Informix customers can integrate and replicate high volumes of real-time data throughout their heterogeneous business environments.
Extended support for Microsoft SQL Server and MySQL: The new release adds support for real-time, log-based capture and delivery for Microsoft SQL Server 2012 and 2014 as well as MySQL Community Edition databases.
Click here to read about the other features included in Oracle's update of GoldenGate 12c.