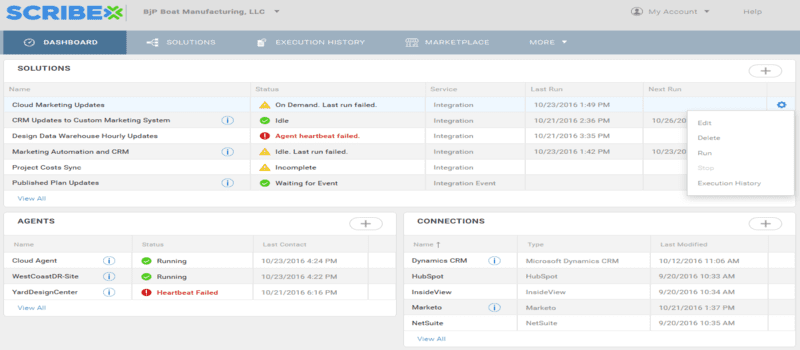 Scribe Software has announced the release of the newest version of their Integration Platform as a Service solution, Scribe Online. The new release offers a revamped user experience and an extended API that simplifies and accelerates the process of creating and maintaining integrations between cloud services, on-prem applications, and databases. The enhancements enable businesses of all sizes to build integrations that match specialized internal processes and unique application configurations up to 80 percent faster than the custom coded approach.
Scribe Online's new HTML5-based UI was reimagined to accelerate the creation of integrations and to simplify ongoing management. The new UI includes a wide variety of layout and in-app assistance enhancements that can shorten integration projects, allowing both business analysts and developers to rapidly create, deploy and manage integrations. The new UI enhances how customers will interact with Scribe Online by providing a nimble, responsive, and touch-enabled interface which includes mobile and tablet support.
Scribe's CEO speaks to the major product release: "This launch is a key milestone in our vision for accelerating data integration projects regardless of company size or skill level. We are breaking down usability barriers so more people can create integrations that maximize business efficiency. The new, modern user experience helps business users and developers alike create integrations with greater efficiency, while the open APIs make it easier for developers to connect applications, simplify the user experience for their products, and automate the provisioning, configuration and deployment of integrations."
The update builds on the recently announced additions to Scribe Online's REST application programming interface (API). The REST API provided by Scribe Online is now fully available to SaaS providers, system integrators, and enterprise developers, providing them with vast control over the Scribe Online platform, including the ability to control every user interface element. The API can be used to provision, configure and run integrations programmatically.