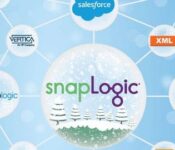 According to the press release titled, "SnapLogic Winter 2015 Secures Cloud Application and Data Integration for Hybrid Deployments," the Elastic Integration company has recently announced the Winter 2015 release of its Elastic Integration Platform. With this new release users will experience improved lifecycle management and security for integration platform as a service (iPaaS) deployments, new and enhanced cloud and on-premise connectors (Snaps), and an ongoing emphasis on productivity and self-service capabilities for citizen integrators. Below is more information from the press release.
Gaurav Dhillon, CEO of SnapLogic, stated, "We're seeing a re-imagining of integration in the enterprise as CIOs look for greater business alignment and agility as well as a faster payback on their cloud application and analytics investments. Our Elastic Integration Platform is now processing over 10 billion JSON documents per month and with a focus on security, performance and developer productivity, the Winter 2015 release enables our customers to further expand their iPaaS deployments from real-time data synchronization and orchestration to big data integration initiatives."
+ Check out this Free Data Integration Tools and Software Buyers Guide
iPaaS for the Enterprise SnapLogic goes beyond point-to-point line of business cloud integration tools with a fast, multi-point and modern platform that connects data, applications and APIs. In addition to performance gains throughout the Elastic Integration Platform, Winter 2015 enterprise iPaaS updates include:
Enhanced Encryption For hybrid deployments, account credentials used to access endpoints from the SnapLogic Integration Cloud can now be encrypted using a private key/public key model. The data is encrypted with a public key and is decrypted with a private key on the SnapLogic Snaplex, which is the data integration processing grid running behind the firewall in this configuration.
Lifecycle Management The introduction of Phases allows data flow developers to create and test pipelines before moving them into production. Administrators can restrict who can access each Phase and whether or not they have execution permissions. Integration projects can be easily promoted or rolled back as pipelines move through the development to test to production lifecycle.
Improved Developer Productivity 20+ user experience features and enhancements to the multi-tenant, HTML5 Designer including the ability to easily turn pipelines into Snap Patterns, a right-click Snap context menu for easy delete, copy/paste, or edit, Ctrl/Command+click multi-select and the ability to print or download a document that describes a pipeline, listing the Snaps and pipeline properties.
According to a recent Gartner report called "Embrace the Citizen Integrator Approach to Improve Business Users Productivity and Agility," by Massimo Pezzini Gartner believes that you, as IT leaders, should understand, embrace and even promote citizen integrators. You should also put in place appropriate guardrails to limit risks and debts, but, as it happened with preceding user-driven phenomena such as PCs, the Web, bring your own device (BYOD), cloud, smartphones and tablets ignoring or fighting citizen integrators will prove to be futile. Opposing citizen integrators will also risk undermining your IT department's relevance in the eyes of business leaders who do want the efficiency and agility they perceive as associated with citizen integrators.
Click here to read the entire press release and learn more about the new enhancement to SnapLogic's Elastic Integration Platform.