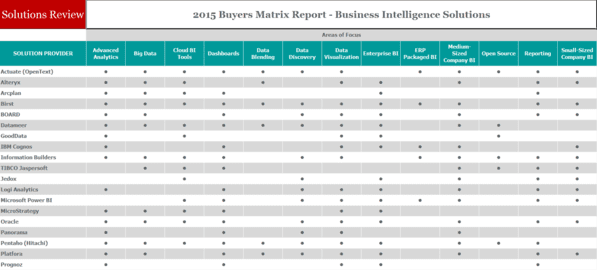 Solutions Review has officially launched its newest tool to assist buyers in selecting business intelligence software solutions. The amazing depth and breadth of data available for analysis is driving a rapid solution evolution within the business intelligence (BI) industry and creating a real challenge to finding the right provider.
The 2015 Buyers Matrix Report will make it easier for companies considering next generation solutions to compare and contrast the leading BI providers in order to find the best possible fit for their organization. The matrix-style report is a side-by-side comparison of the top-28 best-of-breed BI solutions in the market today. The report lists all of the top vendors and their various software solutions in an easy to read format, spanning five different categories, and giving buyers the information they need to make informed purchasing decisions.
Coupled with the release of its newest buyers tool, Solutions Review also offers a free Business Intelligence Buyers Guide, further enhancing the ability of the IT professional to make the right product decisions. In using these tools in conjunction, solutions-seekers will be armed with all of the materials they need to ensure selection of the best software for their company.
Finding the right BI solution for your organization just got a whole lot easier. Click here to download the 2015 Buyers Matrix Report: Business Intelligence.