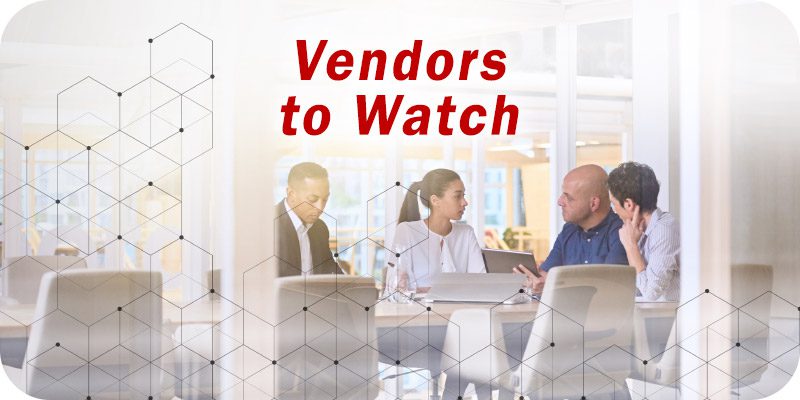 Solutions Review's Data Integration Tools Vendors to Watch is an annual listing of solution providers we believe are worth monitoring. Companies are commonly included if they demonstrate a product roadmap aligning with our meta-analysis of the marketplace. Other criteria include recent and significant funding, talent acquisition, a disruptive or innovative new technology or product, or inclusion in a major analyst publication.
Data integration tools vendors are increasingly being disrupted by cloud connectivity, self-service, and the encroachment of data management functionality. As data volumes grow, we expect to see a continued push by providers in this space to adopt core capabilities of horizontal technology sectors. Organizations are keen on adopting these changes as well and continue to allocate resources toward the providers that can not only connect data lakes and Hadoop to their analytic frameworks, but cleanse, prepare, and govern data.
These data integration tools Vendors to Watch have met at least two of our five points of inclusion and represent to some degree the evolution of the marketplace. It's in that spirit we turn our attention to the immediate future. Providers are listed in alphabetical order. Provider names and logos are linked so you can learn more.
1Spatial unlocks the value of location data (2D and 3D data) at scale by delivering automated data validation, cleansing, transformation, and enhancement of spatial and non-spatial data. With a simple user interface, it delivers fast, secure processing and supports SaaS, on-prem or hybrid deployment. Supported by a user-friendly web-based drag-and-drop data gateway, it powers some of the largest geospatial datasets in the world. 
Arcion offers a real-time database replication platform which comes in two different deployment flavors. Key features include the ability to convert, extra, and load, transformations, low-latency change data capture, enterprise security, data validation, and live monitoring. Arcion Cloud lets customers deploy production-ready CDC pipelines for high-volume and real-time data replication without then need to write any code.
Ascend.io offers a unified, automated platform to ingest, transform, and orchestrate data engineering and analytics workloads. Backed by DataAware intelligence—Ascend works continuously in the background to guarantee data integrity and optimize data workloads. Users can build, iterate on, and run data transformations with Ascend's multi-language flex-code interface enabling the use of SQL, Python, Java, and Scala interchangeably.
Coalesce offers a data transformation tool that was build using a column-aware architecture. Coalesce's unique code-first, GUI-driven user experience enables data experts to transform their Snowflake data in a new way. Users can leverage column-aware metadata for hastening data transformations and creating database objects such as dimensions. The tool was designed for data architects, engineers, scientists, analysts, and consumers alike.
Dataddo offers a cloud-based data integration, automation and transformation platform. It can transform and wire data to a wide range of database tools, data warehouses, cloud storage, or dashboard and business intelligence software. Users can automate extraction, transformation and delivery internally or to clients. The tool works with your existing IT infrastructure or data visualization tools via a REST API, Direct DB Push or Automatic Data Delivery.
Digibee offers an enterprise Integration Platform as a Service solution that helps customers bridge the gap between current systems and new technologies. The product enables users to connect data and platforms that have never been connected before, regardless of underlying silos or legacy infrastructure. Digibee is low-code, data and systems agnostic, and cloud-native as well.
InfinyOn offers a unified platform for real-time event streaming and data transformation. The platform enables users to stream, transform and load events into any data store or application as well. Aggregate millions of events and logs from the core or edge in real-time, format and structure your data with WASM-based SmartModules, and use Smart Connectors to load structured data into a database or data lake.
Safe Software is a major player in enterprise spatial data integration and has helped many global organizations maximize the value of their data. The company offers FME, an enterprise integration platform with comprehensive support for spatial data. FME helps organizations connect data and applications across systems, streamline operations with automated workflows, and deliver speed to insights. Safe Software serves customers in diverse industries, including Government, Utilities, Energy, AEC, Telecom, and Transportation.
RightData offers a self-service approach to simplifying complex data operations like data ingestion, unification, structuring, cleansing, validating, transforming, and loading. The company's tools include Dextrus, a purpose-built cloud-powered self-service solution for all data practitioners, and RightData tool is a no-code data testing, reconciliation, and validation suite.
Upsolver offers a no-code data lake engineering platform designed for agile cloud analytics. The product features a self-service compute layer between data lakes and analytics tools to automate menial data pipeline work. Upsolver touts capabilities for running data ingestion, performance optimization, real-time processing, and upserts into cloud storage. Built-in connectors enable ingestion from message brokers, object storage, or databases. Key features include a visual SQL IDE, schema on read detection, and fully-managed processing jobs execution.

Latest posts by Timothy King
(see all)