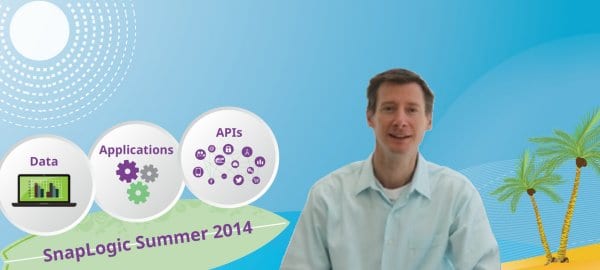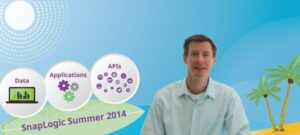 How I love the Summer. Beach days, camping trips, baseball games, rounds of golf, and of course, the beautiful warm weather. I'm just looking outside my office window as I write and I don't see a cloud in sight.
However, for an Elastic Integration company like SnapLogic, who recently released their Summer 2014 version of the SnapLogic Elastic Integration Platform, clouds are everywhere. I'm not referring to gray clouds that are accompanied literally by rain or figuratively by bad luck, but clouds that are off-premise and contain rich data and applications for business and IT professionals to leverage when making important decisions.
Even though it's Summer, and it can sometimes be a difficult time to reach executives for comments, I was fortunate enough to have a conversation with Darren Cunningham, Vice President of Marketing at SnapLogic to get his insight on a recent press release titled, "SnapLogic Summer 2014 Powers the Elastic Enterprise."
In the release, Snaplogic offers that the two major challenges facing IT organizations today are enterprise application portfolio "cloudification" and dealing with data gravity. Cunningham states,
"We believe that in the cloud, operational integration and business application integration will come together. Data integration and application integration will converge, has converged."
SnapLogic delivers a single integration platform as a service (iPaaS) for connecting big data sources, cloud and legacy applications and APIs. The Summer 2014 release includes:
New dashboards and insights for deeper and broader operational telemetry
User interface innovations and self-learning for advanced users and "citizen integrators"
SAML 2.0 single sign on (SSO) support for user management and authentication
SnapReduce 2.0 to connect the SnapLogic iPaaS to on-premises and cloud-based Hadoop clusters for big data processing
20+ new and updated Snaps for all customers
A new Snap development community for Java developers
Mr. Cunningham added, "We want the major focus of this announcement to be around operational insights and building value from both monitoring and management perspectives because integration, when running well, should be visible to all users of the applications or analytical tools."
I agree that integration should be visible and I think it's suiting to present the new dashboards and insights from the Summer 2014 release,
Monitoring Dashboards: The new Health dashboard gives users information on the status of the elastic integration processing and individual nodes for improved capacity planning – whether the Snaplex is running in the cloud, on-premises or in a Hadoop cluster.
Insights Dashboard: Get active statistics on the number of SnapLogic users, data flows (pipelines), tasks, data volumes and API calls as well as immediate visibility into the number of Snaplexes, files, projects and accounts running in the multi-tenant cloud integration service.
iOS Mobile App: Integration monitoring is now even easier with the ability to manage and modify pipelines from your iPhone or iPad and email error reports to SnapLogic Support if necessary.
Cunningham states, "(Visibility to users) is only as good as the monitoring, availability, and performance of the dashboards. So, one major focus on this release was providing administrative capabilities around the tracking of the overall helper system to understand the overall health. The Health Dashboard accomplishes this by providing a view of the CPU usage for Snaplex, the processing engine, to see how many pipelines are running. You can also see the availability and uptime of the service which helps deliver maximum capacity."
At the conclusion of our conversation, I asked about how this release will help SnapLogic compete in a market where there are already some well-established players. A topic that Darren knows a thing or two about given that before joining SnapLogic, he was the vice president of marketing at Informatica Cloud.
He replied, "These changes will allow us to compete because what we are seeing in the marketplace is an increasing dissatisfaction from companies using traditional platforms that lack agility, lack a design for the less technical audience to get up and running, and lack many of the self-service requirements that we are seeing in integration today. What we are also seeing is that when it comes to tools and technologies that were built before the cloud, social, mobile, and new styles of analytics era, they were not designed to handle the modern style of current integration patterns."
Click here to see the full press release to learn more about the Summer 2014 release of the SnapLogic Elastic Integration Platform.