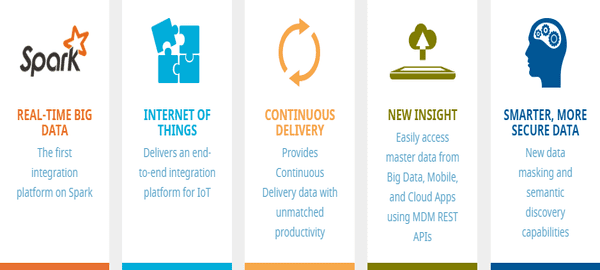 Talend, a leader in data integration software specializing in the cloud and big data, announced today the immediate availability of Talend 6, the world's first data integration platform with native support for Apache Spark and Spark Streaming. Talend 6 leverages over 100 Spark components and delivers unmatched data processing speeds while enabling any company to convert streaming big data or IoT sensor information into immediately actionable insights.
According to the company: "Talend 6 provides the integration speed and velocity required for real-time analytics. As detailed in the latest Talend blog support for Spark and real-time big data integration creates a range of dynamic new use cases across virtually every vertical market segment – from retail and healthcare to agriculture."
Existing Talend customers can convert MapReduce jobs to Spark with one click, resulting in a performance increase of up to 500 percent. The company has also anticipated that the new platform will improve developer productivity 10 times over compared to hand-coding due to its intuitive design interface and prebuilt Spark components with automated 'no coding required' Spark code generation. Talend 6 also includes a new built-in Lambada Architecture offering a single environment for working with bulk and batch, real-time, streaming, and IoT data.
In addition to Spark support, the Talend 6 platform includes a broad array of other enterprise-class features and enhancements:
Continuous delivery support: A development approach that helps IT meet the need for speed of business by enabling integration development, testing, deployment, and operations to work together as one streamlined delivery system.
Master data management REST API and query language support: This makes it easier to embed a 360-degree view of the customer into web and mobile applications. This means that customer insights from web logs, social media, mobile, and SaaS applications can be leveraged in real-time.
Data masking and semantic analytics: This allows organizations to better manage compliance and privacy constraints by easing the process of concealing and securing personal data as it is shared throughout the enterprise. This helps to protect data from abuse or breaching, while the semantic analyzer enables business users to better understand their data with data-type auto discovery and HDFS file profiling.
Spark support is included in Talend Big Data and Talend Real-Time Big Data, new products included in the integration platform:
The platform, which Talend 6 is built upon is called Talend Big Data Fabric, and offers enhanced components for on-premises and cloud data integration, data quality, master data management, and more.
Talend's CEO Mike Tuchen explains: "Fast analytics absolutely requires fast data integration, so we are very happy to be first to market with native Spark and Spark Streaming support. We made a big bet on Spark, because we understand that in an increasingly competitive marketplace, every moment is material when it comes to business-critical information."
For Talend's official press release, please click here.