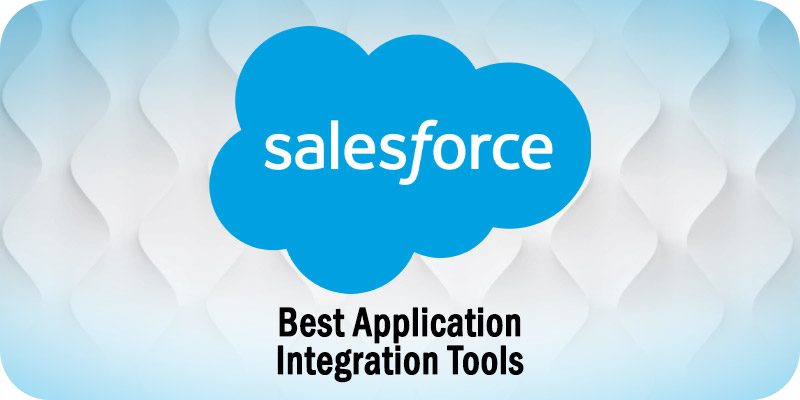 Solutions Review's listing of the best application integration tools for Salesforce is an annual mashup of products that best represent current market conditions, according to the crowd. Our editors selected the best application integration tools for Salesforce based on each solution's Authority Score; a meta-analysis of real user sentiment through the web's most trusted business software review sites and our own proprietary five-point inclusion criteria.
The editors at Solutions Review have developed this resource to assist buyers in search of the best application integration tools for Salesforce to fit the needs of their organization. Choosing the right vendor and solution can be a complicated process — one that requires in-depth research and often comes down to more than just the solution and its technical capabilities. To make your search a little easier, we've profiled the best application integration tools for Salesforce all in one place. We've also included introductory software tutorials straight from the source so you can see each solution in action.
Note: The best application integration tools for Salesforce are listed in alphabetical order.
The Best Application Integration Tools for Salesforce
Description: Actiondesk is designed for CTOs, software engineers and data engineers and gives autonomous access to company data via a no-code tool. It allows you to connect your database or data warehouse quickly and enable business users to build their own views and reports. Using Actiondesk, data is refreshed automatically. Users can explore data in a variety of ways and add organizational logic. The tool's Lookup function also lets you easily mix data from various disparate sources.
Description: Apache Airflow is a platform that allows you to programmatically author, schedule and monitor workflows. The tool enables users to author workflows as directed acyclic graphs (DAGs). The airflow scheduler executes tasks on an array of workers while following the specified dependencies. Airflow provides rich command line utilities that make performing complex surgeries on DAGs simple. The user interface also provides capabilities that enable users to visualize pipelines running production, monitor progress, and troubleshoot issues when needed.
Description: Blendo connects with any data source, from databases and log files to cloud apps. The solution is not tied to a specific data warehouse and connects with Amazon Redshift, PostgreSQL and MS SQL Server. Users can export historical data from any cloud service and Blendo will load the data from your SaaS service. There's also an option to choose how often you want to pull data from a source.
Description: Boomi is a leading provider in the connectivity and automation space. Boomi's flagship product, AtomShere, supports integration processes between cloud platforms, software-as-a-service applications, and on-prem systems. AtomSphere uses a visual interface to configure application integrations. The solution's runtime tool, Boomi Atom, allows integrations to be deployed wherever they are needed. The AtomSphere platform is available in several editions, based on use case and functionality.
Description: Commercient offers ERP integration for CRM systems and requires no coding, mapping, ETL or server access. The SYNC application can synchronize ERP to CRM within 24 hours of installation and offers easy access to sales and customer data after download. Commercient SYNC can be set up to synchronize as frequently as your business requires, whether once a day, every hour, or in real-time. It is also configurable to different unique needs and features integrations with all leading products.
Description: Fivetran is an automated data integration platform that delivers ready-to-use connectors, transformations and analytics templates that adapt as schemas and APIs change. The product can sync data from cloud applications, databases, and event logs. Integrations are built for analysts who need data centralized but don't want to spend time maintaining their own pipelines or ETL systems. Fivetran is easy to deploy, scalable, and offers some of the best security features of any provider in the space.
Description: Hevo Data offers a no-code data pipeline for loading data into data warehouses. Data can be loaded from a wide variety of sources like relational databases, NoSQL databases, SaaS applications, files or S3 buckets into any warehouse (Amazon Redshift, Google BigQuery, Snowflake) in real-time. Hevo supports more than 100 pre-built integrations, and all of them are native and tout specific source APIs. The solution features a streaming architecture as well. Hevo detects schema changes on incoming data and automatically replicates the same in your destinations.
Description: Informatica's data integration tools portfolio includes both on-prem and cloud deployments for a number of enterprise use cases. The vendor combines advanced hybrid integration and governance functionality with self-service business access for various analytic functions. Augmented integration is possible via Informatica's CLAIRE Engine, a metadata-driven AI engine that applies machine learning. Informatica touts strong interoperability between its growing list of data management software products.
Description: Jitterbit offers cloud data integration and API transformation capabilities. The company's main product, Jitterbit Harmony, allows organizations to design, deploy, and manage the entire integration lifecycle. The platform features a graphical interface for guided drag-and-drop configuration, integration via pre-built templates, and the ability to infuse applications with artificial intelligence. Users can run the tool in cloud, hybrid, or on-prem environments, and feed consolidated data to real-time analytics.
Description: MuleSoft offers a B2B application delivery network that connects data, applications, and devices with APIs. The vendor enables organizations to improve their applications through integration while also providing API connectivity to a wide variety of on-prem and cloud-based applications and systems. MuleSoft provides both traditional and Integration Platform as a Service products and touts a growing capabilities portfolio. Dataloader.io is also available through MuleSoft.
Description: Panoply automates data management tasks associated with running big data in the cloud. Smart Data Warehouse require no schema, modeling, or configuration. Panoply features an ETL-less integration pipeline that can connect to structured and semi-structured data sources. It also offers columnar storage and automatic data backup to a redundant S3 storage framework.
Description: RapidiOnline offers data integration tools in multiple flavors and for several use cases. RapidiOnline's products do not require any coding and work to completely eliminate double data entries. Security for the tools is managed in the cloud, and the vendor is also Salesforce and Microsoft certified. The solutions can also synchronize data across in-house and remote teams, even during downtime. RapidiOnline's current product portfolio includes RapidiOnline, Rapidi Replicator, and the Rapidi Platform.
Description: Salesforce Data Loader is a client application for the bulk import or export of data and can be used to insert, update, delete, or export Salesforce records. When importing data, Data Loader reads, extracts, and loads data from comma-separated values files or from a database connection. When exporting data, it outputs CSV files. Data Loader can be used in two different ways, either via the user interface or through command line on Windows.
Description: Skyvia's Data Integration tool contains a wide range of data-related scenarios which can be created directly from the user interface. Users can migrate data from one source to another, set up bi-directional data synchronization with flexible scheduling, import or export data to different sources, including CSV, as well as replicate cloud data to relational databases. According to the company, all Data Integration functionalities remain free at this stage in time.
Description: Talend offers an expansive portfolio of data integration and data management tools. The company's flagship tool, Open Studio for Data Integration, is available via a free open-source license. Talend Integration Cloud is offered in three separate editions (SaaS, hybrid, elastic), and provides broad connectivity, built-in data quality, and native code generation to support big data technologies. Big data components and connectors include Hadoop, NoSQL, MapReduce, Spark, machine leaning and IoT.
Description: Xplenty allows organizations to integrate, process, and prepare data for analytics in the cloud. The tool's package designer can be used to implement a variety of data integration use cases from replication to data preparation and transformation, all within a point-and-click environment. Xplenty includes out-of-the-box data transformation, and users can execute packages either from the UI or the API. The tool allows users to integrate data from more than 100 different data stores and SaaS applications.