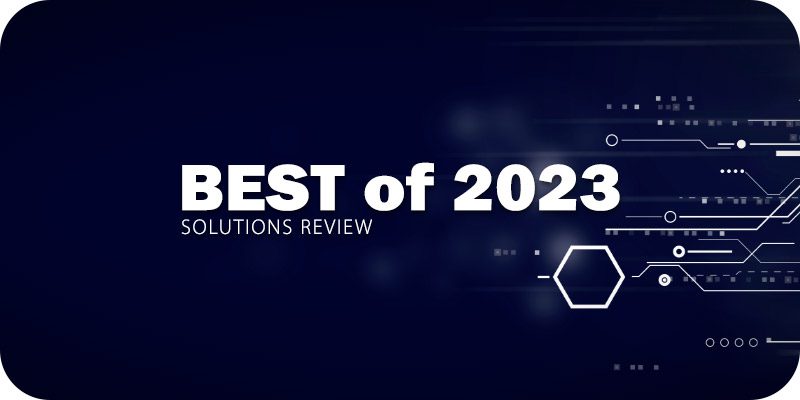 Solutions Review's listing of the best application integration tools is an annual mashup of products that best represent current market conditions, according to the crowd. Our editors selected the best application integration tools based on each solution's Authority Score; a meta-analysis of real user sentiment through the web's most trusted business software review sites and our own proprietary five-point inclusion criteria.
The editors at Solutions Review have developed this resource to assist buyers in search of the best application integration tools to fit the needs of their organization. Choosing the right product and solution can be a complicated process — one that requires in-depth research and often comes down to more than just the solution and its technical capabilities. To make your search a little easier, we've profiled the best application integration tools all in one place. We've also included solution and product line names and introductory software tutorials straight from the source so you can see each solution in action.
Note: The best application integration tools are listed in alphabetical order.
The Best Application Integration Tools
Platform: Boomi AtomSphere
Description: Boomi is a leading provider in the connectivity and automation space. Boomi's flagship product, AtomShere, supports integration processes between cloud platforms, software-as-a-service applications, and on-prem systems. AtomSphere uses a visual interface to configure application integrations. The solution's runtime tool, Boomi Atom, allows integrations to be deployed wherever they are needed. The AtomSphere platform is available in several editions, based on use case and functionality.
Platform: Integrator.io
Description: Celigo offers an Integration Platform as a Service product called Integrator.io. The solution enables organizations to connect applications, synchronize data, and automate processes. Celigo features an integration wizard that includes an API assistant, visual field mapping interface, and drop-down menus. The tool also offers reusable pre-configured integration templates available on the integrator.io marketplace, allowing users to create their own library of reusable, standalone flows.
Platform: Cleo Integration Cloud
Description: The Cleo Integration Cloud allows organizations to connect to enterprise and SaaS applications with a variety of connectors and APIs. The tool automatically accepts, transforms, orchestrates, connects and integrates all B2B data types from any source and to any target, and can be deployed via several different methods. Cleo Integration Cloud can also be embedded for SaaS or Information Services organizations and can be utilized as a managed service to offload complex integrations to the vendor's experts.
Platform: Cloud Elements
Description: Cloud Elements offers an API integration product that features pre-built connectors called Elements. Elements enable connections into specific cloud applications or cloud service endpoints and provide normalized authentication, discovery APIs, search, event-driven workflows, and unified error handling. Cloud Elements was designed to enhance developer experience regardless of the application's backend and creates a unified API layer and standards-based implementation across environments.
Platform: Flowgear .NET Platform
Description: Flowgear is a South Africa-based integration Platform as a Service provider that offers enterprise application integration tools. Their product provides a blend of technical depth and ease of use for developers. Flowgear is cloud-native, and known for its data transportation framework, cloud-based task hosting, and visual designer. Lightweight services called DropPoints grants on-site applications the ability to connect on-prem systems with the cloud. Flowgear also enables a two-speed (bimodal) approach to the integration lifecycle.
Platform: IBM WebSphere Enterprise Service Bus/IBM Integration Designer
Related products: IBM Cloud Integration, IBM InfoSphere Classic Federation Server, IBM InfoSphere Data Replication, IBM InfoSphere DataStage, IBM App Connect, IBM Streams, IBM Data Refinery, IBM BigIntegrate, IBM InfoSphere Information Server
Description: IBM offers several distinct integration tools in both on-prem and cloud deployments, and for virtually every enterprise use case. Its on-prem data integration suite features tools for traditional (replication and batch processing) and modern integration synchronization and data virtualization) requirements. IBM also offers a variety of prebuilt functions and connectors. The mega-vendor's cloud integration product is widely considered one of the best in the marketplace, and additional functionality is being rolled out on a perpetual basis.
Platform: Informatica Intelligent Cloud Services
Related products: Informatica Intelligent Data Platform, Informatica PowerCenter, Informatica PowerExchange, Informatica Data Replication, Informatica B2B Data Transformation, Informatica B2B Data Exchange, Informatica Big Data Integration Hub, Informatica Data Services, Informatica Big Data Management, Informatica Big Data Integration Hub, Informatica Big Data Streaming, Informatica Enterprise Data Catalog, Informatica Enterprise Data Preparation, Informatica Edge Data Streaming
Description: Informatica's data integration tools portfolio includes both on-prem and cloud deployments for a number of enterprise use cases. The vendor combines advanced hybrid integration and governance functionality with self-service business access for various analytic functions. Augmented integration is possible via Informatica's CLAIRE Engine, a metadata-driven AI engine that applies machine learning. Informatica touts strong interoperability between its growing list of data management software products.
Platform: InterSystems Ensemble
Related products: InterSystems IRIS
Description: InterSystems offers a collection of industry-specific data management and analytics products. Its Ensemble Integration Engine is a platform for application and process integration. InterSystems Ensemble stores elements as objects in a high-performance, multi-model data repository that enables a unified view of underlying systems, applications, and services in a solution. The product is buoyed by high-availability options and an adaptable security model with enterprise-wide provisioning.
Platform: Jitterbit Harmony
Description: Jitterbit offers cloud data integration and API transformation capabilities. The company's main product, Jitterbit Harmony, allows organizations to design, deploy, and manage the entire integration lifecycle. The platform features a graphical interface for guided drag-and-drop configuration, integration via pre-built templates, and the ability to infuse applications with artificial intelligence. Users can run the tool in cloud, hybrid, or on-prem environments, and feed consolidated data to real-time analytics.
Platform: Anypoint Platform
Description: MuleSoft offers a B2B application delivery network that connects data, applications, and devices with APIs. The vendor enables organizations to improve their applications through integration while also providing API connectivity to a wide variety of on-prem and cloud-based applications and systems. MuleSoft provides both traditional and Integration Platform as a Service products and touts a growing capabilities portfolio.
Platform: OpenLegacy API Software
Description: OpenLegacy creates APIs or serverless functions from complex legacy systems. Its API Software product features Digital-Driven Integration both on-prem and in the cloud. The Automatic Code Generation enables users to generate digital services from more than 50 types of back-end systems without any special skills or changes to legacy systems required. Direct-to-legacy connections help users to avoid complex technology layers and boost the performance of their APIs as well.
Platform: Intelligent Integration Platform
Description: SnapLogic's Intelligent Integration Platform provides integration across applications, databases, data warehouses, big data streams, and IoT deployments. It allows both IT and business users to create data pipelines that can be deployed on-prem or in the cloud. The platform features an HTML5 visual designer and a proprietary AI algorithm called Iris that learns common integration patterns and drives self-service by recommending flows. Complete support for complex transformations, conditional operations, triggers, parameterization, aggregation, and reuse maximizes the tool's flexibility.
Platform: webMethods Integration Platform/webMethods.io
Description: Software AG offers data and application integration for a wide variety of integration scenarios and use cases. Its webMethods platform enables organizations to integrate applications, clouds, mainframe systems, and IoT devices. The product was designed for cloud-native integrations that scale up or down. It also touts out-of-the-box connectivity to SaaS applications like Salesforce and ServiceNow, as well as more than 300 application connectors that require no coding.
Platform: TIBCO Cloud Integration
Related products: TIBCO Data Virtualization, TIBCO EBX, TIBCO StreamBase, TIBCO Messaging, TIBCO Spotfire
Description: TIBCO's flagship Integration Platform as a Service product, TIBCO Cloud Integration, requires no code. It also allows users to create, model, and deploy APIs in a completely guided process. TIBCO acquired Scribe Software in June 2018 and has rolled its capabilities into TIBCO Cloud Integration as a complimentary package. TIBCO offers a fully integrated data platform that can handle a variety of data integration use cases. The company's acquisition of Cisco's data virtualization technologies rounds out its product portfolio even further.
Platform: Workato
Description: Workato offers a self-service application integration solution for unifying applications on-prem and in the cloud. The product allows organizations to create recipes, which are automated workflows that connect apps to complete tasks composed by users based on a combination of apps, triggers, and actions. Workato currently connects to more than 300 enterprise apps, with new apps being added frequently.
Platform: WSO2 Enterprise Integrator (WSO2 EI)
Related products: WSO2 API Manager
Description: WSO2 offers API management and enterprise application integration software. WSO2 Enterprise Integrator is an open-source hybrid integration platform that offers graphical and CLI tooling, integration runtimes, and monitoring with several deployment options. WSO2's integration runtime engine can act as an ESB, streaming data processor, or microservices integrator. Organizations can choose to deploy on-prem, in the cloud, or via hybrid or container orchestration platform of choice.
Platform: Zapier
Description: Zapier links web applications so they can share data, and passes information between them with workflows called Zaps. The software connects more than 1,000 apps and new options are added on a regular basis. Workflows can be built on a self-service basis, and the creation of Zaps can be done without the help of a developer. Zapier is available in two editions: a basic, free-forever option and a premium plan that provides automation and conditional workflow creation.