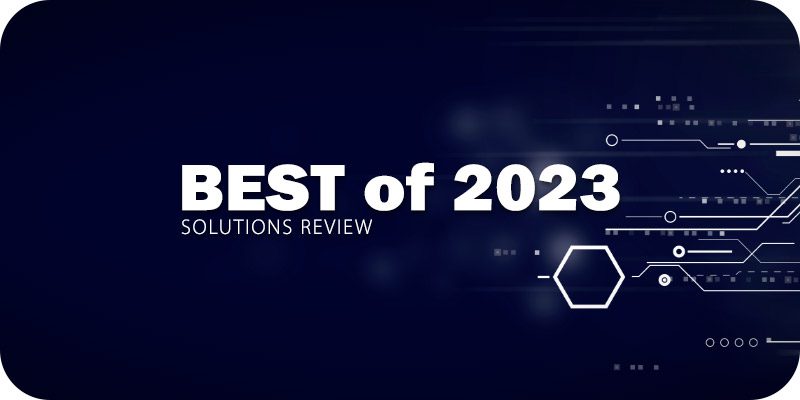 Solutions Review's listing of the best big data ETL tools and software is an annual sneak peek of the top tools included in our Buyer's Guide for Data Integration Tools and companion Vendor Comparison Map. Information was gathered via online materials and reports, conversations with vendor representatives, and examinations of product demonstrations and free trials.
The editors at Solutions Review have developed this resource to assist buyers in search of the best big data ETL tools to fit the needs of their organization. Choosing the right vendor and solution can be a complicated process — one that requires in-depth research and often comes down to more than just the solution and its technical capabilities. To make your search a little easier, we've profiled the best big data ETL tools providers all in one place. We've also included platform and product line names and introductory software tutorials straight from the source so you can see each solution in action.
Note: The best big data ETL tools are listed in alphabetical order.
The Best Big Data ETL Tools and Software
Platform: Adeptia Connect
Description: Adeptia offers enterprise data integration tools that can be used by non-technical business users. Adeptia Connect features a simple user interface to manage all external connections and data interfaces. It also includes self-service partner onboarding and a no-code approach that lets users and partners view, setup and manage data connections. The platform touts a suite of pre-built connections and Cloud Services Integration, as well as B2B standards and protocol support.
Platform: Alooma Platform
Description: Alooma offers a data pipeline service that integrates with popular data sources. The Alooma platform features end-to-end security, which ensures that every event is securely transferred to a data warehouse (SOC2, HIPAA, and EU-US Privacy Shield certified). The solution responds to data changes in real-time to make sure no events are lost. Users can choose to manage changes automatically or get notified and make changes on-demand. The tool also infers data automatically to provide customizable control.
Platform: CData Driver Technologies
Description: CData Software offers data integration solutions for real-time access to online or on-prem applications, databases, and Web APIs. The vendor specializes in providing access to data through established data standards and application platforms such as ODBC, JDBC, ADO.NET, SSIS, BizTalk, and Microsoft Excel. CData Software products are broken down into six categories: driver technologies, enterprise connectors, data visualization, ETL and ELT solutions, OEM and custom drivers, and cloud and API connectivity.
Platform: Fivetran
Description: Fivetran is an automated data integration platform that delivers ready-to-use connectors, transformations and analytics templates that adapt as schemas and APIs change. The product can sync data from cloud applications, databases, and event logs. Integrations are built for analysts who need data centralized but don't want to spend time maintaining their own pipelines or ETL systems. Fivetran is easy to deploy, scalable, and offers some of the best security features of any provider in the space.
Description: Hevo Data offers a no-code data pipeline for loading data into data warehouses. Data can be loaded from a wide variety of sources like relational databases, NoSQL databases, SaaS applications, files or S3 buckets into any warehouse (Amazon Redshift, Google BigQuery, Snowflake) in real-time. Hevo supports more than 100 pre-built integrations, and all of them are native and tout specific source APIs. The solution features a streaming architecture as well. Hevo detects schema changes on incoming data and automatically replicates the same in your destinations.
Platform: Pentaho Platform
Related products: Lumada Data Services
Description: Hitachi Vantara's Pentaho platform for data integration and analytics offers traditional capabilities and big data connectivity. The solution supports the latest Hadoop distributions from Cloudera, Hortonworks, MapR, and Amazon Web Services. However, one of the tool's shortcomings is that its big data focus takes attention away from other use cases. Pentaho can be deployed on-prem, in the cloud, or via a hybrid model. The tool's most recent update to version 8 features Spark and Kafka stream processing improvements and security add-ons.
Platform: IBM InfoSphere Information Server
Related products: IBM InfoSphere Classic Federation Server, IBM InfoSphere Data Replication, IBM InfoSphere DataStage, IBM App Connect, IBM Streams, IBM Data Refinery, IBM BigIntegrate, IBM Cloud Integration
Description: IBM offers several distinct data integration tools in both on-prem and cloud deployments, and for virtually every enterprise use case. Its on-prem data integration suite features tools for traditional (replication and batch processing) and modern integration synchronization and data virtualization) requirements. IBM also offers a variety of prebuilt functions and connectors. The mega-vendor's cloud integration product is widely considered one of the best in the marketplace, and additional functionality is coming in the months ahead.
Platform: Informatica Intelligent Data Platform
Related products: Informatica PowerCenter, Informatica PowerExchange, Informatica Data Replication, Informatica B2B Data Transformation, Informatica B2B Data Exchange, Informatica Big Data Integration Hub, Informatica Data Services, Informatica Big Data Management, Informatica Big Data Integration Hub, Informatica Big Data Streaming, Informatica Enterprise Data Catalog, Informatica Enterprise Data Preparation, Informatica Edge Data Streaming, Informatica Intelligent Cloud Services
Description: Informatica's data integration tools portfolio includes both on-prem and cloud deployments for a number of enterprise use cases. The vendor combines advanced hybrid integration and governance functionality with self-service business access for various analytic functions. Augmented integration is possible via Informatica's CLAIRE Engine, a metadata-driven AI engine that applies machine learning. Informatica touts strong interoperability between its growing list of data management software products.
Platform: Keboola
Description: Keboola is a cloud-based data integration platform that connects data sources to analytics platforms. It supports the entire data workflow process, from the point of data extraction, preparation, cleansing, warehousing, and all the way to its integration, enrichment, and loading. Keboola offers more than 200 integrations and features an environment that allows users to build their own data applications or integrations using GitHub and Docker. The product can also automate low-value activities while account for audit trail, version control and access management.
Platform: Matillion ETL
Related products: Matillion Data Loader
Description: Matillion offers a cloud-native data integration and transformation platform that is optimized for modern data teams. It also features built on native integrations to popular cloud data platforms like Snowflake, Delta Lake on Databricks, Amazon Redshift, Google BigQuery, and Microsoft Azure Synapse. Matillion uses an extract-load-transform approach that handles the extract and load in one move, straight to an organization's target data platform, then using the power of a cloud data platform's processes to perform transformations once loaded.
Platform: SQL Server Integration Services (SSIS)
Related products: Azure Data Factory cloud integration service
Description: Microsoft offers its data integration functionality on-prem and in the cloud (via Integration Platform as a Service). The company's traditional integration tool, SQL Server Integration Services (SSIS), is included inside the SQL Server DBMS platform. Microsoft also touts two cloud SaaS products: Azure Logic Apps and Microsoft Flow. Flow is ad hoc integrator-centric and included in the overarching Azure Logic Apps solution.
Platform: Oracle Data Integration Cloud Service
Related products: Oracle GoldenGate, Oracle Data Integrator, Oracle Big Data SQL, Oracle Service Bus, Oracle Integration Cloud Service (iPaaS)
Description: Oracle offers a full spectrum of data integration tools for traditional use cases as well as modern ones, in both on-prem and cloud deployments. The company's product portfolio features technologies and services that allow organizations to full lifecycle data movement and enrichment. Oracle data integration provides pervasive and continuous access to data across heterogeneous systems via bulk data movement, transformation, bidirectional replication, metadata management, data services, and data quality for customer and product domains.
Description: Panoply automates data management tasks associated with running big data in the cloud. Smart Data Warehouse require no schema, modeling, or configuration. Panoply features an ETL-less integration pipeline that can connect to structured and semi-structured data sources. It also offers columnar storage and automatic data backup to a redundant S3 storage framework.
Platform: Precisely Data Integrity Suite, Precisely Connect
Related products: Precisely Data Integrity Suite Data Integration Module, Precisely Ironstream
Description: The data integration module of the Precisely Data Integrity Suite is one of seven SaaS modules that ensure data is accurate, consistent, and contextual. It is complemented by Precisely Connect, an on-prem data integration solution that supports a broad range of source and target systems. Both solutions leverage Precisely's deep expertise in mainframe and IBM i systems to integrate complex data formats into modern cloud platforms like Snowflake and Databricks. Precisely Ironstream also integrates mainframe and IBM i machine and log data into IT platforms like Splunk and ServiceNow for IT operations management, analytics, and security.
Platform: Qlik Replicate
Related products: Qlik Compose, Qlik Catalog, Qlik Blendr.io
Description: Qlik offers a range of integration capabilities that span four product lines. The flagship product is Qlik Replicate, a tool that replicates, synchronizes, distributes, consolidates, and ingests data across major databases, data warehouses, and Hadoop. The portfolio is buoyed by Qlik Compose for data lake and data warehouse automation and Qlik Catalog for enterprise self-service cataloging. Qlik also offers Integration Platform as a Service functionality through its Blendr.io product, which touts API connectivity, no-code integration and application automation.
Platform: SAP Data Services
Related products: SAP Replication Server, SAP Landscape Transformation Replication Server, SAP Data Hub, SAP HANA, SAP Cloud Integration Platform Suite, SAP Cloud Platform
Description: SAP provides on-prem and cloud integration functionality through two main channels. Traditional capabilities are offered through SAP Data Services, a data management platform that provides capabilities for data integration, quality, and cleansing. Integration Platform as a Service features are available through the SAP Cloud Platform. SAP's Cloud Platform integrates processes and data between cloud apps, 3rd party applications, and on-prem solutions.
Platform: SAS Data Management
Related products: SAS Data Integration Studio, SAS Federation Server, SAS/ACCESS, SAS Data Loader for Hadoop, SAS Data Preparation, SAS Event Stream Processing
Description: SAS is the largest independent vendor in the data integration tools market. The provider offers its core capabilities via SAS Data Management, where data integration and quality tools are interwoven. It includes flexible query language support, metadata integration, push-down database processing, and various optimization and performance capabilities. The company's data virtualization tool, Federation Server, enables advanced data masking and encryption that allows users to determine who's authorized to view data.
Platform: Striim Platform
Related products: Striim for Azure, Striim for Amazon Web Services, Striim for Google Cloud Platform, Striim for Snowflake
Description: Striim offers a real-time data integration solution that enables continuous query processing and streaming analytics. Striim integrates data from a wide variety of sources, including transaction/change data, events, log files, application and IoT sensor, and real-time correlation across multiple streams. The platform features pre-built data pipelines, out-of-the-box wizards for configuration and coding, and a drag-and-drop dashboard builder.
Platform: Talend Open Studio
Related products: Talend Data Fabric, Talend Data Management Platform, Talend Big Data Platform, Talend Data Services Platform, Talend Integration Cloud, Talend Stitch Data Loader
Description: Talend offers an expansive portfolio of data integration and data management tools. The company's flagship tool, Open Studio for Data Integration, is available via a free open-source license. Talend Integration Cloud is offered in three separate editions (SaaS, hybrid, elastic), and provides broad connectivity, built-in data quality, and native code generation to support big data technologies. Big data components and connectors include Hadoop, NoSQL, MapReduce, Spark, machine leaning and IoT.