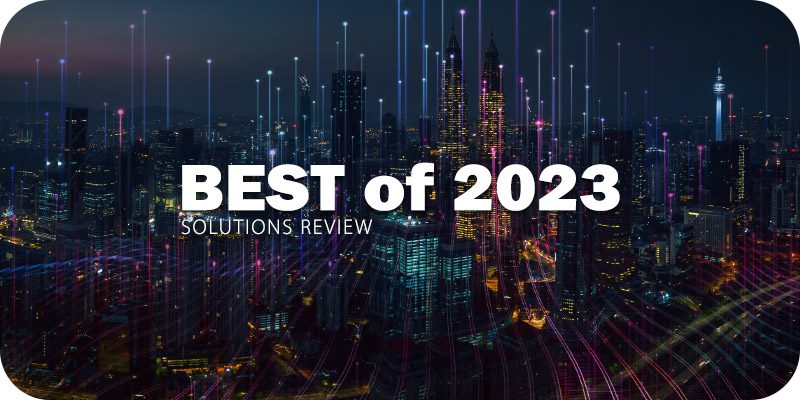 Solutions Review's listing of the best data preparation tools and software is an annual mashup of products that best represent current market conditions, according to the crowd. Our editors selected the best data preparation tools based on each solution's Authority Score; a meta-analysis of real user sentiment through the web's most trusted business software review sites and our own proprietary five-point inclusion criteria.
The editors at Solutions Review have developed this resource to assist buyers in search of the best data preparation tools to fit the needs of their organization. Choosing the right vendor and solution can be a complicated process — one that requires in-depth research and often comes down to more than just the solution and its technical capabilities. To make your search a little easier, we've profiled the best data preparation tools providers all in one place. We've also included platform and product line names and introductory software tutorials straight from the source so you can see each solution in action.
Note: The best data preparation tools are listed in alphabetical order.
The Best Data Preparation Tools
Platform: Altair Monarch
Related products: Altair Knowledge Hub
Description: Altair Monarch is a desktop-based self-service data preparation tool that can connect to multiple data sources including unstructured, cloud-based and big data. Connecting to data, cleansing and manipulation tasks require no coding. The tool features more than 80 pre-built data preparation functions, and models built within the product can be exported into common BI or other analytics platforms. Altair Knowledge Hub is browser-based that provides visual-based data preparation and machine learning to suggest data enrichment and transformation during the data preparation process.
Platform: Alteryx Designer
Related products: Alteryx Analytics and Data Science Platform
Description: Alteryx Designer is a part of the company's flagship analytics and data science platform. The tool features an intuitive user interface that enables users to connect and cleanse data from data warehouses, cloud applications, spreadsheets, and other sources. Users can leverage data quality, integration and transformation features as well. Alteryx Designer also includes data blending for spatial data files so they can be joined with third-party data such as demographics.
Platform: Anzo
Description: Cambridge Semantics offers a data discovery and integration platform called Anzo that lets users find, connect and blend data. Anzo connects to both internal and external data sources including cloud or on-prem data lakes. The product also features data cataloging that utilizes graph models encoding a Semantic Layer that describes data in business context. Users can add Data Layers for data cleansing, transformation, semantic model alignment, relationship linking, and access control as well.
Platform: Datameer Enterprise
Related products: Datameer X
Description: Datameer offers a data analytics lifecycle and engineering platform that covers ingestion, data preparation, exploration, and consumption. The product features more than 70 source connectors to ingest structured, semi-structured, and unstructured data. Users can directly upload data or use unique data links to pull data on demand. Datameer's intuitive and interactive spreadsheet-style interface lets you transform, blend and enrich complex data toward the creation of data pipelines.
Platform: DataRobot Enterprise AI Platform
Related products: Paxata Data Preparation, Automated Machine Learning, Automated Time Series, MLOps
Description: DataRobot offers an enterprise AI platform that automates the end-to-end process for building, deploying, and maintaining AI. The product is powered by open-source algorithms and can be leveraged on-prem, in the cloud or as a fully-managed AI service. DataRobot includes several independent but fully integrated tools (Paxata Data Preparation, Automated Machine Learning, Automated Time Series, MLOps, and AI applications), and each can be deployed in multiple ways to match business needs and IT requirements.
Platform: Precisely Data360 Govern
Related products: Precisely Connect, Precisely Connect CDC, Precisely Connect for Big Data, Precisely Connect ETL, Precisely Connect AppMod, Precisely Connect Sort
Description: Precisely offers its data integration capabilities via two product families, Precisely Connect and Precisely Ironstream. The company's flagship application and data integration tools are the Precisely Connect product family. Syncsort allows users to hasten database queries and applications by putting relational databases to best use. The Intelligent Execution feature dynamically selects the most efficient algorithms based on the data structures and system attributes it encounters at run-time.
Platform: Trifacta Wrangler
Related products: Trifacta Wrangler Pro, Trifacta Wrangler Enterprise, Google Cloud Dataprep by Trifacta
Description: Trifacta offers a suite of what its dubbed 'data wrangling' tools in three different iterations: Trifacta Wrangler, Wrangler Edge, and Wrangler Enterprise. Trifacta allows users to do data prep without having to manually write code or use mapping-based systems. The Predictive Transformation function enables the exploration of data content so users can define a recipe for how the data should be transformed. Data Wrangler also includes data discovery, structuring, cleaning, enriching, and validation capabilities.
Platform: Talend Data Preparation
Description: Talend Data Preparation utilizes machine learning algorithms for standardization, cleansing, pattern recognition and reconciliation. The product also provides automated recommendations to guide users through the data preparation process. Talend provides governance via role-based access, masking rules, and workflow-based data curation. Users can share preparations and datasets or embed data preparations into bulk, batch, and live data integration as well.
Platform: Tamr Unify
Description: Tamr offers a machine learning-based data integration product called Unify. The solution allows organizations to connect to any tabular data and publish it anywhere. Users can map schemas with machine learning suggestions and normalize data formats using Spark and SQL. Tamr's Master Records feature provides a complete view of all entities via simple yes and no questions as well. The company was originally invented by Dr. Michael Stonebraker and his colleagues who published their research about the Data Tamer System for handling large-scale data curation in 2013.