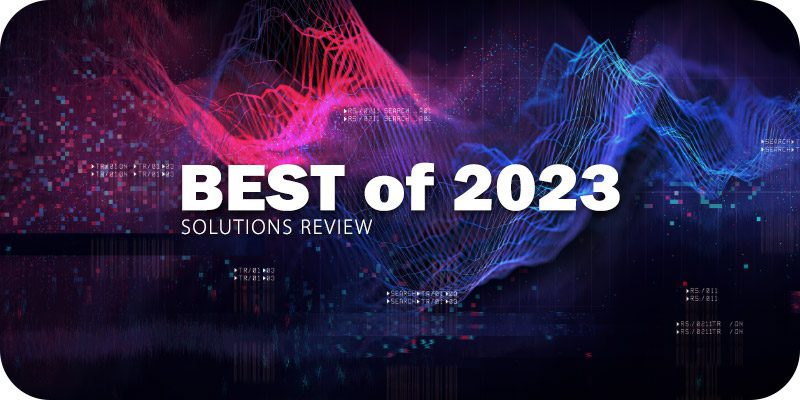 Solutions Review's listing of the best data virtualization tools is an annual mashup of products that best represent current market conditions, according to the crowd. Our editors selected the best data virtualization tools based on each solution's Authority Score; a meta-analysis of real user sentiment through the web's most trusted business software review sites and our own proprietary five-point inclusion criteria.
The editors at Solutions Review have developed this resource to assist buyers in search of the best data virtualization tools to fit the needs of their organization. Choosing the right product and solution can be a complicated process — one that requires in-depth research and often comes down to more than just the solution and its technical capabilities. To make your search a little easier, we've profiled the best data virtualization tools all in one place. We've also included solution and product line names and introductory software tutorials straight from the source so you can see each solution in action.
Note: The best data virtualization tools are listed in alphabetical order.
The Best Data Virtualization Tools
Platform: Actifio Virtual Data Pipeline
Description: Actifio offers a Virtual Data Pipeline (VDP) that automates self-service provisioning and refresh of enterprise workloads. The product integrates with existing toolchains and features data delivery and re-use for data scientists through a set of APIs and automation. Users can recover any data across any cloud from any point in time as well. Actifio is a unified platform that includes security and compliance tools to protect, secure, retain and govern data no matter where it resides.
Platform: Intelligent Data Virtualization
Description: AtScale offers a data virtualization platform that enables users to connect BI tools to live data sources without moving data. The product features support for time-based calculations, hierarchies, semi-additive metrics, multi-level measures, and many-to-many relationships. Customers can use existing BI tool drivers to connect to data platforms as well, and AtScale natively connects Excel to live data on-prem and in the cloud. AtScale includes automatic data lineage and auto-optimized query response time functionality.
Platform: CData Driver Technologies
Description: CData Software offers data integration solutions for real-time access to online or on-prem applications, databases, and Web APIs. The vendor specializes in providing access to data through established data standards and application platforms such as ODBC, JDBC, ADO.NET, SSIS, BizTalk, and Microsoft Excel. CData Software products are broken down into six categories: driver technologies, enterprise connectors, data visualization, ETL and ELT solutions, OEM and custom drivers, and cloud and API connectivity.
Platform: Datameer Spotlight
Related products: Datameer Spectrum, Datameer X
Description: Datameer offers a suite of data integration solutions designed to provide user access to data. Its flagship product is Datameer Spotlight, which is a semantic layer for searching, accessing and exploring data in the cloud, on-prem, in data warehouses, data lakes, or even applications. The product touts more than 200 data sources as well. Datameer also offers wizard-driven ETL capabilities through its Spectrum product line, and on-prem Hadoop data preparation via Datameer X.
Platform: Data Virtuality Platform
Description: Data Virtuality accesses, manages, and integrates any database and cloud service by combining data virtualization and extract, load, and transform (ELT) processes. The company offers data pipeline solutions in two iterations (self-service and managed), and Logical Data warehouse, a semantic later that allows users to access and model data from any database and API with analysis tools. Data Virtuality connects to more than 200 data sources and offers a number of data replication features based on use case.
Platform: Denodo Platform
Description: Denodo is a major player in the data virtualization tools marketplace. Founded in 1999 and based in Palo Alto, Denodo offers high-performance data integration and abstraction across a range of big data, enterprise, cloud, unstructured and real-time data services. Denodo also provides access to unified business data for business intelligence, data analytics, and single-view applications. The Denodo Platform is the only data virtualization solution to be provisioned as a virtual image on Amazon AWS Marketplace.
Platform: IBM Cloud Pak for Data
Related products: IBM Cloud Integration, IBM InfoSphere Classic Federation Server, IBM InfoSphere Data Replication, IBM InfoSphere DataStage, IBM App Connect, IBM Streams, IBM Data Refinery, IBM BigIntegrate, IBM InfoSphere Information Server, IBM WebSphere Enterprise Service Bus, IBM Integration Designer
Description: IBM offers several distinct integration tools in both on-prem and cloud deployments, and for virtually every enterprise use case. Its on-prem data integration suite features tools for traditional (replication and batch processing) and modern integration synchronization and data virtualization) requirements. IBM also offers a variety of prebuilt functions and connectors. The mega-vendor's cloud integration product is widely considered one of the best in the marketplace, and additional functionality is being rolled out on a perpetual basis.
Platform: Informatica PowerCenter
Related products: Informatica Intelligent Data Platform, Informatica PowerExchange, Informatica Data Replication, Informatica B2B Data Transformation, Informatica B2B Data Exchange, Informatica Big Data Integration Hub, Informatica Data Services, Informatica Big Data Management, Informatica Big Data Integration Hub, Informatica Big Data Streaming, Informatica Enterprise Data Catalog, Informatica Enterprise Data Preparation, Informatica Edge Data Streaming, Informatica Intelligent Cloud Services
Description: Informatica's data integration tools portfolio includes both on-prem and cloud deployments for a number of enterprise use cases. The vendor combines advanced hybrid integration and governance functionality with self-service business access for various analytic functions. Augmented integration is possible via Informatica's CLAIRE Engine, a metadata-driven AI engine that applies machine learning. Informatica touts strong interoperability between its growing list of data management software products.
Platform: Oracle Data Service Integrator
Description: Oracle offers a full spectrum of data integration tools for traditional use cases as well as modern ones, in both on-prem and cloud deployments. The company's product portfolio features technologies and services that allow organizations to full lifecycle data movement and enrichment. Oracle data integration provides pervasive and continuous access to data across heterogeneous systems via bulk data movement, transformation, bidirectional replication, metadata management, data services, and data quality for customer and product domains.
Platform: Red Hat JBoss Data Virtualization
Description: Red Hat JBoss Data Virtualization is a data supply and integration solution that sits in front of multiple data sources and allows them to be treated as a single source, delivering the needed data in the required form at the exact moment an application or user requests it.  It performs on both Windows and Linux platforms, reducing adoption complexities. It offers top virtualization benchmarks for performance and scalability on both platforms.
Platform: SAP HANA
Related products: SAP Replication Server, SAP Landscape Transformation Replication Server, SAP Data Hub, SAP Data Services, SAP Cloud Integration Platform Suite, SAP Cloud Platform
Description: SAP provides on-prem and cloud integration functionality through two main channels. Traditional capabilities are offered through SAP Data Services, a data management platform that provides capabilities for data integration, quality, and cleansing. Integration Platform as a Service features are available through the SAP Cloud Platform. SAP's Cloud Platform integrates processes and data between cloud apps, 3rd party applications, and on-prem solutions.
Platform: SAS Federation Server
Description: SAS is the largest independent vendor in the data management marketplace. The company's main product is built atop a data quality platform that allows users to improve, integrate, and govern enterprise data. SAS Data Management can ingest data from legacy systems and Hadoop, and create rules once and reuse them. In addition, users can update data, tweak processes, and analyze results themselves. A built-in business glossary as well as third-party metadata management and lineage visualization capabilities allow for collaboration.
Platform: Stone Bond Enterprise Enabler
Description: Stone Bond Technologies' Enterprise Enabler is a virtualization platform that unifies information silos for visibility across multiple data sources in real-time. This allows users to analyze business data as it is occurring to maximize the use of assets, minimize costs, and improve business processes. It is a highly scalable, single platform for configuring, testing, deploying, and monitoring Data Integration for a point solution or throughout the enterprise.
Platform: TIBCO Data Virtualization
Description: TIBCO Software is a Palo Alto-based, publicly held solution provider well-known in the data and analytic marketplace, but also offers a growing portfolio of integration tools. TIBCO's data virtualization product provides access to multiple and varied data sources. Users can search for and select from a self-service directory of virtualized business data. The tool features an orchestrated data layer, centralized metadata controls, and advanced query options.