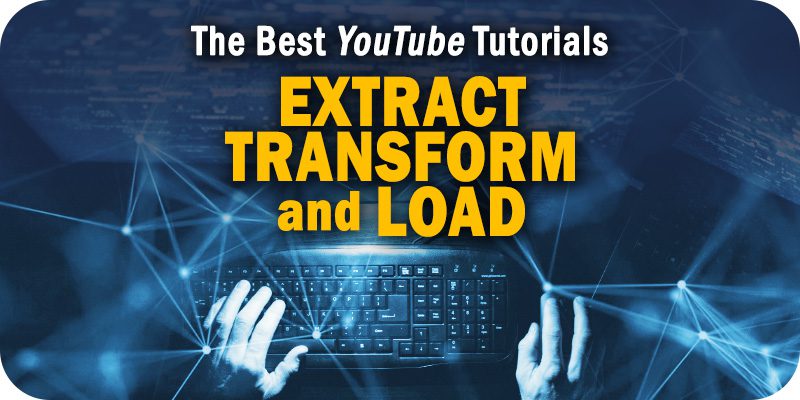 This list of the best ETL tutorials on YouTube will introduce you to the topic and help provide a jump-start to your career in the field.
Data integration is a combination of technical and business processes used to combine different data from disparate sources. This process generally supports the analytic processing of data by aligning, combining, and presenting each data store to an end-user. Organizations commonly use data integration software for enterprise-wide data delivery, data quality, governance, and analytics.
Learning ETL data integration can be a complicated process, and it's not easy to know where to start. As a result, our editors have compiled this list of the best ETL tutorials on YouTube to help you learn about the topic and hone your skills before you move on to mastering it. All of the videos here are free to access and feature guidance from some of the top minds and biggest brands in the online learning community. All of the best ETL tutorials listed tout a minimum of 150,000 views.
Note: Don't forget to subscribe to Solutions Review on YouTube!
The Best ETL Tutorials on YouTube
Data Warehouse tutorial. Creating an ETL.
Author: Learn with video tutorials
Description: This Data Warehouse video tutorial demonstrates how to create an ETL (Extract, Load, Transform) package. The tutorial is the most popular on the topic on YouTube with nearly 500,000 lifetime views and includes links in the description to additional resources related to various different data warehouse topics.
Azure Data Factory Tutorial | Introduction to ETL in Azure
Author: Adam Marczak – Azure for Everyone
Description: Azure Data Factory is an essential service to all data-related activities in Azure. It is a flexible and powerful Platform as a Service offering with a multitude of connectors and integration capabilities. It is the heart of ETL in Azure as well. In this video, Adam covers the basics of Data Factory and shows common Blob to SQL loading scenarios. Samples from the video can be accessed here.
ETL Tutorial for Beginners -Part 1 | ETL Data Warehouse Tutorial | ETL Data Warehouse | Edureka
Author: Edureka
Description: This Edureka Data Science Full Course video will help you understand and learn data science algorithms in detail. This data science tutorial is ideal for both beginners as well as professionals who want to master Data Science Algorithms. It covers additional topics like the data lifecycle, categories of data, sampling technologies, and statistics.
Talend ETL Tutorial | Talend Tutorial For Beginners | Talend Online Training | Edureka
Author: Edureka
Description: This Edureka video on Talend ETL will help you in understanding the basic concepts of the ETL (Extract, Transform & Load) process and how Talend helps in simplifying the entire ETL process by integrating them into a single job.
What is ETL | What is Data Warehouse | OLTP vs OLAP
Author: codebasics
Description: This video discusses ETL (extract, transform, load), data warehousing, and the purpose of it. The difference between OLTP (Online Transaction Processing System) vs. OLAP (Online Analytics Processing System) is also a key consideration. The video covers additional topics like Talend, Informatica, Amazon Redshift, and Snowflake as well.

Latest posts by Timothy King
(see all)