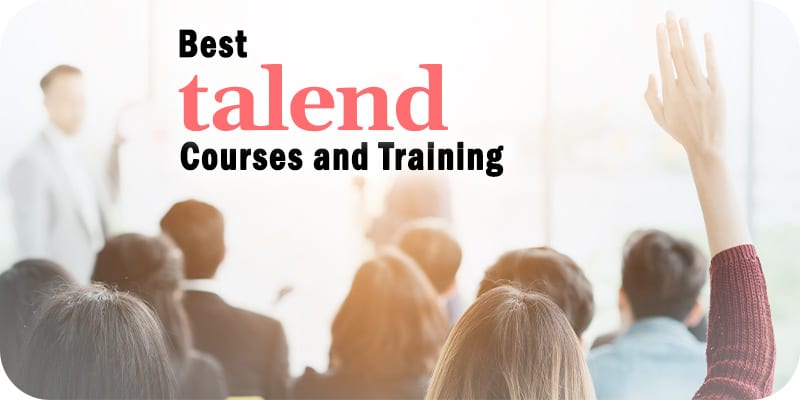 The editors at Solutions Review have compiled this list of the best Talend courses and online training for to consider.
Talend is one of the most widely used data integration platforms in the world. The company's flagship tool, Open Studio for Data Integration, is a free, open-source integration tool that features ETL and ELT support. It provides graphical tools, native code generation, and hundreds of pre-built components and connectors. Users can embed existing Java code libraries to create components or leverage community components and code to extend projects. Big data components and connectors include Hadoop, NoSQL, MapReduce, Spark, machine leaning, and IoT.
With this in mind, we've compiled this list of the best Talend courses and online training to consider if you're looking to grow your data integration skills for work or career advancement. This is not an exhaustive list, but one that features the best Talend courses from trusted online platforms. We made sure to mention and link to related courses on each platform that may be worth exploring as well.
The Best Talend Courses
OUR TAKE: You will learn about the features of two open-source data integration tools, Talend Open Studio and Pentaho Data Integration. Offered by the University of Colorado, this training has nearly 1,000 reviews and an excellent 4.4 stars.
Platform: Coursera
Description: This is the second course in the Data Warehousing for Business Intelligence specialization. Ideally, the courses should be taken in sequence. In this course, you will learn exciting concepts and skills for designing data warehouses and creating data integration workflows. These are fundamental skills for data warehouse developers and administrators.
GO TO TRAINING
OUR TAKE: This instructor-led Talend for Data Integration training on Edureka is five-weeks long and will teach you core ETL concepts, Talend products and their features, and design and implementation of Talend Open Studio.
Platform: Edureka
Description: Edureka's Talend Training for Data Integration and Big Data will help you in learning how to use Talend Open Studio to simplify big data integration. After this Talend training, you can easily work with Apache Hadoop, Apache Spark, Apache Hive, Apache Pig, and NoSQL databases using Talend. Talend Open Studio accelerates the task development process with its drag-and-drop UI and pre-built components for data offloading and ingesting data into your data centers.
GO TO TRAINING
OUR TAKE: Intellipaat's Talend For Hadoop module touts 27 hours of self-paced video lectures, 54 hours of project work and exercises, and can be completed via a flexible schedule.
Platform: Intellipaat
Description: Our Talend Hadoop certification master program lets you gain proficiency in Hadoop data integration for high-speed processing. You will work on real-world projects in Talend ETL, Talend Open Studio, Hadoop MapReduce, HDFS, deploying XML files, formatting data functions. This is a combo course of Talend and Hadoop that is specifically designed to meet industry needs.
More "Top-Rated" Intellipaat paths: Talend Certification Training Course
GO TO TRAINING
OUR TAKE: The Mindmajix Talend Training touts more than 30 hours of live learning, 20 hours of lab sessions, can be completed via a flexible schedule, and even includes certification and career assistance.
Platform: Mindmajix
Description: Mindmajix Talend training provides foundational knowledge on how to use Talend Studio for big data integration from basics to advanced level techniques through hands-on sessions. You will gain skills in designing Talend jobs by implementing real-time projects under the guidance of a certified trainer, and this will help you in clearing the Talend certification exam.
GO TO TRAINING
OUR TAKE: Talend Academy enables readers to study any topic whenever they are ready and spin up an individual practice environment with a single click. Students also get immediate access to new and updated content throughout the year.
Platform: Talend
Description: Talend training paths show you how to build expertise efficiently via realistic examples and hands-on practice with data integration, big data, application integration, master data management, data preparation and data stewardship. The subscription offering provides unlimited access to more than 180 hours of online training, including pre-configured environments so you can practice with fully functional Talend software. View the entire Talend Academy course list.
GO TO TRAINING
OUR TAKE: This Udemy Talend training includes more than 36 hours of on-demand video, 1 article, 3 downloadable resources, full lifetime access, and a certificate of completion.
Platform: Udemy
Description: Talend Data Integration course Basics, Advanced & ADMIN features 37.5 hours of on-demand video, 3 downloadable resources, full lifetime access, course access on mobile and TV, and a certificate of completion. With a rating of 4.6 stars, this online training represents the highest-rated option for Talend practitioners on Udemy. The only prerequisite for taking this course is basic SQL. Click through to the course for an even deeper description.
More "Top-Rated" Udemy paths: Talend Data Integration Course : Beginner to Expert, Data Integration (ETL) with Talend Open Studio
GO TO TRAINING
Solutions Review participates in affiliate programs. We may make a small commission from products purchased through this resource.

Latest posts by Timothy King
(see all)