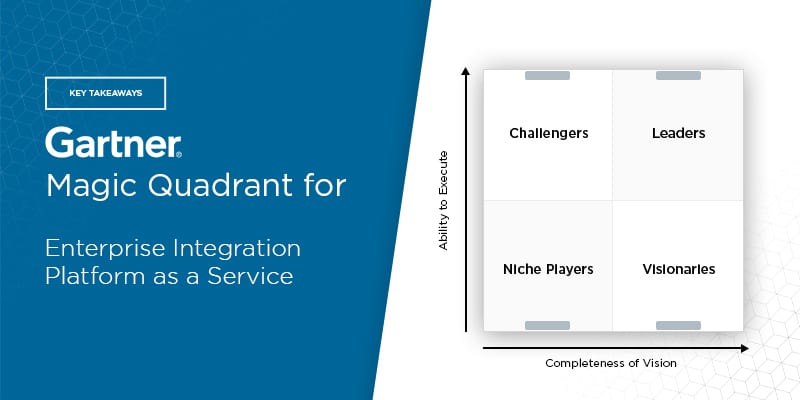 The editors at Solutions Review highlight what's changed since the last iteration of Gartner's 2021 Magic Quadrant for Enterprise Integration Platform as a Service and provide an analysis of the new report.
Analyst house Gartner, Inc. recently released the 2021 version of its Magic Quadrant for Enterprise Integration Platform as a Service. Enterprise Integration Platform as a Service (EiPaaS) solutions are standalone solutions used by subscribers directly, unlike integration features embedded in other offerings. According to the analyst, IT and business roles are increasingly utilizing EiPaaS as a component of their integration strategies. However, despite common use in mid-market and enterprise organizations, vendors are fragmented and difficult to evaluate. This Magic Quadrant is intended to assist software engineering leaders.
Gartner defines EiPaaS offerings as "a combination of integration technology functionalities that are delivered as a suite of cloud services and designed to support enterprise-class integration initiatives. An EiPaaS provider offers high availability, disaster recovery, security, SLAs, and technical support. It also enables users to develop and execute multiple integration scenarios by providing support for multiple personas."
Organizations buying EiPaaS can usually do so as suites of capabilities via a single package or as a set of subsuites. Vendors in this space largely include pure-play providers and well-established vendors for application, data, and B2B integration, as well as mega-vendors, represented broadly in the data management marketplace. Vendors are increasingly merging their EiPaaS offerings with tools for data and application integration. They are also merging them through mergers and acquisitions and via the channel of open-source software.
EiPaaS solution providers are investing heavily in the use of machine learning and natural language processing to assist development and operations. According to Gartner, these innovations will "enrich packaged integration process portfolios, enable continuous integration/continuous delivery (CI/CD) and DevOps and extend the range of supported use cases (including in hybrid and multicloud scenarios)."
Gartner adjusts its evaluation and inclusion criteria for Magic Quadrants as software markets evolve. As a result, Integromat and Huawei have been added to the report while Adaptris and Cloud Elements were removed for no longer meeting the criteria for inclusion.
In this Magic Quadrant, Gartner evaluates the strengths and weaknesses of 17 providers that it considers most significant in the marketplace, and provides readers with a graph (the Magic Quadrant) plotting the vendors based on their ability to execute and completeness of vision. The graph is divided into four quadrants: niche players, challengers, visionaries, and leaders. At Solutions Review, we read the report, available here, and pulled out the key takeaways.
Informatica and Boomi remain the clear leaders in Enterprise Integration Platform as a Service. Informatica leads the pack with an impressive market share, a rapidly broadening cloud and hybrid ecosystem, and burgeoning automation capabilities. Boomi offers a functionality-rich platform that appeals to organizations of all sizes and a strong understanding of EiPaaS solutions. The vendor also touts a recognized and trusted brand in the field and tools for various verticals and industries.
Workato, SAP, and Oracle form a cluster in the mid-section of the 2021 Leaders column. Workato enjoys highly favorable satisfaction ratings that challenge any vendor in the space. The company also touts growing interest from buyers during the EiPaaS tool evaluation process. SAP offers a comprehensive product suite and an interesting product roadmap which would see the company enhance SAP Integration for technical and business-user audiences. Oracle offers EiPaaS tools for a broad user base and can solve for virtually every integration use case. The company has the largest market reach of any provider in the space as well.
MuleSoft retained its position among the Leaders by growing 60 percent in 2020 through its association with Salesforce. MuleSoft Anypoint is best for those looking for broad EiPaaS support, and the company has a strong presence in more than 70 countries. Microsoft also has a global footprint and strong international network of commercial and support partners, as well as vast capabilities for integrating data, applications, APIs, and events. TIBCO Software rounds out the Leaders column after its acquisition of Information Builders. The firm offers exceptional EiPaaS capabilities and platform versatility through a proprietary marketplace.
Talend maintained its position as one of two Magic Quadrant Challengers, though Tray.io leapfrogged the mainstay in the column for this analysis. Tray drastically increased its customer base in 2020 while users seem to enjoy the vendor's ease of use and prepackaged integration recipes. Reference customers also report positive feedback on the company's support and service offerings. Talend touts more than 4,000 customers and a combined suite of on-prem and EiPaaS features. The vendor has also improved support for data quality in recent months.
Two 2020 Leaders, Jitterbit and SnapLogic, are both sitting at the top of the Visionaries column in this report. Jitterbit can be used by a number of different user personas and touts many solution templates and recipes for automating key integration use cases. Jitterbit is available across several continents and enjoys excellent feedback from Gartner reference customers. SnapLogic enables diverse integration patterns via a range of connectivity and pipeline flows. The vendor has recently enhanced its capabilities for reducing complexity as well. SnapLogic is best for hybrid requirements.
Software AG and IBM round out the Visionaries, both positioned in the upper-third of the column. After a late entrance into the space, Software AG has made what Gartner calls "quick progress" by capitalizing on its integration expertise. The vendor's go-to-market strategy also reflects a strong understanding of enterprise integration. Software AG webMethods supports a broad set of use cases while reference customers indicate positive feedback for adoption. IBM has a strong understanding of complex integration scenarios which are common in enterprise settings. A robust geographic strategy and unique product strategy cement IBM's status as a legitimate player in EiPaaS.
Once again a Magic Quadrant Niche Player, Celigo secured above-average market growth in 2020. The company also touts high rates of satisfaction among those who have implemented the product in recent months. Huawei and Integromat make their respective debuts in this space as well. Huawei touts a vertical industry strategy via optional add-ons and offers zero-downtime upgrades to enable hybrid and private deployments. Integromat features a visually responsive interface that makes integration easier. Customers are satisfied with the firm's pricing, and Integromat secured nearly 10,000 new customers in the last calendar year.

Latest posts by Timothy King
(see all)