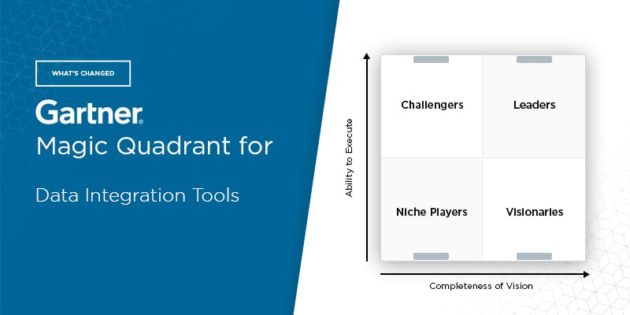 The editors at Solutions Review highlight what's changed since the last iteration of Gartner's Magic Quadrant for Data Integration Tools and provide an analysis of the new report.
Analyst house Gartner, Inc. has released its 2022 Magic Quadrant for Data Integration Tools. According to the researcher, the marketplace for data integration tools is seeing "renewed momentum" driven largely by requirements for hybrid and multicloud data integration, augmented data management, and data fabric designs. Gartner defined the marketplace as "discipline comprising the architectural patterns, methodologies and tools that allow organizations to achieve consistent access and delivery of data across a wide spectrum of data sources and data types to meet the data consumption requirements of business applications and end-users."
This space includes vendors that offer standalone software products to enable data access and delivery infrastructure for a number of scenarios like data engineering, support for the delivery of analytics, data lake enablement, self-service data preparation, cloud migration, sourcing and delivery of master data, interenterprise data sharing, data consistency, and data fabric. As a strategic planning assumption, the analyst house predicts that manual data management tasks will be reduced by 45 percent via machine learning and automation.
Data integration tools are a stable growth market, with leading vendors continuing to lose ground to niche and up-and-comers. While the top-five players in the space had a 71 percent market share in 2017, that number dropped dramatically to 56 percent as recently as 2020. In large part, this is due to mega-vendors like Informatica and Talend honing in more on their iPaaS solutions. The smaller providers gaining ground are doing so via a focus on leadership in specific data integration styles.
Other key drivers in the data integration tools market include an end-user push toward augmented data integration, an increase in data engineering requirements, the emerging discipline of DataOps, a notable increase in hybrid and intercloud data management, and the convergence of application and data integration. Gartner concludes: "More data and analytics leaders are realizing that data integration is a critical component of their data management infrastructure."
Gartner highlights the following vendors in this segment: Informatica, Oracle, IBM, Microsoft, SAP, Talend, Denodo, Qlik, TIBCO Software, Precisely, SAS, Palantir, SnapLoic, Amazon Web Services, Fivetran, Matillion, Software AG (StreamSets), Safe Software, Hitachi Vantara, K2View, and CloverDX.
Gartner adjusts its evaluation and inclusion criteria for Magic Quadrants as software markets evolve. As a result, AWS, Hitachi Vantara, K2View, Palantir, and Software AG have been added to the 2022 report. In a corresponding move, the analyst removed Adeptia for no longer meeting the inclusion criteria and HVR after its acquisition by Fivetran.
In this Magic Quadrant, Gartner evaluates the strengths and weaknesses of 21 providers that it considers most significant in the marketplace and provides readers with a graph (the Magic Quadrant) plotting the vendors based on their Ability to Execute and their Completeness of Vision. The graph is divided into four quadrants: niche players, challengers, visionaries, and leaders. At Solutions Review, we read the report, available here, and pulled out the key takeaways.
Informatica remains the overall leader in this Magic Quadrant, with impressive standing in Gartner's top right-hand portion of the graph. Informatica is the overall market share leader and touts augmented data integration support, new pricing and licensing options to align with the shift to the cloud, and operational data integration use case delivery. Oracle made a major move up Gartner's horizontal axis for Ability to Execute and now finds itself competing with Informatica for the top spot. Oracle offers the top data replication tool in the space, a balanced approach across deployment types, and more. Even though Oracle leapfrogged IBM in the graph, IBM is still b major player in the space.
Microsoft, SAP, Talend, and Denodo round out the Leaders column for 2022. If you're in any way invested in the Azure ecosystem, Microsoft is going to be a key consideration. The household name also touts a product strategy that is focused on enterprise and departmental use cases and a number of go-to-market partnerships. SAP is best-fit for "SAP shops" and the vendor focuses mainly on unification, hybrid, and scale. SAP also centralized metadata in its data catalog. Talend has a new focus on improving data quality via data pipelines, improving features for self-service data preparation, and solid data replication support. Denodo offers a focus on distributed data architecture, what Gartner dubbs a "sophisticated optimizer", and a "try before you buy" engagement model.
Qlik and TIBCO Software lead the Challengers bracket for 2022. Through a combination of native development and vendor acquisitions, Qlik offers data engineering use cases for data warehouse automation. The firm also touts excellent self-service data integration support. TIBCO is currently improving its interoperability across products while specializing in all the most common data delivery types. TIBCO features a "strong" data fabric vision as well. Precisely enjoys upgraded positioning on the graph as a result of differentiating capabilities for data modernization, ease of configuration and development, and enabling customers to utilize an open data ecosystem. SAS rounds out the Challengers column.
Joining SnapLogic in the Visionaries column for 2022 is new entrant Palantir. Offering the Palantir Foundry Data Integration Suite, the company employs a team of embedded engineers that can build and maintain complex data applications. Palantir also touts a strong data fabric vision and extensive support for data security, privacy, and governance. SnapLogic's product strategy is based on prebuilt connectors called Snaps. The vendor offers augmented guidance as well and has a well-established role-based go-to-market strategy.
New entrants AWS, Software AG (StreamSets), Hitachi Vantara, and K2View all make their debuts in the Niche Players column. AWS offers innovation to support data delivery demands and centralizes data in a data catalog through its AWS Glue solution. Software AG (acquired by StreamSets) touts support for streaming, engineering-focused DataOps, data observability, and orchestration, and features a "future-oriented" understanding of the market for data integration tools. Hitachi Vantara is notable for its strong data management vision, differentiation in IoT and edge integration, and support for augmented data integration.
The Niche Players quadrant is rounded out by Fivetran, Matillion, Safe Software, and CloverDX. Fivetran has an impressive portfolio of partnerships, a focus on cloud data movement, and a low total cost of ownership. Matillion is a consideration for those in need of cloud data engineering and deployment options that address common data sovereignty issues. Safe Software is a leading vendor in the spatial data integration market, offers top-notch execution and support, and even includes support for non-technical users. CloverDZ offers broad support for complex data types and data integration scenarios, a very simple pricing model, and a focus on customer experience.