This is part of Solutions Review's Premium Content Series, a collection of contributed columns written by industry experts in maturing software categories. In this submission, Ataccama VP of Data Governance Product David Kolinek offers practical methods for establishing an agile data governance framework.

Every enterprise wants greater control over its data, but at the same time, they need that data to flourish in order to capitalize on market opportunities as they arise. This leads to a conflict between governance and agility: Too much governance and the right people might not be able to access the right data at the right time – too little and the risk of data loss or theft increases.
But agility and governance do not have to be at loggerheads. In fact, there are ways they can be enhanced so that they can actually complement one another and work toward their common goal; a more efficient, effective enterprise capable of competing in today's high-speed, constantly changing digital economy.
Agile Data Governance Framework
---
To do that, however, we need to rethink the ways in which governance and agility function in the data environment, and then devise practical methods to optimize them both for the greater good.
Safe and Available
At its heart, data governance encompasses the policies that oversee how data is structured and managed to ensure that it is not just ready and available, but accurate and secure. In this way, data governance is more about data enablement – ensuring that it's put to good use under a rules-based policy structure.
In this light, we can see how a properly designed governance system can enhance agility by streamlining the operations needed to make data more available. Emerging business platforms are starting to recognize this. By working in tandem, agility and governance can work together on key data management issues, such as metadata management, data quality, integration, and others.
The trick is to accomplish this without exacerbating the trade-offs that arise between control and flexibility. The best way to achieve this is to make data governance omnipresent but non-blocking, and for this, we turn to automation. Modern data automation allows governance policies to be embedded into as many data processes as possible and then updated and implemented continuously across the entire data ecosystem all at once. In previous generations, this would have been a herculean job given that it requires such high-speed, high-scale data classification, policy enforcement, and continuous metadata creation and manipulation.
The second critical piece of technology is a data mesh fabric that allows data quality management and other governance policies to be extended to all applications and access points at once. This is crucial in providing a cohesive, uniform data environment and greatly enhances agility by providing frictionless access to data across the entire organization. By decentralizing data management in this way, organizations can customize their internal structures that enable cross-functional teams that share common, reusable data tools and applications.
Practical Change
Along with these technologies, however, organizations should adopt a number of best practices, not just in the technical realm but across the business model. These include:
Alignment between governance and business objectives: Too often, there is a disconnect between the two, driven largely by the idea that governance is somehow separate from business operations. This tends to create policies that focus inward on the needs of those doing the governing rather than those who are trying to expand the business.
Balance between offensive and defensive data: As an offensive tool, data supports greater insights and integration with business requirements. In defense, data minimizes risk and assures compliance. Working in tandem, they can both help build and manage data assets in ways that support agility and governance.
Promote greater collaboration: Both governance and business teams must develop greater respect and understanding of each other's motivations. Only by making peace and taking stewardship of the entire data ecosystem can they fulfill their overarching mandates, which, again, are more in sync than divergent.
For organizations that are still struggling with the conflict between agility and governance, bringing order to the chaos begins with a technological shift to a unified data management platform – but ultimately it requires a cultural shift across the organization. This means many long-held practices, many of them inwardly focused on key departments, must be reconsidered by a wide range of stakeholders.
Unlike other aspects of digital transformation, however, breaking down this particular barrier does not have to be overly long or arduous. Yes, it represents a significant change, but as long as it is done in a strategic, coordinated manner the benefits can be realized quickly, putting any initial concerns out of mind.
From there, the only question remaining is how far these newly integrated data and business teams will be able to press their advantage over rival enterprises.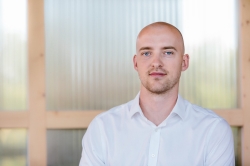 Latest posts by David Kolinek
(see all)