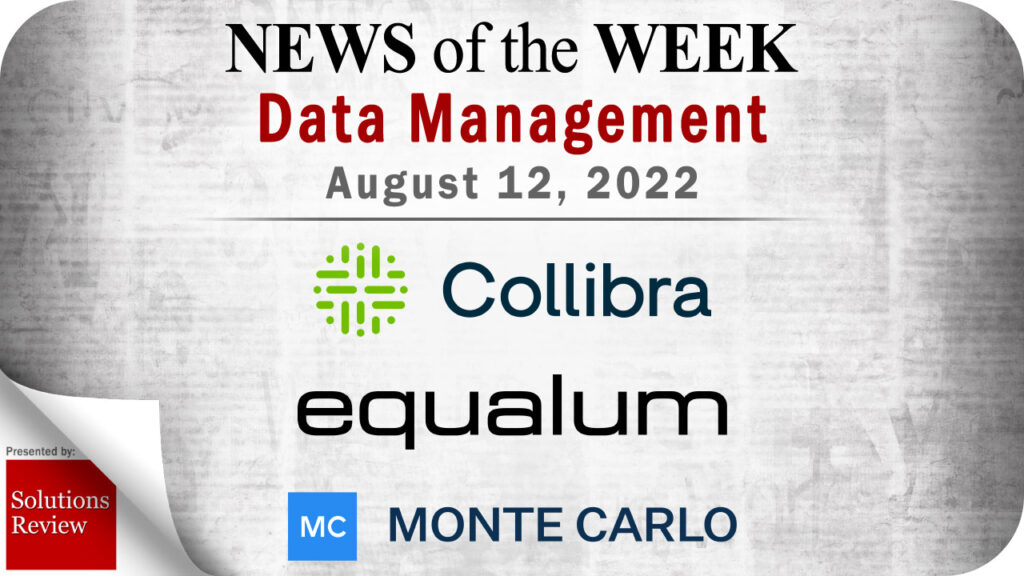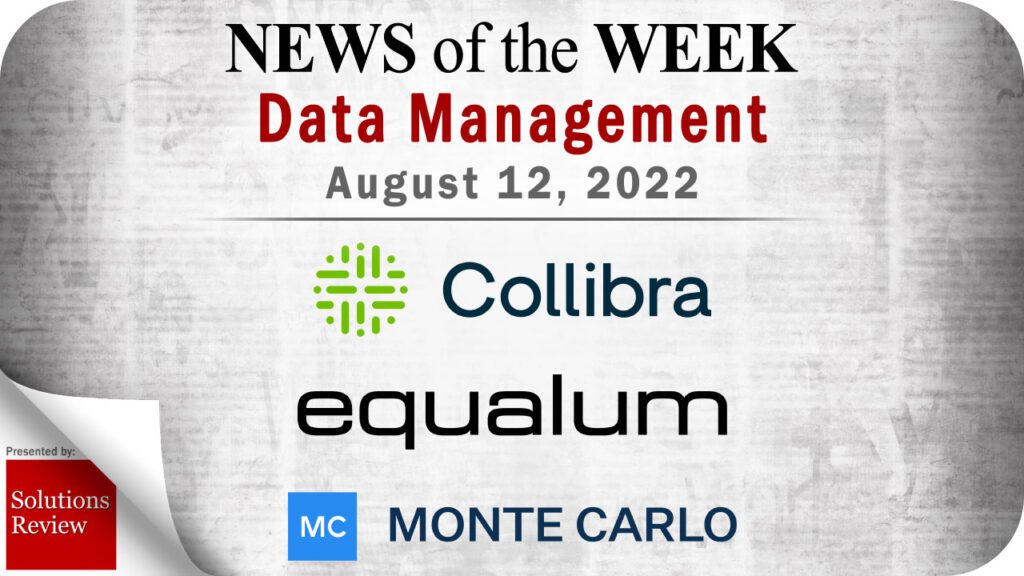 The editors at Solutions Review have curated this list of the most noteworthy data management news items for the week of August 12, 2022.
Keeping tabs on all the most relevant big data and data management news can be a time-consuming task. As a result, our editorial team aims to provide a summary of the top headlines from the last week, in this space. Solutions Review editors will curate vendor product news, mergers and acquisitions, venture capital funding, talent acquisition, and other noteworthy big data and data management news items.
Top Data Management News for the Week Ending August 12, 2022
Collibra Releases New Data Intelligence Maturity Resource 
The whitepaper resource comes in partnership with IDC. According to the study, 67 percent of respondents said having access to intelligence about the data being used to make decisions is crucial to success. However, over 65 percent of organizations are challenged with identifying and controlling data sources in their organization.
Equalum Secures $14 Million Series C Funding for Continuous Data Integration Platform
The additional capital will support the expansion of Equalum's global footprint, product development, and rapid growth trajectory as the company meets the demand for "cloud first" organizations that are developing new processes or transforming old processes in the cloud. Equalum also offers real-time streaming for a wide range of use cases in addition to Batch ETL, replication, and CDC.
Forbes Releases Popular 2022 Cloud 100 Report
The seventh annual Cloud 100 list of the world's top private cloud companies, produced in partnership with Bessemer Venture Partners and Salesforce Ventures, recognizes standouts in tech's hottest category from small startups to private-equity-backed giants. This year's list is bigger than ever before, with a combined market capitalization more than $100 billion greater than 2021 and headcounts larger by total, average and median.
Kensu.io Appoints New CEO; Raises $4.2 Million in Seed Funding for Data Observability
The Company's Board of Directors appointed Eleanor Treharne-Jones as Chief Executive Officer to accelerate its global growth and U.S. expansion. The seed funding supports expansion into the U.S. market and continued investment in product innovation and development. Kensu's investors include Belgavia and The Faktory.
Monte Carlo Reveals Results of 2022 Data Quality Survey
It found that data professionals are spending 40 percent of their time evaluating or checking data quality and that poor data quality impacts 26 percent of their companies' revenue. In partnership with Wakefield Research found that 75 percent of the 300 data professionals surveyed take four or more hours to detect a data quality incident and about half said it takes an average of nine hours to resolve the issue once identified.
For consideration in future data management news roundups, send your announcements to the editor: tking@solutionsreview.com.