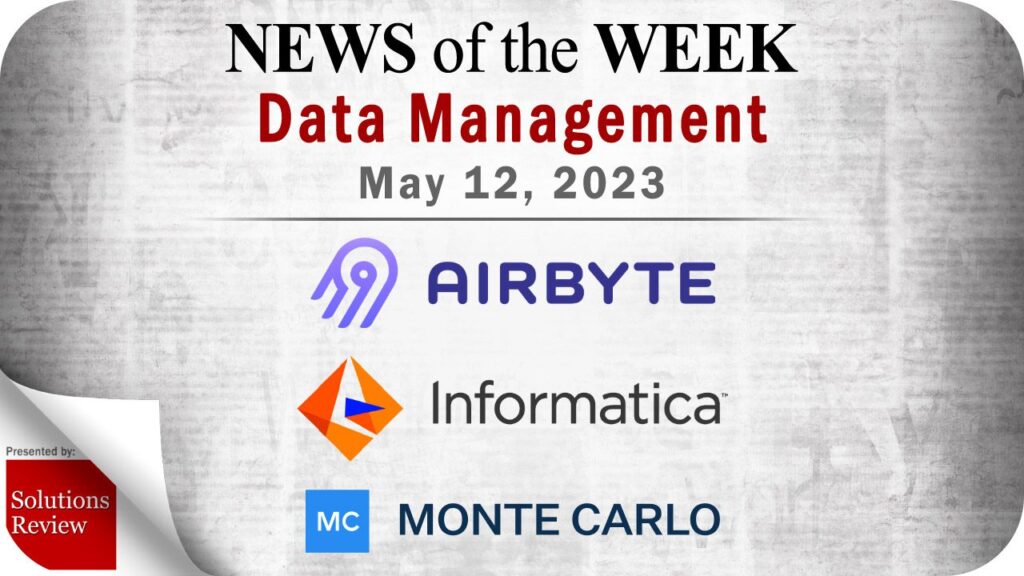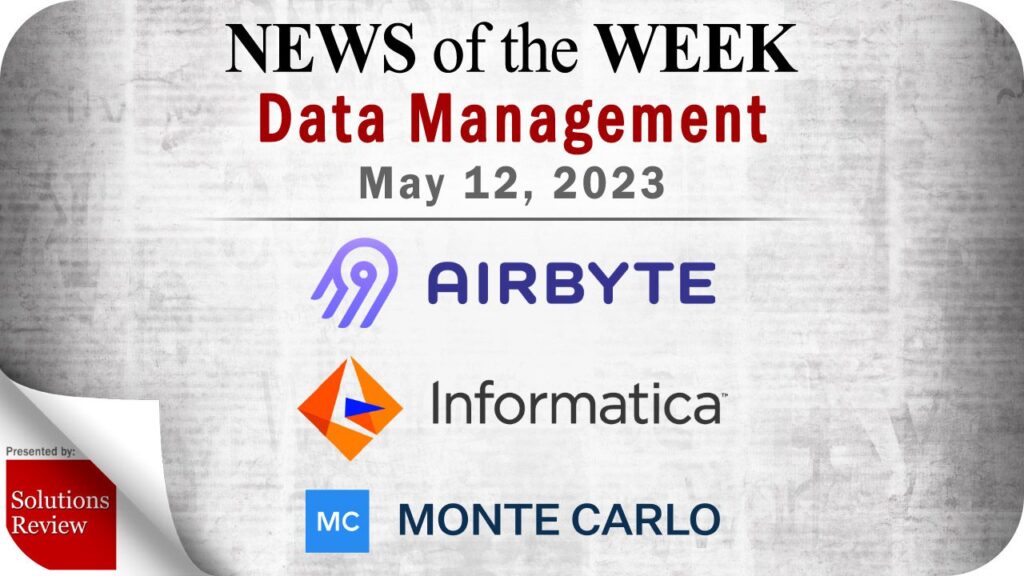 Solutions Review editors curated this list of the most noteworthy data management news items for the week of May 12, 2023.
Keeping tabs on all the most relevant big data and data management news can be a time-consuming task. As a result, our editorial team aims to provide a summary of the top headlines from the last week, in this space. Solutions Review editors will curate vendor product news, mergers and acquisitions, venture capital funding, talent acquisition, and other noteworthy big data and data management news items.
Top Data Management News for the Week Ending May 12, 2023
Airbyte Releases Premium Support for Open-Source Users
The move comes in response to the increasing number of companies – more than 3,000 now – using Airbyte to power their data pipelines and the growing need for better, more focused support. With the introduction of this premium support, Airbyte provides an improved experience for users who require dedicated assistance from the company's team of experts.
Dataddo's Free Data Integration Tool Gaining in Popularity
Over 1,300 companies have used the plan to integrate 21 million rows of data monthly, with 50% of these companies explicitly stating that they are using it as a testing ground for pipelining solutions. The companies range from small startups to enterprises with over 5,000 employees. Among them are ecommerce companies, marketing agencies, healthcare organizations, SaaS vendors, financial and cultural institutions, and universities.
Informatica Unveils New Intelligent Data Management Features at Annual User Conference
To help maximize the resources and bandwidth of experienced data professionals, Informatica introduced new enhancements to its data engineering, API and App Integration services. Informatica's Intelligent all-in-one Master Data Management (MDM) and 360 applications powered by CLAIRE AI engine enables businesses to connect data for a contextual 360-degree view and insights.
Monte Carlo Extends its Data Quality Coverage to Transactional Databases
By extending its data quality coverage to transactional databases, teams that rely on these longstanding tools can detect and resolve data quality issues faster—and, should they choose to do so, migrate to new platforms easily and with peace of mind. These integrations offer in-the-moment and business data rule coverage of transactional databases and set the stage for successful migrations in the future.
Expert Insights Section
Watch this space each week as Solutions Review editors will use it to share new Expert Insights Series articles, Contributed Shorts videos, Expert Roundtable and event replays, and other curated content to help you gain a forward-thinking analysis and remain on-trend. All to meet the demand for what its editors do best: bring industry experts together to publish the web's leading insights for enterprise technology practitioners.
Solutions Review Set to Host Monte Carlo for Exclusive Webinar on May 23
With the next Solutions Spotlight event, the team at Solutions Review has partnered with leading reliability vendor Monte Carlo to provide viewers with a unique webinar called From Symptom to Source: A Guide to Root Cause Analysis for Data Engineers. During this workshop, we'll share a five-step process analytics engineering teams can use to conduct root cause analysis in a collaborative, quick, and effective manner.
Solutions Review Releases Tactical Roundtable for Modern Data Architecture on YouTube
A panel of experts from Snowflake, Denodo, and their mutual customer Syngenta explore key considerations for modernizing your company's data architecture and discuss critical aspects of scaling your cloud data infrastructure. The 60-minute virtual event is moderated by an independent industry analyst, with a topic introduction hosted by Solutions Review – all broadcast live to an audience of registered attendees.
Solutions Review Set to Host Datto for Exclusive Webinar on May 17
With the next Solution Spotlight event, the team at Solutions Review has partnered with leading managed service provider Datto to provide viewers with a unique webinar called Re-Imagining Endpoint Security with Datto EDR. Datto offers a family of enterprise business continuity solutions available in both physical and virtual platforms.
Solutions Review Set to Host VAST Data for Exclusive Webinar on May 23
The Data Protection Demo Day Exclusive is an exclusive virtual event featuring an inside look at the technologies of prominent enterprise storage and data protection solution providers. Solutions Review is hosting this online event as a way to present the latest data protection tools from the comfort and safety of your own desk.
What to Expect at Ataccama Innovate 2023 on May 16
Ataccama Innovate 2023 will feature the launch of the company's new data management capabilities with a resourceful discussion on self-service, ensuring data quality, monitoring, analysis, remediation, and more. Speakers include Ataccama's Group Product Manager Lenka Studnicna, VP of Data Governance David Kolinek, and Chief Product & Technology Officer Martin Zahumensky.
For consideration in future data management news roundups, send your announcements to the editor: tking@solutionsreview.com.